Aadhaar EID means Enrolment ID which contains 14 digit ENO and 14 digit Date-Time stamp, so altogether the EID Number becomes 28 digits number. Aadhaar Enrolment ID is a temporary number that is issued before issuing a 12 digits unique Aadhaar Number, with Enrolment ID you can track your application status, download Aadhaar and do many more things.
Aadhaar Enrolment ID is issued on the spot once the resident gets enrolled for Aadhaar, and this same number can be found on the Aadhaar Enrolment Receipt which is also known as Enrolment Slip.
So if you still don't have Aadhaar EID Number issued to you, then below are the steps with which you could get yourself Aadhaar EID Number.
Process to Get an Aadhaar EID Number
To get an Aadhaar EID Number you should make sure that you have Proof of Identity, Proof of Address, and Proof of Birth Documents with you. If you have these documents, then you can actually get your Aadhaar EID Number Instantly issued on your name.
To check out the documents which are acceptable for Aadhaar, just click here.
To enroll for Aadhaar you can directly visit the nearest Aadhaar Seva Kendra or else you can even book an appointment online.
Visit the Aadhaar Seva Kendra with the documents.
Request Aadhaar Enrolment Form from the Aadhaar Seva Kendra Executive.
Fill up the details asked in the form, don't forget to enter your mobile number and email id.
Once filling up the form, submit the form to the concerned executive at Aadhaar Seva Kendra.
The executive will verify your document and return the documents to you.
You will be requested to move forward at the Aadhaar Operator, where actually you will be enrolled for Aadhaar.
The operator will feed in information in the Aadhaar Software, and your facial photograph, iris, and fingerprints will be captured.
Once successfully completing the enrolment you will be issued with Aadhaar Enrolment receipt on which your Aadhaar EID or Aadhaar Enrolment Number will be printed.
12 digit Aadhaar will be generated and you will also receive the Aadhaar Copy through Post in 1 – 3 months.
This is how you can get Aadhaar EID Number Issued if you have still not applied.
In case if you have been already issued with 12 digits Aadhaar Number and have lost your Aadhaar Enrolment Number then below are the steps through which you can recover your EID.
How to Get EID Number on Mobile or Email Address
To retrieve your lost or forgotten EID you should have a mobile number or email id linked or registered with your Aadhaar. If you fulfill these main criteria then you are a few steps away to get EID Number on your mobile.
To retrieve your lost or forgotten EID, just visit official UIDAI Website https://uidai.gov.in/
On the home page of the UIDAI Website, you will find the Retrieve Lost or Forgotten EID/UID option.
Retrieve Lost or Forgotten EID/UID page will open, Select option I want to retrieve my lost or forgotten: Aadhaar No (UID) or Enrolment ID (EID).
Select Enrolment ID (EID) from the option and enter the full name, mobile number or email address.
Solve the captcha verification by typing the character you see in the picture and click on the send OTP button.
If you have mAadhaar App Installed on your mobile then you can also make use of enter TOTP option and enter the TOTP generated.
Enter the received OTP on your mobile number or email id in enter OTP field and click on the submit button.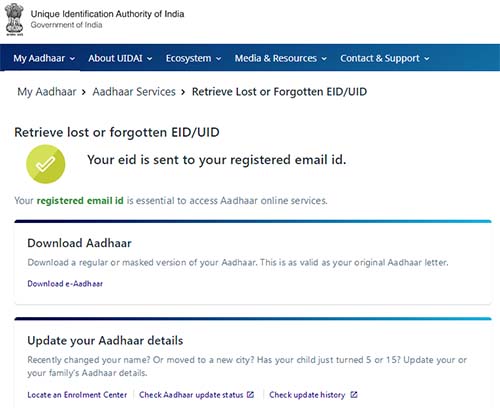 Your Aadhaar EID Number will be sent on your registered email id or mobile number as per your selection is done.
This is how you can recover your Aadhaar EID Number if lost or forgotten.