Link Delink Aadhaar with IPPB: Linking or Seeding Aadhaar Number with Bank account is essential to avail numerous benefits. This requirement applies equally to IPPB (India Post Payments Bank). As the process differs to link Aadhar with every bank, here is the complete process explained to perform India Post Aadhaar Link Online.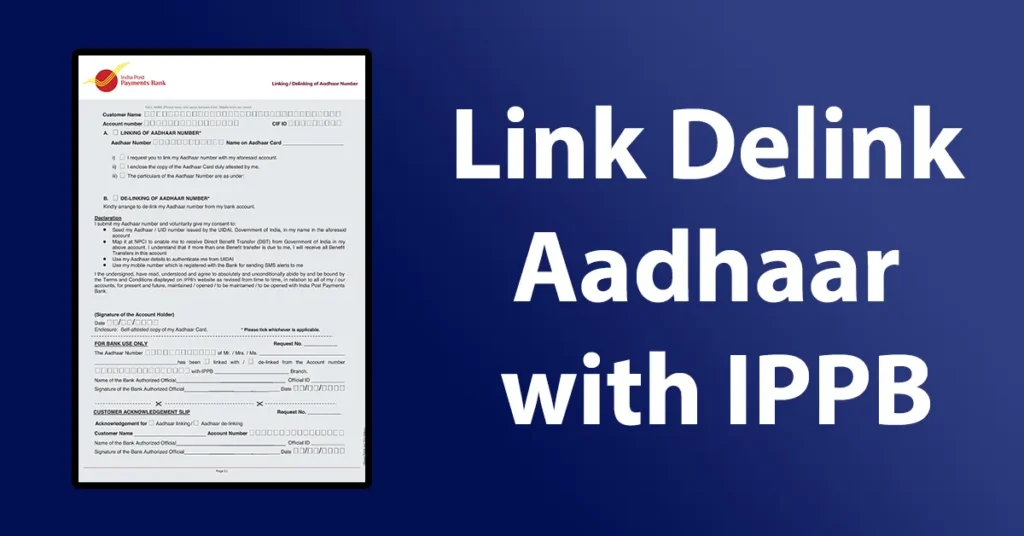 Link Delink Aadhaar with IPPB
To Link or Delink Aadhaar with IPPB, the IPPB Bank Customer needs to submit the duly filled application form to the bank. The customer needs to submit the standard India Post Payment Bank Linking / Delinking of Aadhaar Number form made available by IPPB.
Below is the download link of the IPPB Aadhaar Linking Delinking Form.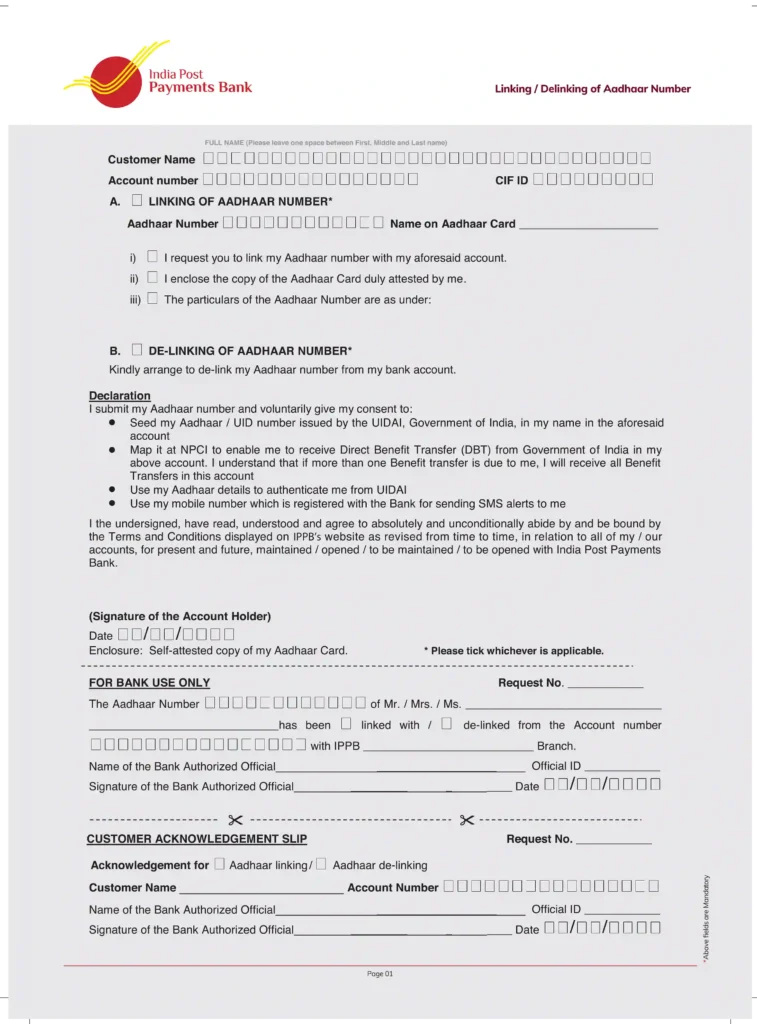 The requests for India post payment bank linking delinking of Aadhaar number form cannot be submitted online. To link or delink Aadhaar from Bank account the customer needs to submit duly filled letter to delink aadhaar from bank account to the IPPB Branch. This Single form will serve the purpose of linking of bank account with Aadhar as well as de-linking of Aadhaar with IPPB.
Once filling all the fields duly asked in the India post payment bank aadhaar link delink form, visit the IPPB branch and submit it along with self-attested copy of Aadhaar Card
The Bank executive will tear the bottom part of the form which is Customer Acknowledgement Slip, fill it and provide it to you.
The customer needs to maintain this slip as an India Post Payment Bank Aadhar Update Acknowledgement until the Aadhaar successfully gets linked or delinked with IPPB Bank Account.
If you want to know the status whether your Aadhar Card attached with bank account or not you can click on the below link to check the IPPB Aadhar Number Link status.
How to Fill India Post Payment Bank Aadhar Update Form
Field
Instruction
Customer Name
Write full name of IPPB account holder, leave a space between First, Middle and Last Name
Account Number
Write India Post Payment Bank Account Number
(A)
Linking of Aadhaar Number
Tick mark on this field if you wish to link Aadhaar with IPPB Account Number and fill Aadhaar Number, Name on Aadhaar Card

Tick mark against all the below three fields

(i) I request you to link my Aadhaar number with my aforesaid account

(ii) I enclose the copy of the Aadhaar Card duly attested by me

(iii) The particulars of the Aadhaar Number are as under
(B)
De-Linking of Aadhaar Number
Tick mark on this field, if you wish to delink Aadhaar Number from IPPB account
Signature of Account Holder
Account holder will need to signature above this space
Date
Write the date when you are filling this form or submission time date
For Bank Only Use
This field will be filled by the bank officials
Customer Acknowledgement Slip
Customer Acknowledgement Slip field will also be filled by the bank officials and will be provided to you once the request is raised as acknowledgement
How to link delink aadhaar with ippb through sms?
IPPB doesn't offer delinking Aadhaar with IPPB requests through SMS service.
Why IPPB Aadhaar seeding rejected?
Below are the numerous reasons behind IPPB Aadhaar seeding rejection:

If the self attested Aadhaar Copy is not Clear enclosed along with form
If Aadhaar details mismatches with the details in IPPB Account
How to check IPPB Aadhaar Link online status?
To check whether your IPPB is successfully linked with Aadhaar visit the UIDAI Website and click on Bank Seeding Status. For detailed process click here.