Download Aadhar Card PDF will come to your rescue if your Aadhaar Number is generated and still you haven't received your Aadhaar Card Letter through Post. The downloaded eAadhaar will be in the form of a PDF File, which can be downloaded using eAadhaar download online facility provided by the UIDAI. Downloading e-Aadhaar PDF File becomes very essential for those who have not received their Aadhaar Letter or those who have lost their Aadhaar Letter or for any other numerous reasons.
When in need of Aadhaar Card Copy then you can always visit the Aadhaar Official Portal and get your Aadhar Card Downloaded on your computer, laptop, or your smartphone for free of cost.
Service
Aadhaar Download
Type
New Aadhaar, Old Aadhaar, New Born Baby Aadhaar , Baal Aadhaar, Child Aadhaar
Variant
Regular Aadhaar/ Mask Aadhaar
Fee
Free
File Type
PDF
Download Limits
Unlimited
Requirements
Aadhaar Number or Enrolment ID or VID

Registered Mobile Number
e Aadhar Card Download service provided by the UIDAI on website and app is a free facility offered by the UIDAI for Aadhaar holders. And the best thing about this service is that there are no limits on downloading e-Aadhaar Card from the UIDAI Aadhaar Portal. You can download Aadhar Card PDF anytime from anywhere. UIDAI's Aadhaar Portal is accessible 365 days, so there is nothing to worry about the timing.
e-Aadhaar Card PDF File is equally valid as Aadhaar Letter which you receive through post, so there is no doubt.
Download Aadhaar: This feature enables the resident to download a password protected electronic copy of Aadhaar, which is digitally signed by the competent Authority of the UIDAI. Your Downloaded Aadhaar(e-Aadhaar) is equivalent to the regular or printed Aadhaar Letter.
Now, let's briefly explore the various ways on how to download Aadhar card online. There are several methods available for Aadhaar holders to easily download their card digitally. In the following section, we will explain each mode of downloading Aadhaar online, making it easier for you to choose the most suitable option.
Aadhar Card Download
with Aadhaar or Enrolment ID

or VID

Aadhaar can be conveniently accessed and downloaded on various devices such as mobile phones, smartphones, PCs, laptops, tablets, and others. The official website of the Unique Identification Authority of India (UIDAI) is compatible with all these devices, enabling users to access a wide range of Aadhaar-related services seamlessly. Thus, there are no limitations in terms of device compatibility when it comes to utilizing the services offered by Aadhaar.

The process of downloading Aadhaar has undergone significant improvements, particularly with regard to the UIDAI e Aadhar download online portal. Previously, users were required to provide details such as their full name, pin code, and other personal information during the Aadhaar download process. However, the latest enhancements have eliminated the need for users to input these details while downloading Aadhaar. This streamlined approach ensures a more user-friendly experience, simplifying the process and reducing the time and effort required to obtain the Aadhaar card digitally.

Previously, individuals faced challenges while downloading their Aadhaar if they did not possess accurate details such as their full name and pin code, as recorded in their Aadhaar. This would result in an error message stating, "Please re-check your details, data does not match our records." However, with the enhanced version of the Aadhaar download feature, users can now download their Aadhaar without encountering such issues. The improved system ensures a smoother experience by eliminating the requirement for precise matching of personal information, thus facilitating hassle-free Aadhaar downloads for all users.

With Aadhaar or Enrolment ID or VID and registered mobile number, you can download your electronic version of Aadhaar Copy Instantly.

To download the Aadhaar Card PDF file from Aadhaar Card Official Portal you will need Aadhaar Card Acknowledgement Slip or Resident Copy which you were provided once enrolling for Aadhaar Card at Aadhaar Seva Kendra (ASK). Or else if you know your Aadhaar Number then you can even download your Aadhaar Card PDF by using your Aadhaar Number.

Once you have the Aadhaar Card Acknowledgement Slip or Resident Copy ready in front of you, just visit the official UIDAI Website https://uidai.gov.in
From the UIDAI Homepage, make selection of the Language as per your preference from the list
On selecting the language, the next page will appear on the basis of the language which you selected
From next screen click on the link Download Aadhaar and you will be welcomed to page myAadhaar by Unique Identification Authority of India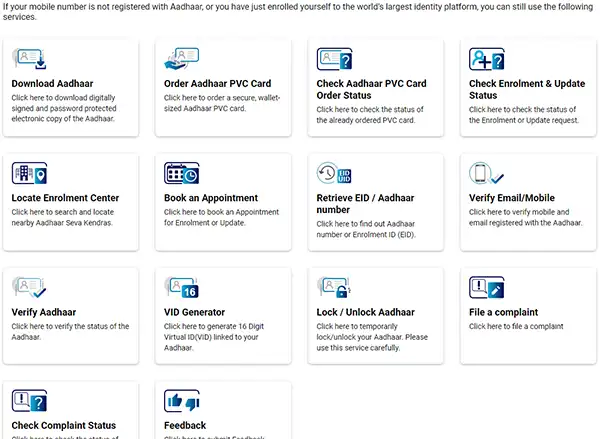 From the myAadhaar page, you will need to click on the link Download Aadhaar
This will open a new page called eAadhar Download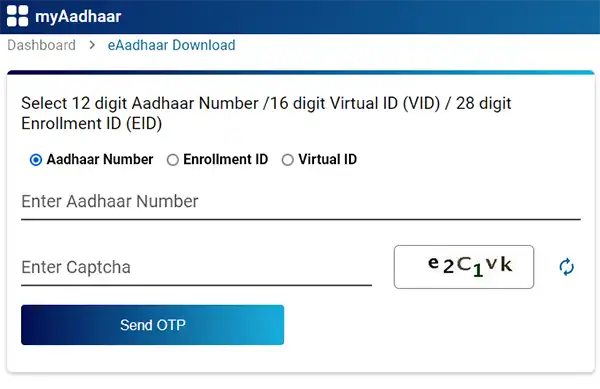 From the e-Aadhaar Card Download page just select I have Aadhaar or enrollment id or Virtual ID, if you are entering your enrollment id then you will need to enter your enrollment number with date, and time as printed on Aadhaar Card acknowledgment Slip
OR
If you know your Aadhaar Number then select I have Aadhaar and enter the Aadhaar Number in the field
OR
And if you have your Aadhaar Virtual ID then select Virtual ID and enter the Virtual ID in the below field
Once entering the Aadhaar or Enrolment ID or VID, solve the captcha verification and click on Send OTP button
As soon as you click on get one-time-password you will get a notification on screen "OTP successfully dispatched to your Aadhaar registered mobile number", this means you will receive OTP (One Time Password) on your registered mobile number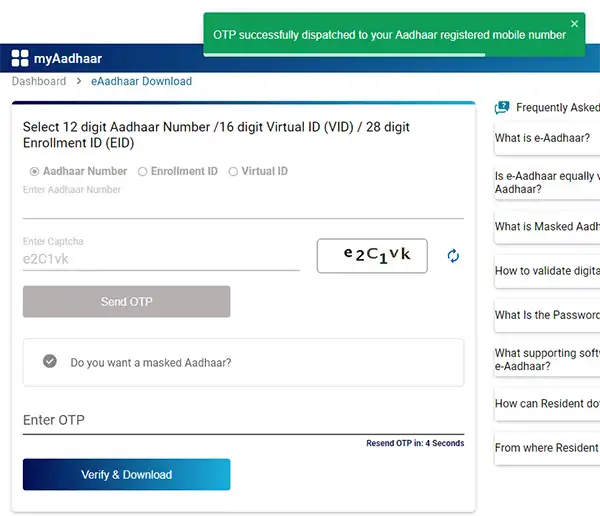 On the next page, you will need to enter the received OTP which you have received on your registered mobile number
Enter the 6 digits OTP, and click on the verify and download button
Your e-Aadhaar Card PDF File will get downloaded, just open the e-Aadhaar Card PDF File by double-clicking on it.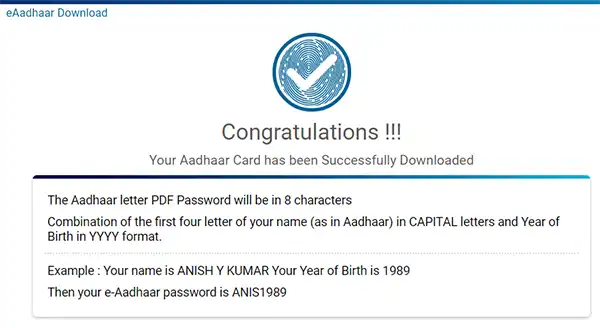 First make sure you have Adobe Acrobat PDF Reader installed on your PC or any other PDF viewing software, to view the downloaded e-Aadhaar Card PDF File. If you already have Adobe PDF Installed on your PC just proceed to open the downloaded e-Aadhaar Card PDF File.
On opening the e-Aadhaar Card PDF File it will ask you to enter the password to view the document, the password to open your e-Aadhar PDF file will be a combination of 8 characters which is your name 4 characters in capital letter, followed by the year of birth.
Aadhaar Card Download
by Name and Date of Birth
To download your e-Aadhaar having an enrollment id, Aadhaar number or virtual id is a must. Without entering such details you cannot even proceed with the process of downloading your Aadhaar. But in case if you don't have any of these details then you can still download Aadhaar by using name and date of birth details.
To download your Aadhaar Card by name and date of birth you will need to first visit the official UIDAI myAadhaar Website https://myaadhaar.uidai.gov.in/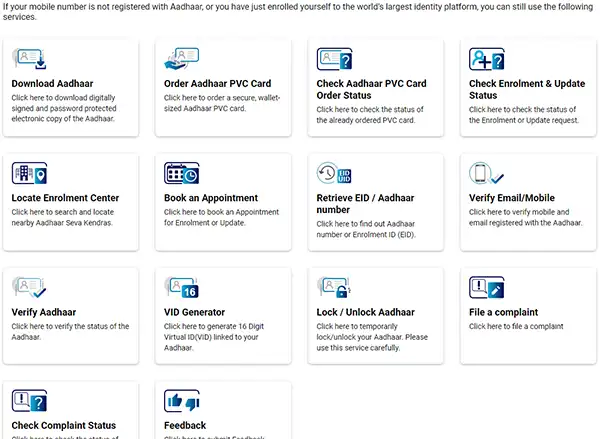 From the home screen click on the Retrieve EID / Aadhaar number
Remember that to use this feature, your mobile number should be linked or registered with your Aadhaar.
On loading the page Retrieve EID/UID in your web browser, select you wish retrieve Aadhaar Number or Enrolment ID
And then enter your details like full name, mobile number or email address, solve the security code or captcha verification and hit on the Send OTP button
You will receive OTP on your registered mobile number or email address whichever details you had entered
Enter the received OTP in the enter OTP field and click on the submit button
You will instantly receive your Aadhaar Details on your mobile number or email address as per details which you have provided in the form
Now to download your Aadhaar you can follow the regular process of downloading Aadhaar by clicking here.
Download Aadhar Card PDF with Aadhaar Number
This is the different method of downloading Aadhar Card (Aadhaar) from the UIDAI Portal. But through this method, Aadhar Card PDF can only be downloading using Aadhaar Number.
To Download Aadhar Card PDF using this method, visit the official UIDAI web portal https://uidai.gov.in/
Click on the Download Aadhaar option
A new page myAadhaar will open, just click on the login button which is appearing on top right corner of the page
On next screen enter your Aadhaar Number, solve the captcha security code and click on the Send OTP code button
Enter the received OTP Code in the enter OTP field and click on the Login button
You will be now logged in to UIDAI Portal using your Aadhaar
On myAadhaar page, under Services click on the Download Aadhaar
On next page your Aadhaar demographics data will be displayed, here you need to click on the download button appearing below
Your Aadhar Card PDF file will get downloaded
Aadhar Card Download from e Aadhar Card Download app
mAadhaar App is another source offered by UIDAI from where Aadhaar holders can easily get their ecopy of Aadhaar File. In this digital age people mostly rely on their smartphones, so keeping in mind the popularity of smartphone usage. UIDAI has started offering e Aadhar Card Download Online PDF feature on its official app named mAadhaar.
So in this post, we will introduce you to the new platform from where you can quickly download and have access to your Aadhaar.
To download your Aadhaar PDF on your smartphone, search for mAadhaar App in the App Store which is an official Aadhar card app by UIDAI
Install the App on your phone, and launch the app by tapping on it
Allow necessary permissions which the Aadhar card app is prompting while the first time launch
On the homepage of mAadhaar Card App, you will find several services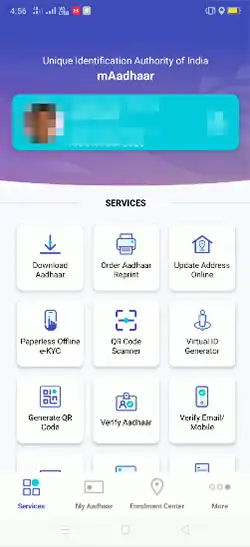 Just tap on the download Aadhaar icon
From next screen you will need to make selection from Regular Aadhaar or Masked Aadhaar
Once making the selection, on the next screen, there will be three options displayed asking which details do you have available with you like Aadhaar Number, Virtual ID (VID) number, Enrolment ID Number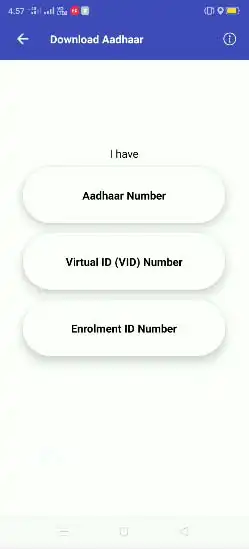 Select the details which you have available with you by tapping on it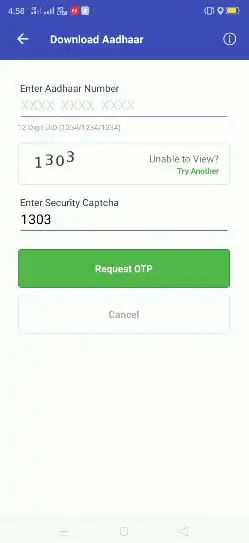 On the next screen, you will need to enter the details like Aadhaar Number or Virtual ID (VID) number or Enrolment ID Number and enter the security captcha which is being displayed in the image
Tap on the Request OTP button and you will receive One-Time-Password on your Aadhaar registered mobile number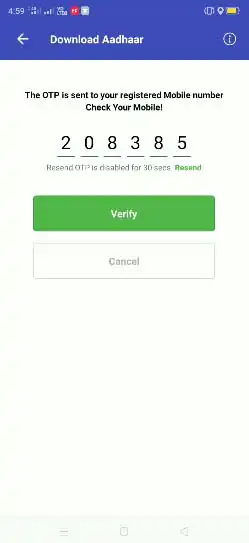 Input the received OTP and tap on the verify button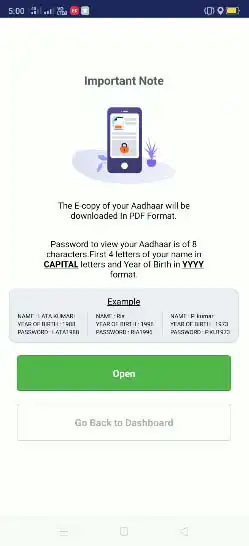 On the screen, an Important Note will be displayed stating "The E-Copy of your Aadhaar will be downloaded in PDF Format. The password to view your Aadhaar is of 8 characters. First 4 letters of your name in CAPITAL letters and Year of birth in YYY format"
Below this important note, there will be an open button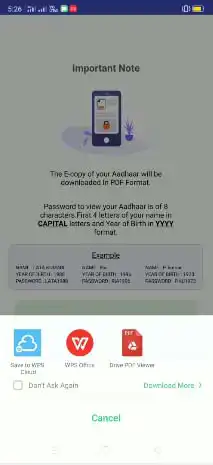 Just tap on the open button and the app will prompt you to select PDF reader apps in which you want to open your Aadhaar PDF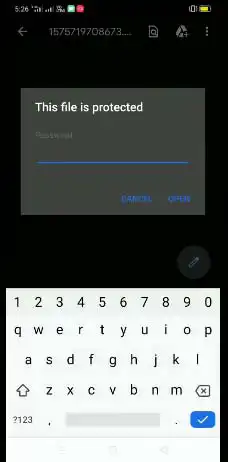 Your eAadhaar PDF file will open in the selected PDF App, but on opening, it will ask you to enter the password to decrypt and you know the password very well as it has been mentioned in an important note
Just enter the password and tap on the OK button
Your Aadhaar PDF will get open, but still, you are not done with downloading your Aadhaar PDF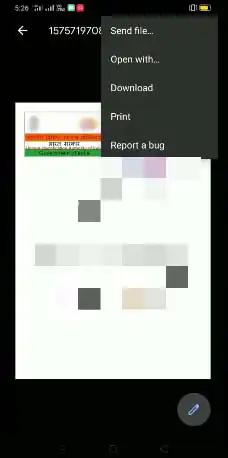 To download your PDF of Aadhaar, just tap on the three dots or options and tap on the download button
Your Aadhaar PDF will get downloaded in your smartphone downloads folder
To copy the file of your Aadhaar PDF, you can access the download folder in your smartphone.
For all the above methods to download Aadhaar from UIDAI Portal or mAadhaar App, having a registered mobile number is a must. But what in case if you don't have any mobile number linked to your Aadhaar? Is there any way for those people who have not linked their mobile number with Aadhaar.
Below are a few methods explained especially for those who don't have mobile linked with their Aadhaar.
Download Aadhaar without Mobile Number
Without having a mobile number linked with Aadhaar, it is not possible to download Aadhar Card PDF from the UIDAI portal or app. But previously UIDAI used to allow users to download Aadhaar Card by entering a different mobile number to complete OTP verification, but that feature has been revoked.
Now to download Aadhaar without a mobile number has become truly impossible. The only way left to download your Aadhaar is to get the mobile number updated with your Aadhaar from Aadhaar Center. And once the mobile number gets updated you can download e-Aadhaar PDF Copy Online.
In case if there is urgency and you need your Aadhaar right away, then you can visit Aadhaar Seva Kendra (ASK) in your location and quote your 12 digits Aadhaar Number and get a print out from them using biometric authentication. This is the offline aadhaar download method which you can go with if no mobile number registered or in case of urgency. For this, they will charge you a nominal fee for the printout, and also there won't be a requirement for a mobile number. Your Aadhaar Print out will be taken at the center on the basis of your biometrics.
Is Online Aadhaar download service chargeable?
The Online Aadhaar download service present on the UIDAI website as well as the mAadhaar app is a free service.
Do I need an internet connection to download my Aadhaar?
Yes, an Internet connection is required to access the UIDAI website and the mAadhaar app to download Aadhaar.
Does Aadhaar PDF downloaded from UIDAI Website and mAadhaar app contain password protection?
Yes, the PDF file downloaded from mAadhaar as well as the UIDAI website are password protected.
Is there are validity for a downloaded Aadhaar PDF file?
No, the downloaded Aadhaar PDF file doesn't contain any validity. You can use this downloaded eAadhar PDF for a lifelong.
Are downloaded eAadhaar and Aadhaar Letter the same?
Downloaded eAadhaar from UIDAI Website or mAadhaar holds an equal value as Aadhaar letter. You can use e-Aadhaar as a valid document, the same as you use the Aadhaar letter.
Is the download process the same for all age groups?
Yes, for all age groups as well as for people with differently-abled like a senior citizen, newborn baby, child (baal Aadhaar), NRI, minor, blind, bedridden, etc. the process is the same.
My registered mobile number with Aadhaar is deactivated or lost, so how can I download my Aadhaar?
If your Aadhaar linked mobile number is lost/ deactivated then you cannot proceed with downloading your Aadhaar Online. Instead you can opt for Aadhaar download through biometrics by visiting nearby center. Or else get your mobile number update and then you are ready to download your Aadhaar Online.
While downloading my Aadhaar I got an error "Your request cannot be processed due to some technical issue. Please try again later."?
This is a temporary technical glitch in the system, you need to try again.
While downloading Aadhaar using VID, I am getting error "Expired VID is used in input"?
The VID can be used only one time, so this means the VID which you are entering is already used so it's throwing an error Expired VID. You need to generate your VID again and try downloading.
Is there any offline aadhaar download option?
Yes, you can get your Aadhaar downloaded offline from Aadhaar Center for a nominal fee.
Why i am unable to download Aadhar card online?
To be able to download Aadhar Card Online, the Aadhaar Number must be issued to you. In case if its not issued even after applying for it, then first make sure you check Aadhar Card Status.
How to download baby Aadhar Card?
The process of downloading Aadhaar of a baby is same as adults. Just follow the above process.
Why e aadhaar download link not working?
The reason for e aadhaar download link not working may be numerous like server issue at UIDAI, or ongoing maintenance. So in such case you should try downloading e Aadhaar after a while.
Couldn't download Aadhar something went wrong?
This error could encountered due to issues going on with server or if there is high number of users accessing the UIDAI Portal. In this case you could try downloading Aadhar after some time.
Why my aadhaar is not downloading?
If your Aadhaar is not downloading then try it in other web-browser.