The details in Aadhaar can be updated at Aadhar Seva Kendra, Post Office or Bank. Alternatively, Aadhaar Card details can also be updated online at the comfort of your home or office. So in this guide, we will briefly discuss how to update Aadhar Card via all these available channels.
All the channels available to update Aadhar Card is unique on its own and has some limitations, user as per their convenience can use any of these methods available to update aadhaar details.
When to update aadhar card
After marriage where usually brides name gets changed
Shifting your home to a new address
After switching to new mobile number
Any details in Aadhaar is not appearing correctly
If your Aadhaar was issued more than 10 years back and since then it was not been updated OR if you have received Aadhaar document update notice SMS from UIDAI stating "Aadhaar XXXX Needs Document Update. Use this service at myaadhaar.uidai.gov.in or visit an Aadhaar Centre with Proof of Identity & Address documents – UIDAI" OR Your Aadhaar needs "Document Update". Kindly click to upload your Proof of Identity and/or Proof of Address documents. Then for such cases you should go for Aadhaar Document Upload and not Update Aadhaar, below is the link of Document Upload Process.
Below is the chart which explains which all fields in Aadhaar can be updated via particular channel.
Field
Offline
(Aadhaar Seva Kendra
Bank
Post Office)
Online
IPPB Aadhaar Update
Name
YES
No
No
Address
YES
YES
No
Gender
YES
No
No
Age/ Date of Birth
YES
No
No
Language
YES
Yes
No
Mobile number
YES
NO
Yes
Email address
YES
NO
No
Biometrics
(Photo, Iris, Fingerprints)
YES
NO
No
Through the online channel of Aadhaar Update, you can only update your Address, and Language, and rest all details such as Name, Date of Birth, Gender, biometrics, mobile number, and email address can only be updated through Offline Channel which is Aadhaar Seva Kendra or Post Office or Bank. However for mobile number update there is a special arrangement of door step service by India Post known as IPPB Aadhaar Mobile Number Update, and this service is applicable for IPPB Customers as well as non IPPB customers. So these are the only limitation of updating your Aadhaar Online.
Depending upon the fields which you wish to update, you will need to furnish the supporting documents, and below is the complete list of supporting documents.
Documents to Update Aadhar Card
Proof of Address (PoA) documents Containing Name and address
POI (Proof of Identity) documents containing Name and Photo
DOB (Date of Birth) documents containing Name and DOB
POR (Proof of Relationship) documents containing Name of applicant and Name of HoF (Head of Family)
Process to Update Aadhar Card Online
Updating Aadhaar Card Details Online option helps a lot for those who have errors in their demographic details of Aadhaar, if there is any spelling mistake or error in your Aadhaar Card than you can easily rectify it by using the Update Aadhar Card Data Online Option found on the Official UIDAI Portal.
But the service of updating Aadhaar online is no more free as it used to be earlier. Now you need to pay for every Aadhaar update request which you place online.
To be able to update your Aadhaar Card Details Online, first of all, your mobile number should be registered with your Aadhaar, you should have an internet connection, computer or laptop or smartphone, payment mode such as Credit/ Debit Card or Net Banking and self-attested supported document's scanned copies stored on your computer or laptop or a smartphone in .jpg, .pdf, .tiff, .jpeg, or .png format.
As mentioned earlier through the online mode of update you can only update your Aadhaar demographic details such as name, date of birth, gender, address, and language.
And to proceed with demographic detail update online in your Aadhaar, having a valid mobile number linked with your Aadhaar is mandatory. Without having a registered mobile number, you cannot update your Aadhaar Address Online. So make sure you keep the registered mobile number accessible with you while this process and also make sure you have scanned the above-supporting documents on your device from which you are submitting the request for the demographic data update in Aadhaar.
To update Aadhar Card Online visit the official UIDAI Website https://uidai.gov.in/
Under Update Aadhaar Section click on Update Demographics Data & Check Status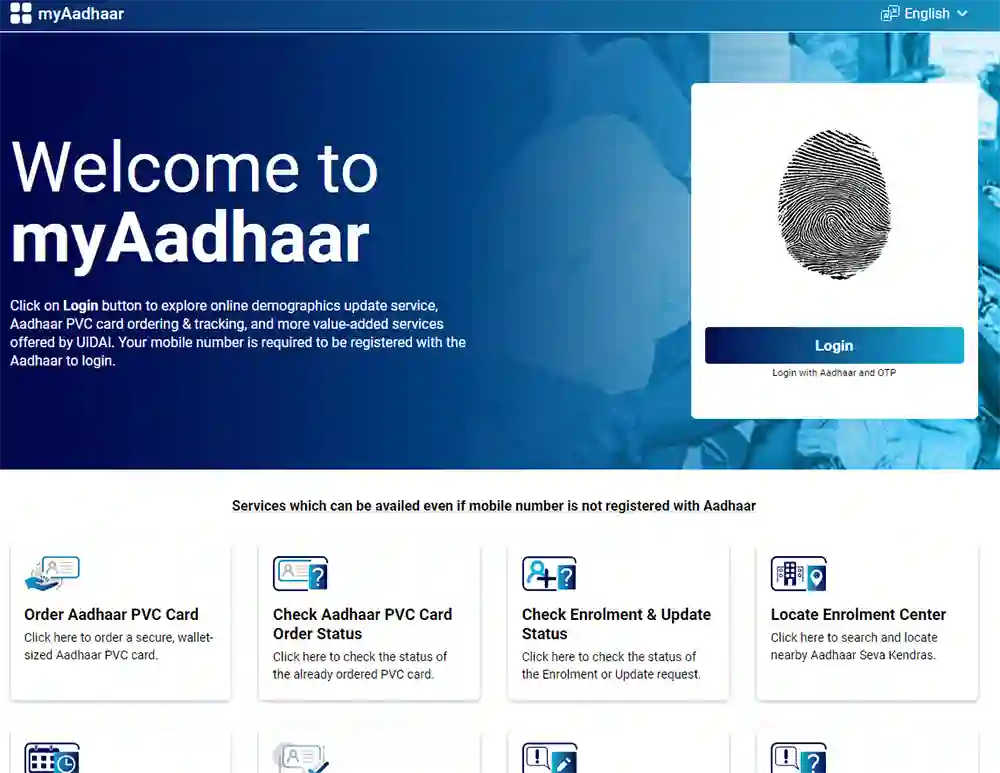 myAadhaar page will open, which will list up various options
From myAadhaar page, just click on the login button which is appearing on top right side corner
In the form you will need to enter your 12 digits Aadhaar Number, solve the captcha code and click on the Send OTP button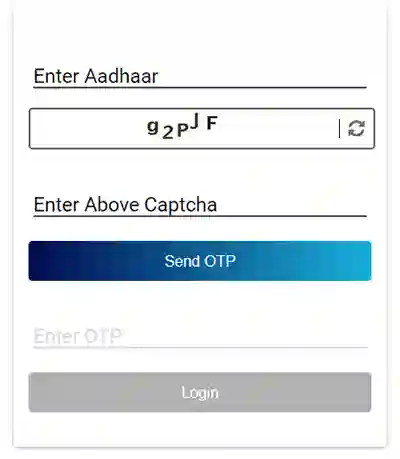 You will receive a one-time-password on your registered mobile number, you need to enter the same in the enter OTP field and click on the login button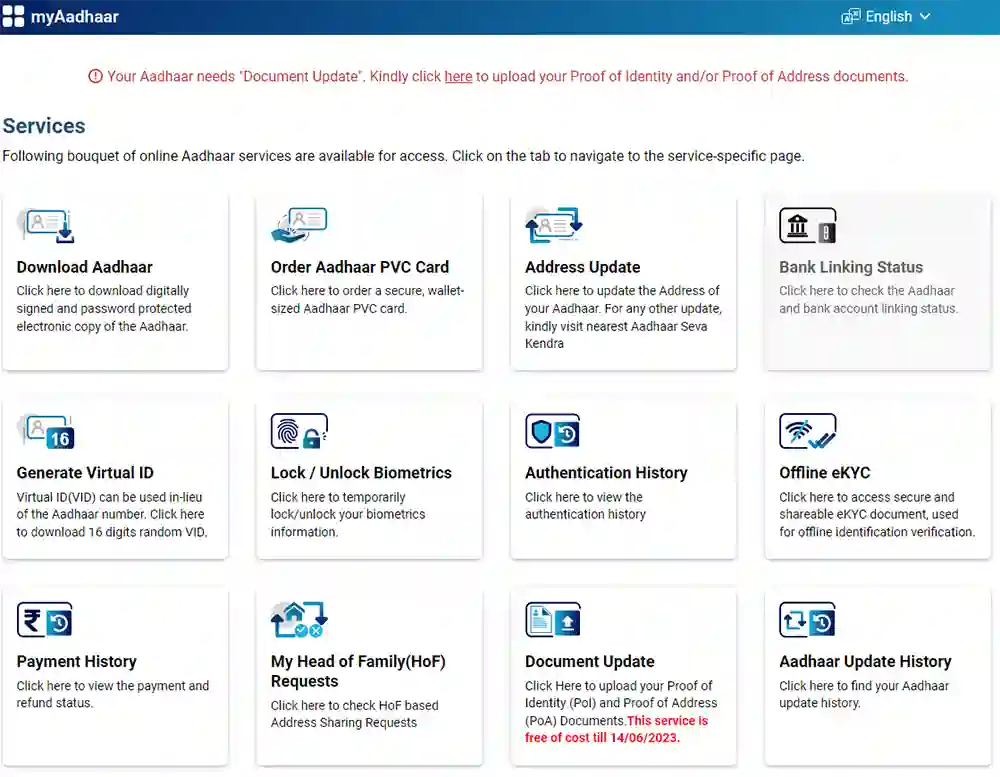 Now you will be logged in with your Aadhaar Number, once logging in, in the same myAadhaar page you will be able to see Address Update under services section
Just click on the Address Update and it will take you to a new page
From this page you will be asked to Please select the type of Online Aadhaar Update, from Update Aadhaar Online or Head Of Family (HOF) based Address Update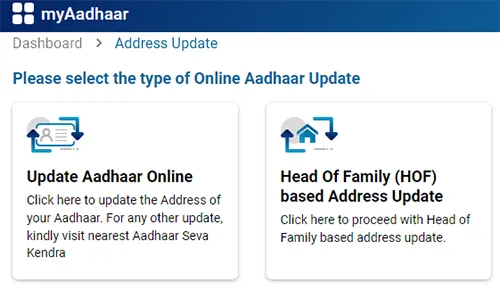 Update Aadhaar Online can be selected if you have valid documents to update your Aadhaar and Head Of Family (HOF) based Address Update can be selected by those who doesn't have documents and they wish to update their Aadhaar producing Head of Family Documents
Click on Update Aadhaar Online, On next page update process will be explained, here you need to click on the Proceed to Update Aadhaar button appearing at the button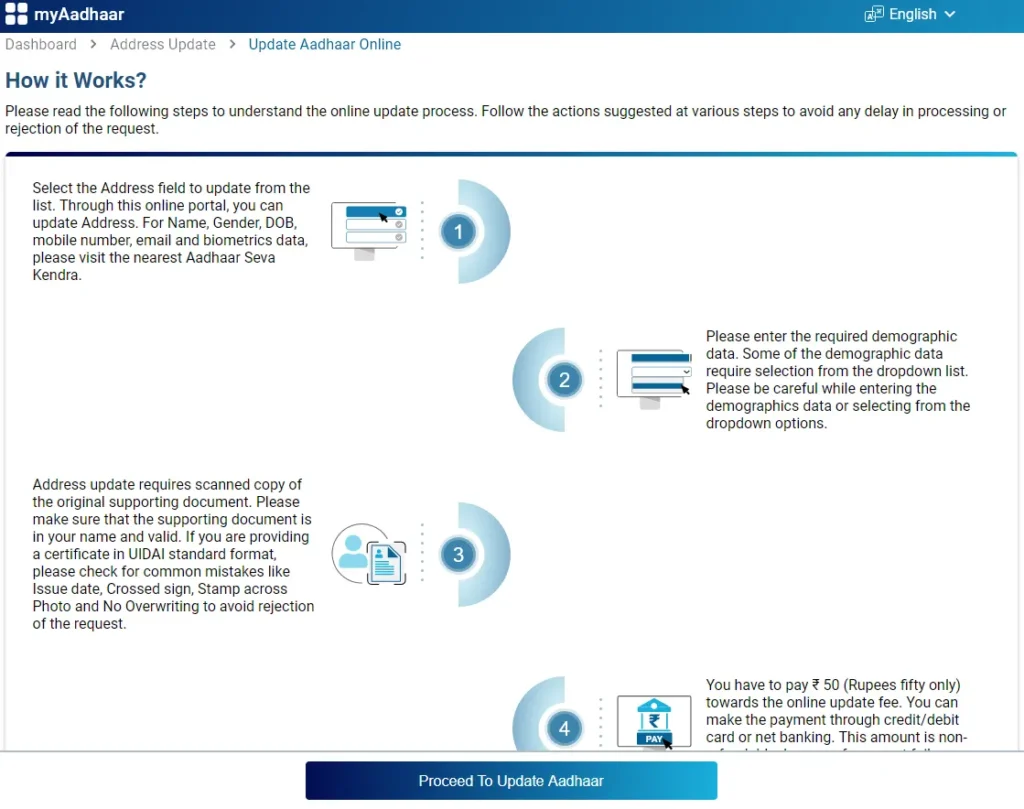 Select the demographics field to update from the list. Through this online portal, you can update your Name (minor correction only), Date of Birth(DOB), Gender, Language, and Address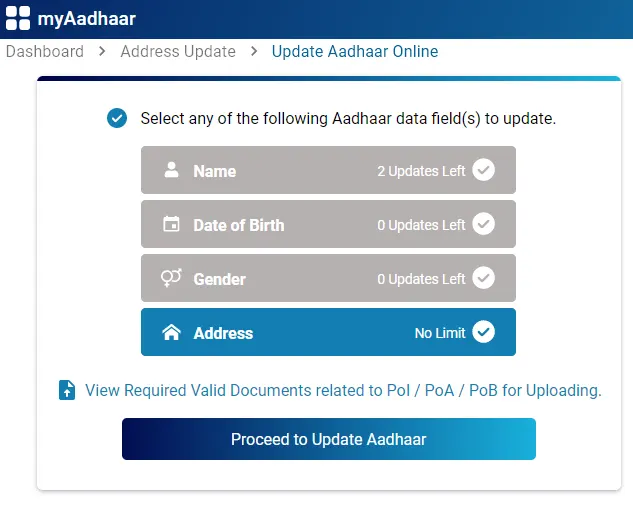 One thing which you need to note down that fields such as name, date of birth, and gender can be updated a limited number of times as being a human these data don't get updated again and again. So below are the limitation chart of name, gender, and date of birth update set by the UIDAI.
| Data Field | Limit |
| --- | --- |
| Name | Twice in lifetime |
| Date of Birth | Once in lifetime |
| Gender | Once in lifetime |
You can update your name if the change is minor and includes:
| | |
| --- | --- |
| Spelling correction phonetically same | Changes in the Sequence |
| Short-form to full form | Name change after marriage |
At once you can even select multiple options to update
Once selecting the field to update, click on the Proceed to Update Aadhaar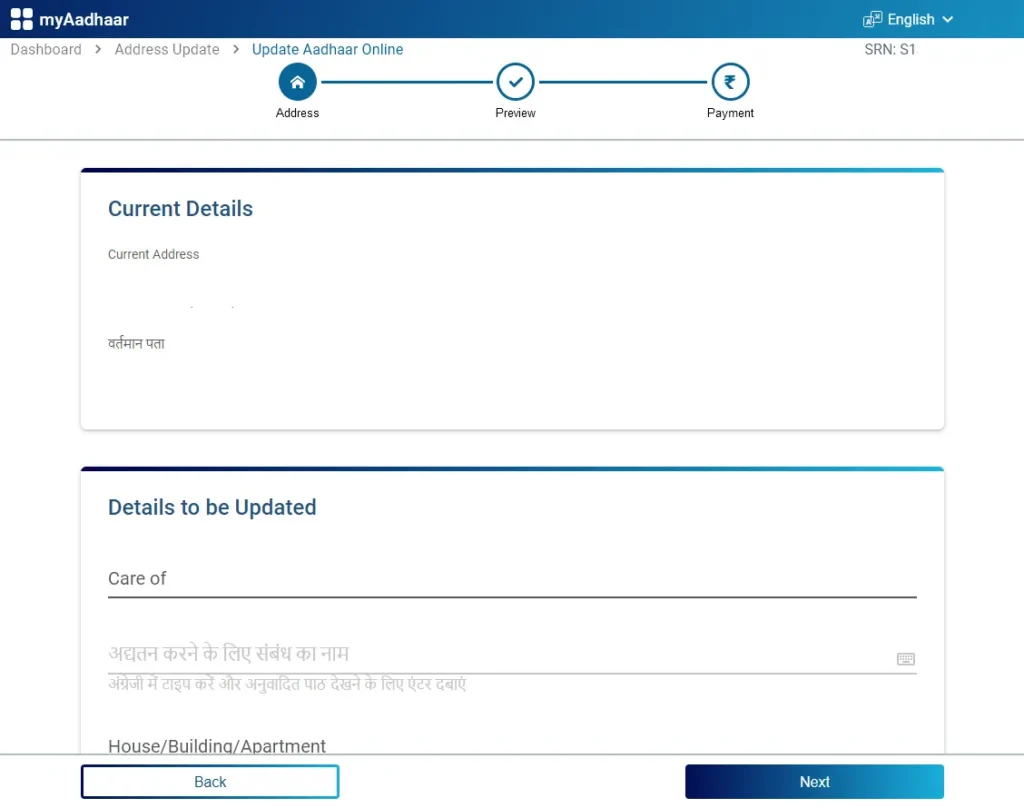 On next page, you will get to see your current details, and below you will need to enter the new details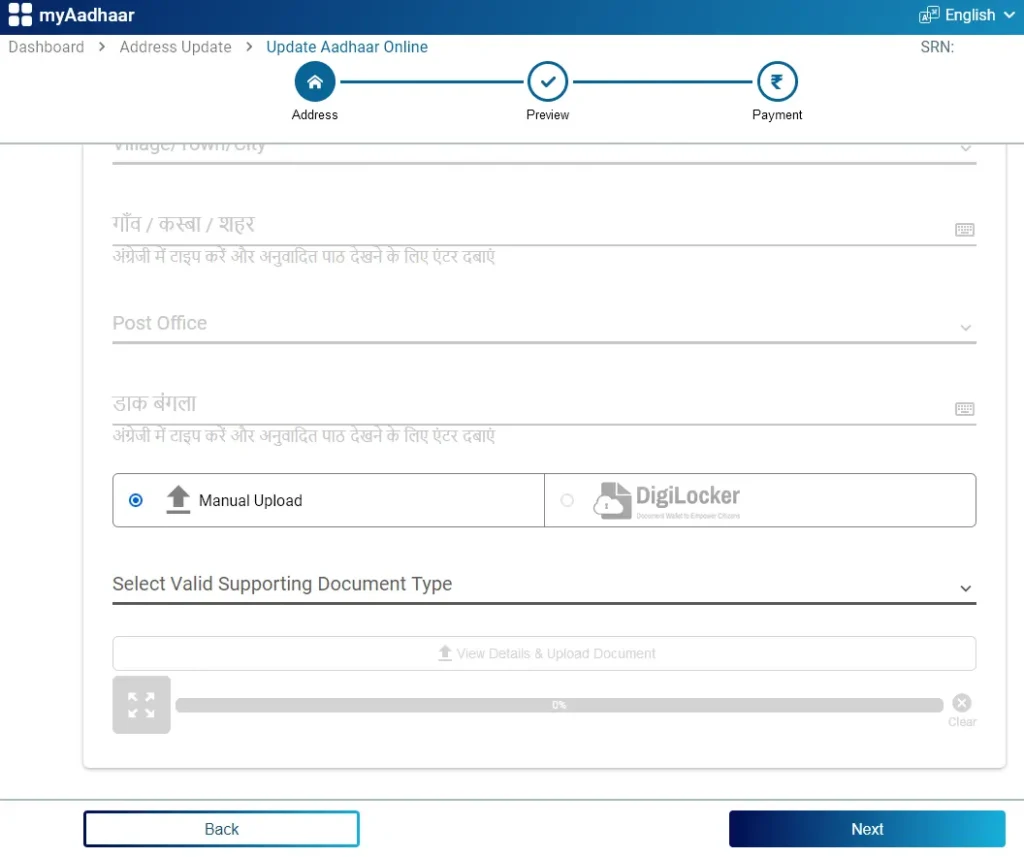 Once filling up the details the details which you had entered will be translated in local language and it will be be populated in the below field, you need to upload the document as per the supported document list
Select the Aadhar Card Address Change Documents from the list which you will be uploading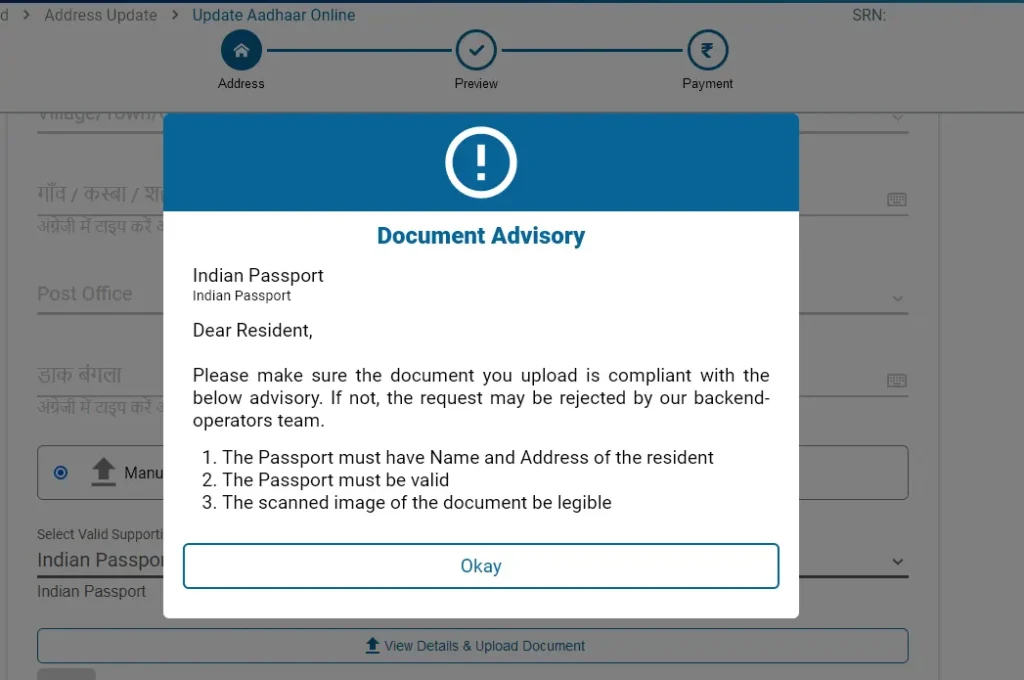 Once selecting the document from the list a Document Advisory notice will display, just click on Okay button to proceed
Click on View Details and Upload Document
This will bring a popup, from which you need to select Continue to Upload and upload the document (Note down that the document file size must be below 2 MB and should be in JPEG, PNG or PDF format)
You can either update document manually or if you have the documents in your DigiLocker account then you can sync the documents from there by selecting the appropriate document from the list
Once uploading the document click on the next button
If you have selected multiple fields to update then you need to enter the details one by one by clicking on the Next button. For updating multiple fields you will need to upload a document for every field like:
| Data Field | Document Requirement |
| --- | --- |
| For Name | Scanned copy of Proof of Identity (PoI) |
| For Date of Birth | Scanned copy of Proof of Date of Birth |
| For Gender | OTP authentication via mobile/Face Auth |
| For Address | Scanned copy of Proof of Address (PoA) |
| For Language | No documents required |
Once filling and uploading the documents, on next screen you will get the preview page
Here you will get the chance to review your details entered
Your entered demographic details preview will be displayed with the document uploaded, just have a cross-check on entered details and if everything is correct, solve the captcha code, click on send OTP and enter the received OTP in the enter OTP field and accept the conditions by tick marking on "I hereby confirm that, I have read the instructions carefully and the information provided by me to UIDAI is true and correct" and click on the make payment button
In order to submit a demographic update request, you need to make the payment using Credit Card/ Debit Card, or Net Banking. Making the payment is mandatory to submit the update request.
Once making the payment, on the next screen your Acknowledgement receipt for the SSUP Demographics update will be displayed
You can download the Acknowledgement receipt by clicking on the download button for future reference. And the status of your update request can be tracked online using the URN Number (Update Request Number) found on the receipt.
Your application may take 1 to 7 weeks to get processed, so you will need to keep an eye on the status of your request as well as you will be notified via SMS. Your request will be verified by UIDAI's internal quality check operators. At this stage provided demographics data will be checked against the supporting document. If there is a mismatch, your request is likely to be rejected. On completion of the quality check process, you will receive an SMS notification containing the Enrolment ID an outcome. After a few more validations by backend software, your request processing will be completed. You will get an SMS notification on the outcome.
And once your update request gets approved and processed, your Aadhaar physical copy with new details will be dispatched to your registered address via Speed Post which could take up to 1 month of time after your update request gets approved.
This is how you can get your Aadhar address, name, date of birth, gender, and language changed online if you have shifted to a new address or if your details were incorrectly mentioned on your Aadhaar Card.
For any reason while the update process if you close the page, then it will be stored as draft which you can see under Request Section once you login with your Aadhaar.

You can just click on resume option to resume with your update process. And even you can delete the last uncompleted request by clicking on delete and then later on start fresh.
Update Aadhaar through Enrolment Center or Bank
By visiting Aadhaar Enrolment Center or Bank you can almost correct or update every detail in your Aadhaar Card like Name, Address, Date of Birth, Age, Gender, Mobile Number, Email id, relationship details, photograph, iris, and fingerprints. In one go you can update multiple fields in your Aadhaar through this offline mode.
To update your Aadhaar Card you will have to visit the nearest Aadhaar Enrolment Center or Bank in your location which you can find by clicking here.
You can get Aadhaar update form from the center or else you can be prepared at home only by downloading the form from here.
Fill out the form completely with correct details that you want to update. To know how to write application for aadhar card correction click here. Along with the duly filled Aadhar Card Correction Form you will also have to carry original documents for verification and a copy of your existing Aadhaar Card. You can find out the list of supporting documents by clicking here.
Walk in to Aadhaar Enrolment Center with Form and the documents
Handover the form with documents to the verifier
The verifier will cross check your details in the form and documents and return back you the original documents
You will be asked to have a seat at the operator desk
The operator will enter the information which needs to be corrected or updated
All necessary information will be captured and you will be handed over with Aadhaar Update Receipt
You will have to keep the update receipt safe with you until your new details get updated in your Aadhaar and until you receive a new Aadhaar Card.
Are there any charges to be paid for Aadhar Card update Online Service?
Yes, the Aadhaar Update Online service is not free, you need to pay charges depending upon the fields which you select to update.
Can biometrics details updated by using UIDAI Aadhar Update Online Service?
No, biometrics such as fingerprints, iris, and photograph in your Aadhaar Card can only be updated by visiting Aadhaar Seva Kendra.
Can demographic details in Aadhaar like name, gender, age/ date of birth, mobile number, email address, updated using Aadhar Update Online Service?
You can only update your Name, Gender, Date of birth, address, and language online. Rest all details like mobile number and email can only be updated by visiting the Aadhaar Seva Kendra.
How many days it will take to get e-aadhaar card after update?
You can download your e-Aadhaar Card online straightaway with new details once you get an SMS on your phone stating your update request has been accepted and approved.
Once my details get updated will I get PVC Card or a regular Aadhaar letter?
Once your request for an update gets approved and processed, you will get your Aadhaar letter with new details on it through Speed Post at your registered address. If you need an Aadhaar PVC Card with new details then you need to order it manually once your details in Aadhaar get updated.
Can I update demographic details in my Aadhaar Online without having registered mobile number?
Without having a mobile number linked with your Aadhaar, you cannot update any of your demographic details in your Aadhaar through online mode as you will receive OTP for Aadhaar Authentication on your registered mobile. So in case if your mobile number is not linked with your Aadhaar or mobile number which was linked with your Aadhaar is no longer available with you then you need to first get your mobile number updated in your Aadhaar by visiting the nearest Aadhaar Seva Kendra or Bank.
How many times can I update my demographic details in Aadhaar Online?
There are no limits set by UIDAI on updating your demographic details in Aadhaar Online. However, demographics details such as name, date of birth, and gender can be updated a limited number of times like name Twice in Life Time, Gender Once in Life Time and Date of Birth Once in lifetime subject to the condition that present status of the D0B is declared/approximate. (Change in Date of Birth can be updated only for unverified DoB.
If my update request gets rejected, will I'll be getting a refund of the fee paid?
Yes, if your update request gets rejected for any reason you will be refunded the fees which you have paid. The refund will be credited to the source account from which it was paid.
When I click on Update Aadhaar Online I am getting an error "You already have an active draft from the previous interaction with the portal. You may edit the draft request or cancel it and start fresh"?
This is because you have already uncompleted Aadhaar update request stored as a draft. To proceed with update you may resume with the last request which is stored as draft under requests section or else you may delete the draft and carry with fresh update.
Can I Only Update Pin Code in my Aadhaar Card?
The Pin Code field comes under address section, so to update Pin Code you will need to select address update field and fill up complete address with correct Pin Code. To update the new Pin Code your supported document must contain the same pin code.
Can the name of a child (0-5 years) be changed in Aadhaar if the name is registered as "Baby of …"?
Yes, the first update request for a full name change of a child (0-5 years) registered as "Baby of …" in Aadhaar can be allowed. To request the name change, a Birth Certificate issued under the Registration of Births and Deaths Act, 1969, read with Registration of Births and Deaths Rules 1999/2000/2002 of the respective States must be submitted as supporting documentation. This will enable the child's name to be updated in the Aadhaar database.
Where can Resident Foreigners update their Aadhaar?
Resident Foreigners can update their Aadhaar only at Aadhaar Adult Enrolment Centers. These centers are designated for Aadhaar services specifically for adults, including Resident Foreigners. It is important for Resident Foreigners to visit these centers for any Aadhaar updates they may require.
How to cancel aadhaar update request?
Once the Aadhaar update request is submitted it cannot be cancelled.
Do I need to write a Application for correction of Aadhar card?
There isn't any need to write a Application for correction of Aadhar card, instead you can correcting it online you need to fill the online form and if doing offline then you need to fill the form available at seva kendra or by downloading.
Can I perform IPPB Aadhaar Photo update?
Aadhaar Photo cannot be updated through IPPB mode, it needs to be updated by visiting the Seva Kendra.