The Aadhaar Card Letter obtained through the Online UIDAI Portal in PDF form incorporates a digital signature. Consequently, the inclusion of an e-signature on your Aadhaar obviates the need for a physical signature.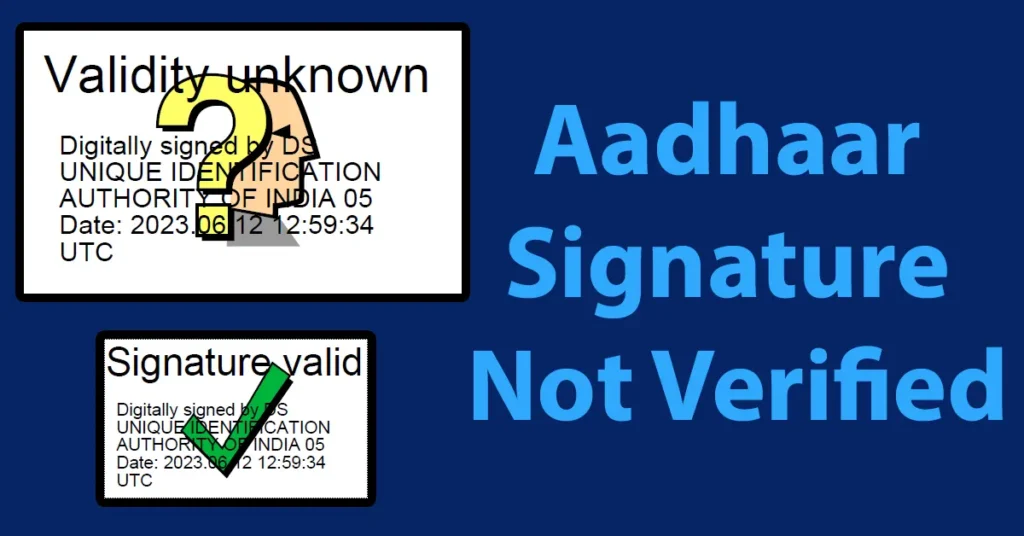 But at several occasions on opening your Aadhaar Card PDF on your device, you may find the Aadhar Signature Not Verified error. When the signature not verified in Aadhar, you may notice a digital signature which is there on your Aadhaar PDF is having a yellow-colored question mark and above that, you will also find a text stating validity unknown. So if you facing such issues in your Aadhaar then let me tell you that such Aadhaar with error validity unknown in print form would not be accepted by any authority. So before printing your Aadhaar PDF, you should make sure that the e-signature on your e-Aadhaar is appearing as signature valid.
| | |
| --- | --- |
| Task | Validate Aadhaar Signature |
| Software Required | Adobe Reader for Aadhaar card signature validation |
| Fee | Free |
| Aadhar Signature Not Verified Sign | Validity Unknown with Yellow Question Mark |
| Aadhar Signature Verified Sign | Signature Valid with Green Tick Mark |
| Applicable | Masked and Regular Aadhaar PDF |
If the downloaded eAadhaar displays the message 'Signature not verified, it doesn't mean you haven't correctly downloaded the Aadhaar or instantly seeing the error don't start searching on how to download e aadhar with signature verified as none of these would sort out the problem. To verify the Aadhar Signature there isn't any need to re-download the Aadhaar, instead a few clicks could make the signature verified on your Aadhaar. Below is the complete process explained on how to verify signature in aadhar card or how to validate signature in aadhar card.
How Does Aadhaar Card Signature Not Verified Look Like
When the Aadhaar Card Signature is not verified, you will get to see the below icon on your Aadhaar PDF.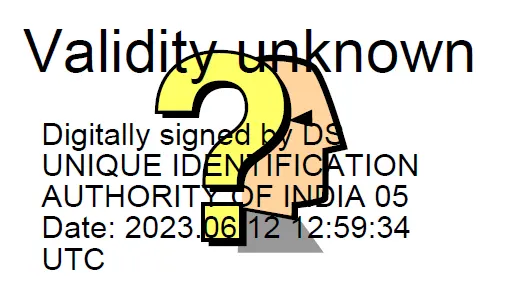 How Do Valid Signature in Aadhar Card Look Like
When the signature on your Aadhaar PDF is valid, you will get to see below Aadhaar digital signature icon with a text written Signature valid.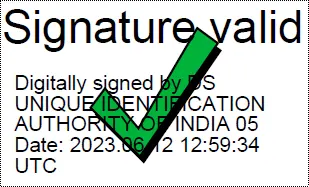 If your Aadhaar PDF is showing Validity Unknown with yellow-colored question mark icon then you need to perform simple steps to validate aadhaar signature.
Verify Aadhar Signature Not Verified
To validate digitally signed Certificates/Permissions make sure you have Adobe PDF Reader Software Installed on your device, if not then you can download it for free from Adobe Website. This software will act as a PDF reader as well as Aadhar Card Signature verification software.
Once you have Adobe Reader software on your device, just open the downloaded e-Aadhaar PDF File with the Adobe PDF Reader Software. If you can't recall the password for Aadhaar PDF click here.
On opening Aadhaar PDF File in Adobe Software, if you are able to see Validity unknown as displayed in the below image, then it needs to be validated.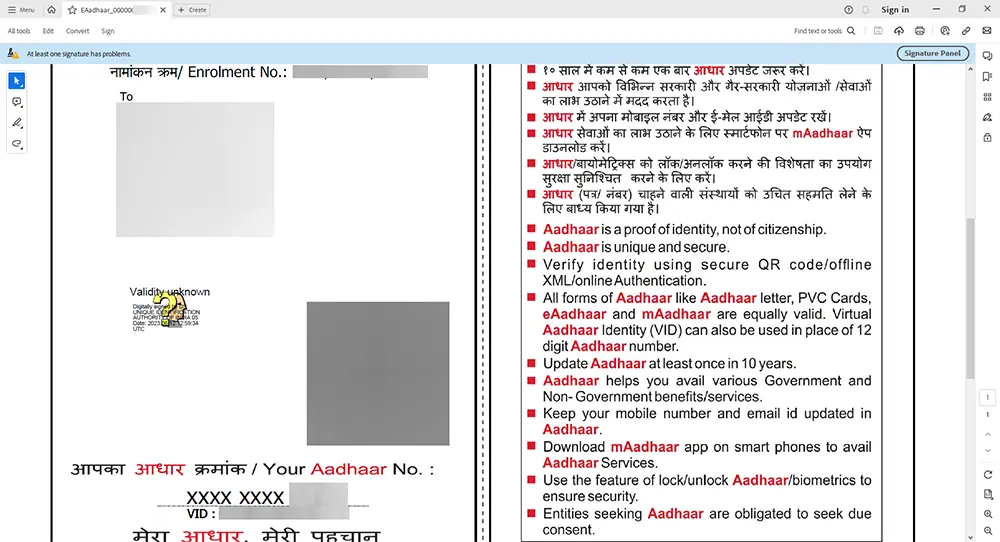 To validate the e-sign in your Aadhaar, just click on the e-signature or validity unknown error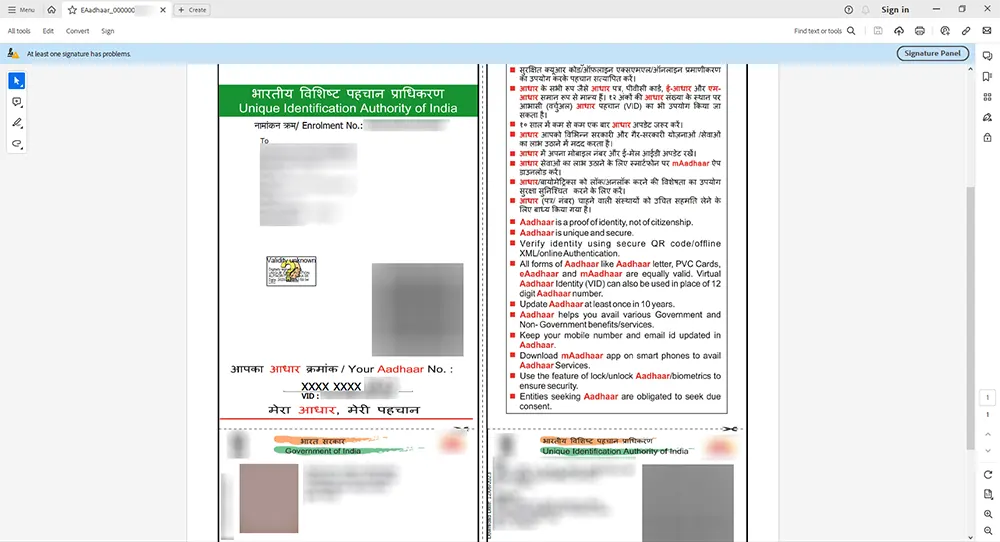 This will open a pop-up window called Signature Validation Status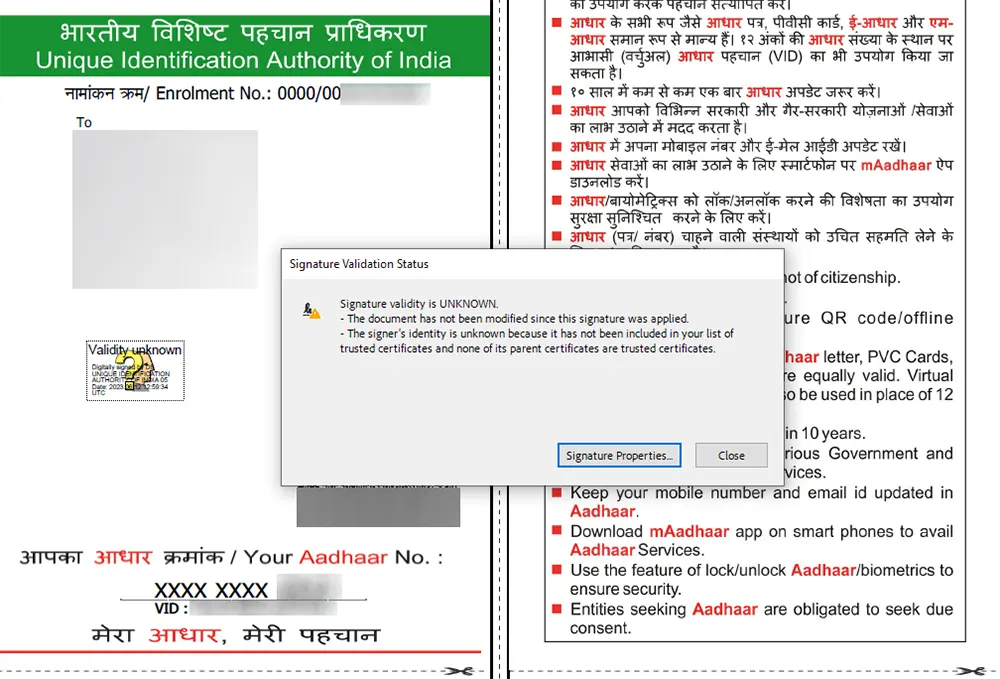 From the Signature Validation Status Popup click on Signature Properties Option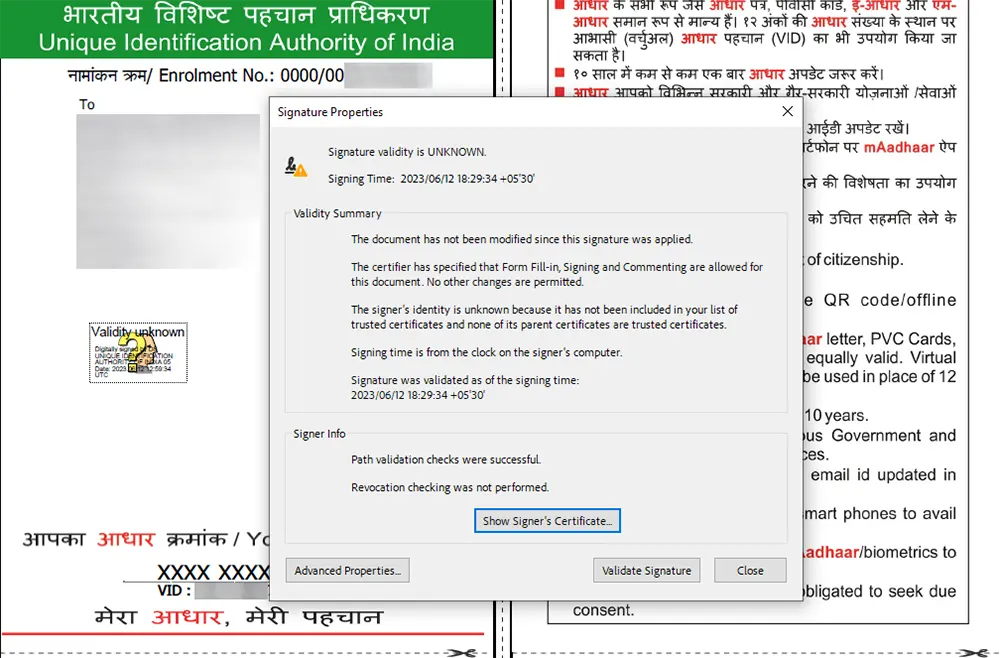 From signature properties window just click on Show Signer's Certificate.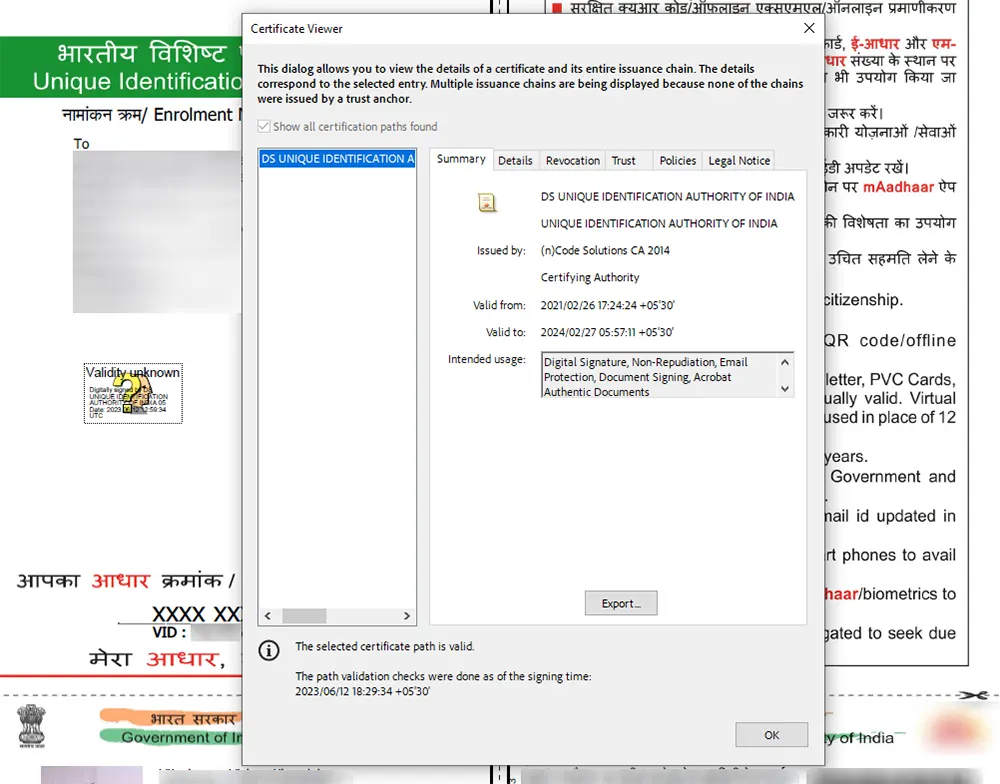 Verify that there is a certification path named 'UNIQUE IDENTIFICATION AUTHORITY OF INDIA' and issued by '(n)Code Solutions CA 2014'. This identifies the UNIQUE IDENTIFICATION AUTHORITY OF INDIA as the owner of the digital certificate that has been used when signing the document.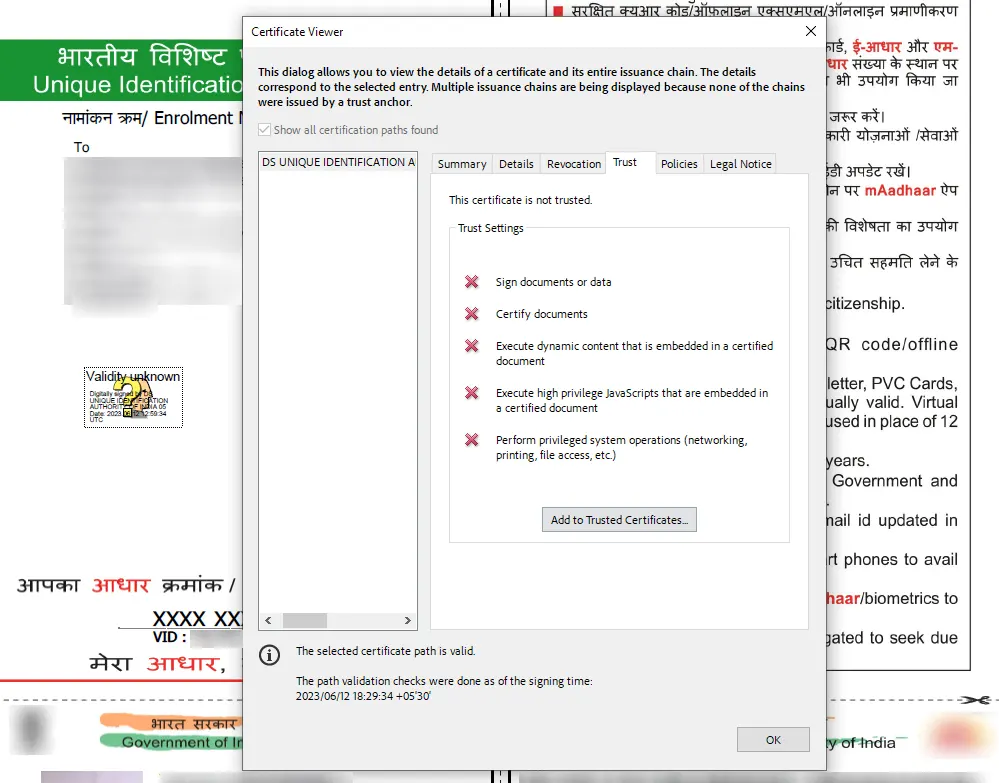 Click on Trust Tab > Add to Trusted Certificates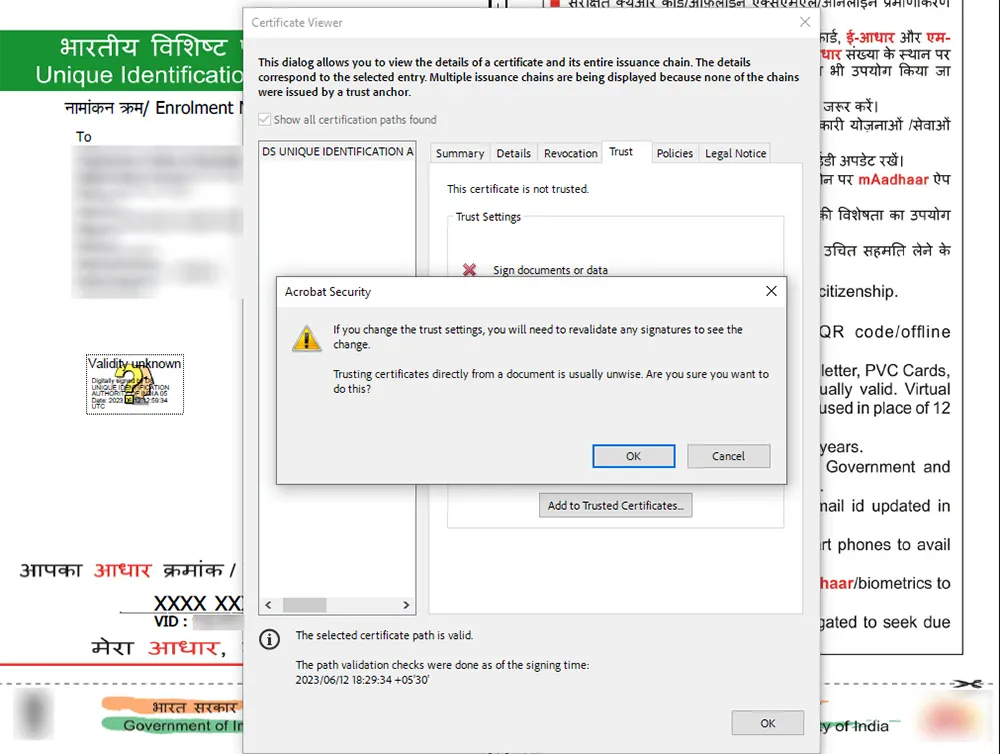 Acrobat Security window will display a message "If you change the trust settings, you will need to revalidate any signatures to see the change. Trusting Certificates directly from a document is usually unwise. Are you sure you want to do this?". Here you need to click on the OK button
Tick mark on the Certified documents, and then tick mark on rest all three check boxes such as Dynamic content, Embedded high privilege JavaScript, Privileged system operations (networking, printing, file access, etc.) in the Import Contact Setting Window and click on the OK button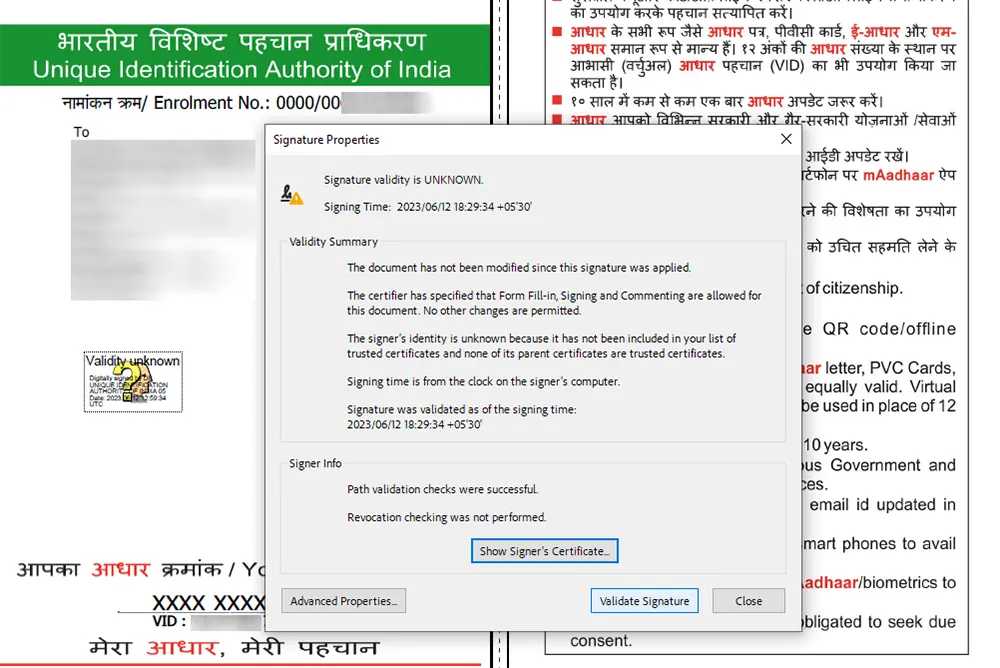 From Certificate viewer window screen hit OK and click on Validate Signature
On validating the signature the validity unknown with yellow question mark will be replaced with Signature valid and tick mark logo as you can see in the below image.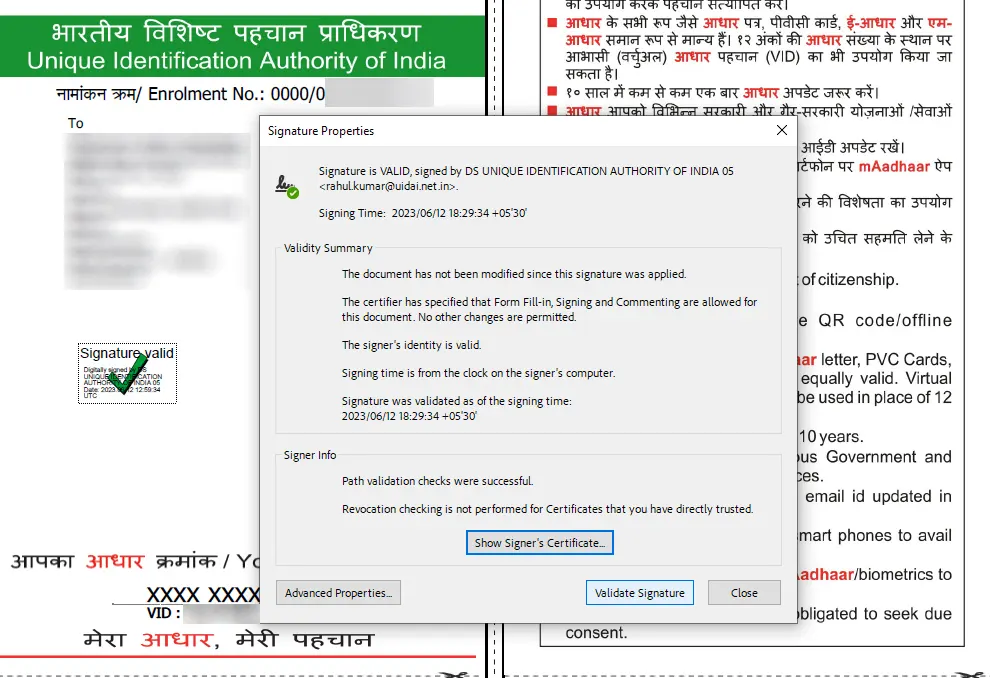 Note: – Once 'UNIQUE IDENTIFICATION AUTHORITY OF INDIA' has been as a Trusted Identity, any subsequent documents with digital signatures from UNIQUE IDENTIFICATION AUTHORITY OF INDIA will be validated automatically when opened.
This is validate Aadhaar Signature if Aadhar Signature Not Verified.
The above method was to verify the signature in Aadhar Card from desktop or computer, but what about those people who download their Aadhaar directly on their smartphones or mobile. So below is the solution to validate signature in Aadhar in mobile.
How to Validate Signature in Aadhar in Mobile
Like how you perform Aadhar Card Signature Verify on desktop or laptop, you cannot validate Aadhar signature in mobile. None of the PDF apps for mobile whether it may be Android or iOS provides a facility to verify the signature including Adobe Acrobat Reader of mobile.
But there is a PDF app for mobile called Foxit PDF which has the option to verify the signature of PDF on mobile, but again this feature provided by the app developer is a premium feature for which you will need to pay. But it's still not confirmed whether it will successfully verify the signature or not, and I don't think anyone would like to pay for this premium feature especially to get their Aadhaar signature verified on mobile. Instead, you can use the alternative method on how to validate signature in Aadhar in mobile.
So here we have an alternative method to validate Aadhar card signature in mobile. But for this method, you will need access to a PC or Laptop.
To Peform Aadhaar Signature Validation Online first of all, you will need to copy or download your Aadhaar PDF file onto your PC or Laptop and then open the file and validate the signature of the Aadhaar PDF by following the same above method which we explained.
Once you are done with validating the Aadhar card digital signature, you can take a printout of the PDF and then scan it and copy the file onto your mobile so that you will get an Aadhaar PDF with verified signature on it on your mobile.
The second method is very simple and recommended, once you verify the signature of Aadhaar just do the following things:
Keep the Aadhaar PDF File Open
Press Print Screen on your keyboard
Open Paint application or Photoshop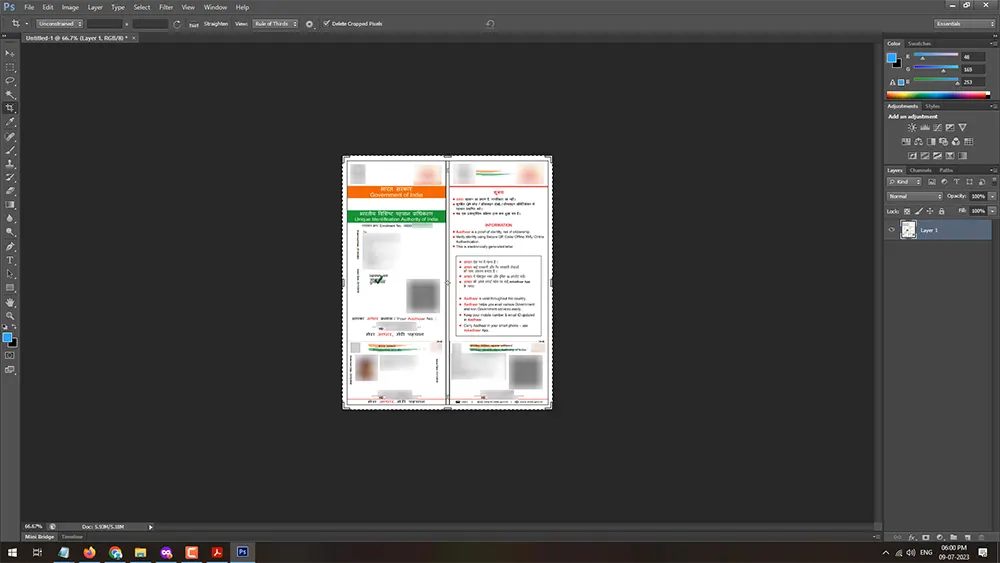 Create a new document on Photoshop and paste it by pressing Ctrl+V or go to edit > paste
If you are doing it from paint then direct Press Ctrl+V or click on paste
Then you can crop the image and then save it as JPEG or any image format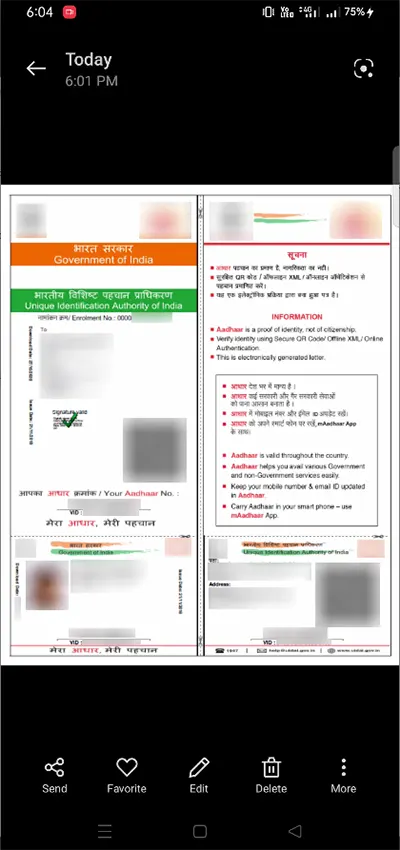 Copy the image file onto your mobile storage and you are done having an Aadhaar on your mobile with a validated signature.
Will i need to pay for Aadhar Card signature verification software download?
No, the software Adobe PDF Reader is available for free to download.
How to download digitally signed Aadhar Card?
Aadhaar downloaded from UIDAI Website or mAadhaar app are digitally signed, but when you access the file on your device you should add the signature to trusted certificates to get the signature valid mark on your Aadhaar PDF.
Do i need to validate signature of Aadhaar downloaded from mAadhaar?
Yes, downloaded Aadhaar PDF from mAadhaar requires validation of signature if it appears validity unknown. But the digital online Aadhaar version present in mAadhaar doesn't requires any validation of signature.
Do i need internet connection to validate signature in Aadhar?
No, there is no need of internet connection to validate or verify signature in Aadhar.
Is it necessary to validate signature in Aadhar card?
Yes, it is necessary to validate signature in Aadhar Card before taking a printout.
Aadhaar card signature verification software download?
For Aadhaar card signature verification download Adobe PDF software.
Can the aadhaar card signature verify online?
The aadhaar card signature needs to be verified on your device by following the above process, and it cannot be verified online.
Can i get verified aadhaar card download?
To get signature as verified in Aadhaar, once downloading it needs to be verified by following the above process.