Most people have this intuition in their mind that a blind person can't apply for Aadhaar Card. This is wrong intuition created by people, yes any resident of India Can Apply for Aadhaar Card whether he may be visually impaired.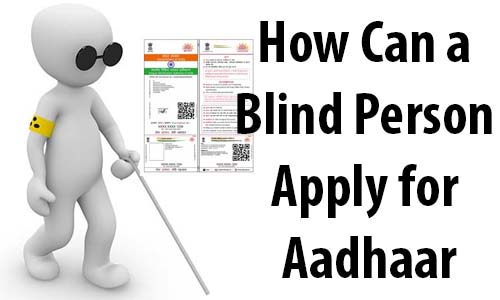 Now you might have started thinking that Aadhaar Card needs biometric information of the resident like iris scan, so how a blind person's iris are captured in Aadhaar Client Software?
For the blind, there is an option called exception in Aadhaar Client Software where when an exception is marked on iris in software it will be proved that the resident is blind which means visually impaired. And also a full-size photograph will be taken of that visually impaired person showing the disability of that blind person.
So now you know that blind people are also eligible to apply for Aadhaar Card, below to help you out we have mentioned procedure on how can a blind person apply for Aadhaar Card.
How Can a Blind Person Apply for Aadhaar Card
To get enrolled for Aadhaar, download the Aadhaar Application form by clicking here, and get the form filled at home only. So that there will be no need to wait more at the Aadhaar Enrollment Center.
Also to skip the queue, you can also book an appointment for enrollment.
With the Aadhaar Application form, you will also need to carry supporting documents original, you can know the supporting documents required to apply for Aadhaar by clicking here.
Once you are ready with the form and documents, request your family member to drop you at the nearest Aadhaar Card Kendra, you can find out the nearest Aadhaar Card Kendra in your area by clicking here.
Once you know the Aadhaar card Kendra Address, walk into Aadhaar Card Enrollment Center.
As you are visually impaired, directly meet the Aadhaar Operator or Verifier of the Center and tell them that you are visually impaired and you will be given first preference to get enrolled for Aadhaar.
Submit the Application form with documents to the verifier of the Kendra
The verify will cross check the details on your documents and return you the original documents
You will be asked to move forward towards the enrollment operator, the operator will enter your details in the software.
If your relative or friend has gone with you then ask them to check if the Aadhaar Operator is entering your details correctly in the software. If the operator makes any mistakes while entering your details ask them to correct it right away.
Once your details are entered into the software, your picture will be taken, and then your fingerprints will be captured.
You iris scan will be marked as an exception and you full size photograph will be taken showing the disability of the person. If you are visually impaired only by one eye then the other eye iris will be captured and exception for only one eye will be marked.
Once this is done you will be handed over with Aadhaar Acknowledgement Receipt.
You will have to keep this Aadhaar Acknowledgement Receipt with you safely, your Aadhaar Card will be generated and delivered to you within 3 Months via post.
Once your Aadhaar Number gets generated you will be notified via SMS on your mobile, and then if you need you can also download your e-Aadhaar Card Copy Online.
This is how easily blind residents can get enrolled for Aadhaar.