You may be already aware that if there are any mistakes or update in your Aadhaar, then you can do the necessary changes from UIDAI Website or by visiting the Aadhaar Kendra Center. Not all Aadhaar Updates can be done via Online Method but only Address Update can be done, and rest all details can be updated by visiting Aadhaar Center.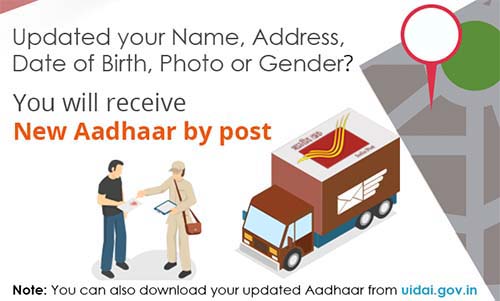 Online Update requests are processed sometimes within hours/ days or even it takes months. But the Offline update requests of Aadhaar Update takes fixed time of up to 90 days, so you have to stay calm and have patience during the process.
When you update your details in Aadhaar, whether it may be via online mode or offline mode, you will receive updated Aadhaar Letter Delivered via Post by UIDAI. But not in all correction or update cases you will receive Updated Aadhaar via Speed Post, below are some of the cases mentioned in which you will receive Updated Aadhaar Letter delivered at registered address:
Photo Update
Gender Update or Correction
Name Update or Correction
Address Update or Correction
Date of Birth Update or Correction
So if you have submitted any update or correction request for above fields then, you will be going to definitely receive your updated Aadhaar via India Post once your Update request gets approved or accepted. But keep in mind that once your update request gets approved or accepted, your Aadhaar Letter won't get dispatched instantly as it may take time and no fixed duration or time limit has been mentioned by UIDAI for delivery of updated Aadhaar Card Letter.
If you are in urgent need then you can take printout of your updated Aadhaar Card by downloading It from UIDAI Portal, or else you can even get or order Aadhaar printout on priority basis by paying a nominal fee of Rs.50/-, and your Aadhaar would be delivered to your registered address in next 7 days via Speed Post.
You can also check the status of your Aadhaar Update even once your Aadhaar information has been updated to check when your Aadhaar will be printed and dispatched to you. However on checking status of your Aadhaar Update request after getting your information updated it would show you status Your Aadhaar has been generated. While your Aadhaar is being printed and posted to you, please download eAadhaar.
So incase if you need your Update Aadhaar Letter urgently then you can go for Order Aadhaar Reprint service, and get your Aadhaar Reprinted and delivered to you within 7 days. If you want to know the process of Order Aadhaar Reprint, then you can follow our earlier post on how to order Aadhaar reprint online.
Hope you are now aware in which cases will you received Aadhaar Letter Delivered via Post when updated.