Some of you people might have been aware of this recent changes made by UIDAI, while some people might be still unaware about this recent change. So today in this post I will be going to clear regarding the recent changes done in S/O D/O W/O fields in Aadhaar.
Previously your Aadhaar was to contain details like S/O, D/O, and W/O, incase if you had provided those details while enrolling or updating your Aadhaar. But now all these above fields like S/O, D/O and W/O has been standardized to one single field which is C/O.
So now you cannot mention your Father's Name, or Husbands name in the field S/O, D/O or W/O field, as all these 3 fields has been removed in Aadhaar Software and has been replaced with only one field that is C/O field. By this new update mentioning Fathers Name, Husbands Name has been become optional and if you still prefer to provide it then you can enter your father's name, or husbands name by selecting C/O field. In case if you don't want to provide anything in C/O field then you can leave it blank.
You will be able to notice this recent change if you go through online update process of your address, where it will show only C/O field and if you want you can fill the field with your Fathers, Husbands, or Guardians Name or else simply leave it blank. Same applies if you visit Aadhaar Center too for Updating your Aadhaar or for applying for new Aadhaar.
Below is the official tweet reply by Aadhaar Official twitter handle replying to one of the query regarding the same update: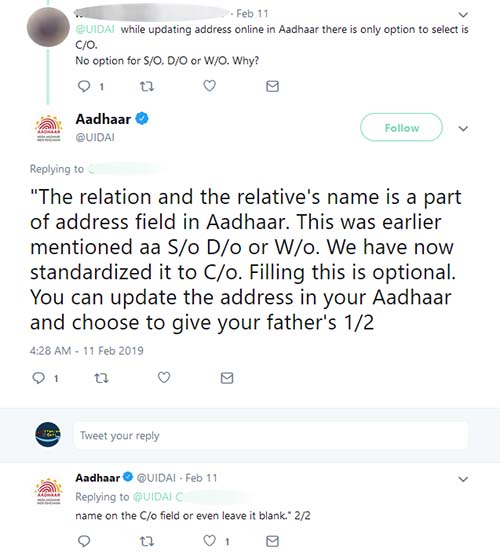 "The relation and the relative's name is a part of address field in Aadhaar. This was earlier mentioned as S/o D/o or W/o. We have now standardized it to C/o. Filling this is optional. You can update the address in your Aadhaar and choose to give your father's name on the C/o field or even leave it blank.