Jeevan Pramaan is Aadhaar biometric based Digital Life Certificate for pensioners. Jeevan Pramaan i.e. Digital Life Certificate (DLC) is generated for individual pensioner using his or her Aadhaar number and Biometrics.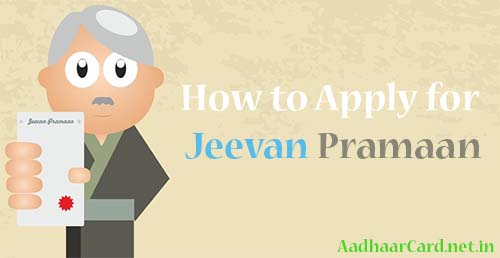 The main benefit of having Jeevan Pramaan (Digital Life Certificate) is that the pensioner is not required to be present personally before the Pension Disbursing Officer. Jeevan Pramaan of pensioner could be accessed by Disbursing Agency (Bank/Post Office etc.) digitally, so there is no requirement to submit the DLC physically.
Any pensioner holding Aadhaar can enroll their self for Jeevan Pramaan, the process to enroll or apply for Jeevan Pramaan to get Digital Life Certificate is very simple. Below we have the complete guide for you on how to apply for Jeevan Pramaan Digital Life Certificate with Aadhaar Card.
If the pensioner has sound knowledge of using internet and filling or android apps can easily enroll their self for Jeevan Pramaan Digital Life Certificate Online, and if not then they can visit any approved centers. You can locate nearest location of a Jeevan Pramaan Centre //jeevanpramaan.gov.in/locater or you can also get a list of Jeevan Pramaan Centres near your Pincode by composing SMS JPL <Pincode> and send it to 7738299899.
Procedure to Apply for Jeevan Pramaan Digital Life Certificate with Aadhaar Card
To apply for Jeevan Pramaan yourself online you should have laptop or computer or mobile, A STQC certified Biometric Device, 'RD Service' of the Biometric Device being used should be installed on the PC/Laptop/mobile, and Internet Connection.
Visit Jeevan Pramaan Official Portal //jeevanpramaan.gov.in/
To enroll yourself for Jeevan Pramaan Download the PC/Mobile/Tablet application to register for a Life Certificate depending on device which you are using.
Once you install the application, just register yourself by entering correct details.
Make sure you have attached "Registered Devices" (RD) for Biometric Authentication to your PC/ Laptop/ Mobile to scan your fingerprints.
Proceed further and Scan your fingerprints and once your fingerprints matches with Aadhaar Database, after a successful authentication a SMS acknowledgement will be sent to your mobile number including your Jeevan Pramaan Certificate ID. The certificates will be stored in the Life Certificate Repository for making it available any time and any where for the pensioner and the Pension Disbursing Agency.
This repository stored could be accessed only by Disbursing Agencies like Bank, Post Office etc.
You can also download your Digital Pension Life Certificate Online in PDF Format, and take print out of it if you need it.
You can provide the Digital Pension Life Certificate ID to the bank and other pension related agencies instead of providing hard copy paper form of Pension Life Certificate.
That's it this is how one can easily apply for Jeevan Pramaan Digital Life Certificate with Aadhaar Card.