Do you want to get rid of the terrible photograph on your Aadhaar Card? Do you want to get your Photograph Changed in your Aadhaar Card by clicking new ones? Then this guide will definitely help you out to get your photograph changed in your Aadhaar Card.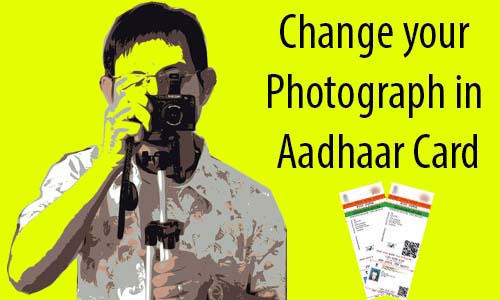 We know very well how the photos appear in our Aadhaar Card and how disgusting it looks. So if you are one of those who are not satisfied with the photo on your Aadhaar then you can get your photo updated by following the below procedure on How to Change your Photograph in Aadhaar Card.
Procedure on How to Change your Photograph in Aadhaar Card
To update or change your photograph in Aadhaar Card just download and take a print out of Aadhaar Card Correction/ Update Form.
Fill all the details asked in the form and take a print out of your Aadhaar Card.
You can even get the Aadhaar Update Form from Aadhaar Seva Kendra and fill it up there itself.
For photograph update there no requirement to furnish any documents, so there is no need to carry the documents along.
If you don't like to stand in queue then book an appointment online for Aadhaar Update, its free of cost.
Visit the Aadhaar Seva KendraSubmit the form to the Aadhaar Enrollment Operator and tell them that you want to re-click your photograph.
The operator will feed all your details in the software and will take your picture, once the operator clicks your picture just check the picture on the screen faced on your side and if the screen is not present then ask the operator to show you the new clicked picture. If you are still not satisfied with the picture then ask them to re-click it until you are satisfied with the picture.
Once your picture has been successfully clicked, for confirmation your fingerprint will be captured.
Next, you will be handed over Aadhaar Update Acknowledgement Receipt which will also contain URN, which you can use to track the status.
Your new photo will get updated in 2 to 3 weeks, and you will be intimated via SMS.
Once you receive SMS of update request successfully processed you can download your Aadhaar Card Online via Portal, on which your new photograph will be visible.
At the enrollment center, you will have to pay a nominal fee of ₹25/- to get your photograph updated in your Aadhaar Card. Recently UIDAI had officially announced the fees charged for various Aadhaar Services you can view it by clicking here.
Can the Photograph in Aadhaar Changed/ Updated Online
No, your photograph in your Aadhaar Card cannot be changed or updated online. UIDAI doesn't offer such service through its online Self Service Portal through which Aadhaar Holder can update their photograph online.
If you want to update your photograph in your Aadhaar then you can get it updated by visiting the nearest Aadhaar Seva Kendra. You can follow the above procedure to update your photograph in Aadhaar.