The Unique Identification Authority of India provides various services related to Aadhaar like new enrollment, biometric/ demographic update, Aadhaar search and many more.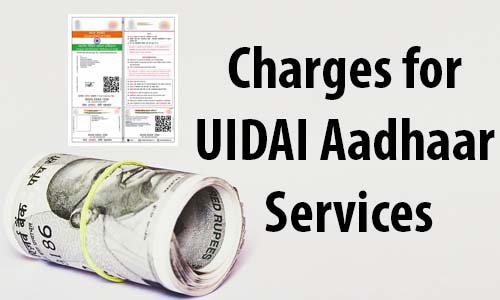 All these services offered by the Aadhaar Seva Kendra by UIDAI were offered free of cost in the past, but now The Unique Identification Authority of India has set charges for various Aadhaar Services. Below is the list of charges for various Aadhaar related services.
Charges for Various Aadhaar Services
Free Aadhaar Enrollment
Free Mandatory biometric update
Free Aadhaar Enrollment for Children's attaining the age of 5 or 15 years
₹50 for Biometric Updates other than mandatory
₹50 (inclusive of GST) for Demographic Update (Name, DOB, Gender, Address, Mobile Number, and Email)
₹30 (inclusive of GST) for Aadhaar Search using eKYC/ Find Aadhaar/ any other tool and color Print on A4 Sheet
If you are charged more than the nominal charge mentioned above than please call 1947 and lodge a complaint.
Additionally, you can update your address in Aadhaar Online by visiting https://uidai.gov.in/ and this facility continues to stay free.