The look of the eAadhaar has been changed and a lot of features and improvements have been implemented in the latest version of eAadhaar. Since the inception of eAadhaar, for the first time, UIDAI has made major improvements and changes to the look of eAadhaar. The all-new eAadhaar looks even more eye-catcher and comes with a lot of detail included in it.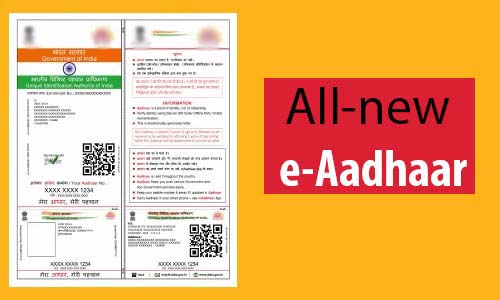 So now let's find out what are the additional features which we are getting to see in the latest version of the eAadhaar.
All-New eAadhaar Features
Digitally signed secure QR Code with a resident photograph
Improved Design
Updated Information
Issue Date and Download Date mentioned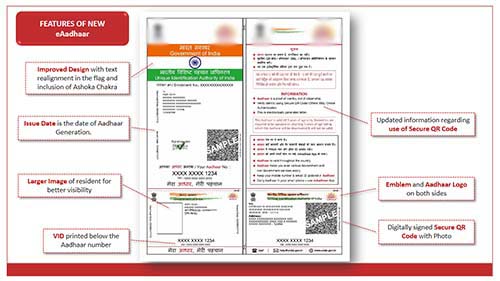 The new eAadhaar contains a complete Flag of India, which means including the blue colored Ashoka Chakra. In the earlier version of eAadhaar, the Ashoka Chakra was missing and only orange, white and green stripes of the flag were present.
The New version of eAadhaar mentions download date and issue date, however, these details were also mentioned in an earlier version but the earlier version mentioned issue date as generation date. In the new version, the download date and issue date are mentioned on the upper part as well as the lower part of the eAadhaar.
Residents image has been aligned large for better visibility
VID or Virtual ID comes printed below the Aadhaar Number
The QR Code with resident photograph has been removed from the lower part of the eAadhaar where a photograph of the Aadhaar holder used to appear. However, QR Code with photograph is present on the upper portion and lower part back of the eAadhaar.
Any Aadhaar holder can download the latest version of eAadhaar from UIDAI Website, whether he has enrolled before the launch of all-new eAadhaar or enrolled later on. From now any Aadhaar holders who download their eAadhaar from UIDAI Portal will get the latest version of eAadhaar.
To know the step by step process to download eaadhaar click on below download button.