Aadhaar Suspension is a act where in the 12 digits Unique Identity Number is temporarily deactivated due to various reasons. When the Aadhaar is under suspended mode the individual is unable to avail services using Aadhaar which requires Aadhaar authentication. If your Aadhaar Card has been Suspended and you have been requested to update it, then what is the possible solution to get reactivate lets find out.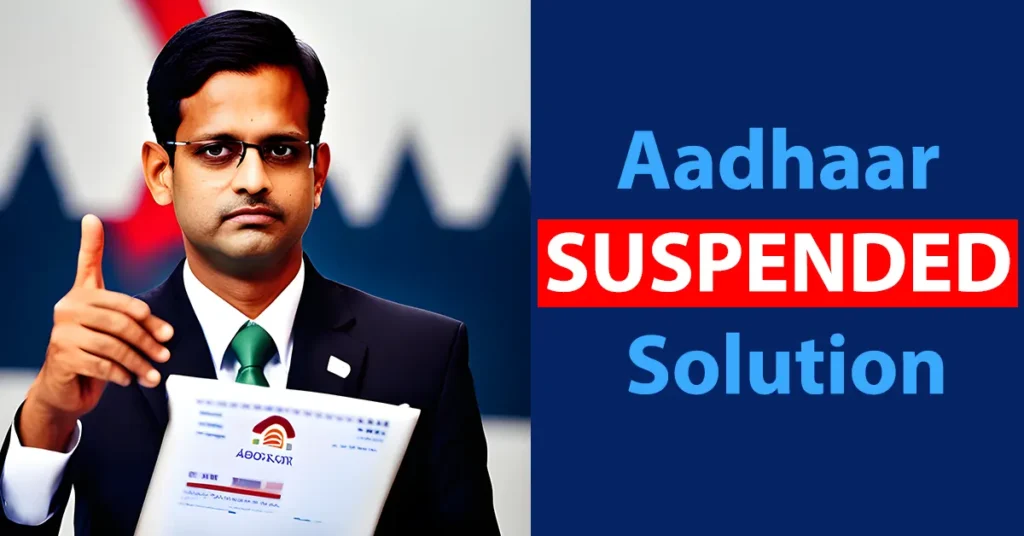 Reasons of Aadhaar Suspension
There could be several reasons contributing towards suspension of your Aadhaar Card and some of them are as follows:
| | |
| --- | --- |
| Suspension of my Aadhar card because of biometric test failure | Biometric Data Might Not be captured of the Resident by using Biometric Exemption which is usually used for disabled person. |
| Your Biometrics like fingerprints, and iris might not be captured correctly. | Aadhaar Suspended Due to Biometrics Integrity Issue |
| Aadhaar suspended by competent authority | Aadhaar suspended (Aadhaar is not in authenticatable status) |
If you have received an SMS on your registered mobile number notifying you about the suspension of your Aadhaar, it is imperative to take below action to reactivate the Aadhaar.
But before proceeding with the process, if you want to confirm whether your Aadhaar is Suspended or not, click here to verify your Aadhaar.
How to Activate Suspended Aadhar Card
If you have received an SMS on your mobile saying your Aadhaar is suspended than you will have to get it updated by visiting nearest Aadhar Enrolment Center. Unless you update your Aadhaar Card it won't get activated and below is the complete process which you help you out in getting your Aadhaar Activated from Aadhaar Suspended Status.
Download Aadhaar Update/ Correction Form from below button . Or else you can even get the form free of cost from Aadhaar Kendra.
If you have download the Aadhaar Update Correction Form from above link, just take a print out of it.
Fill out the entire Aadhaar Update Correction Form
Arrange the Proof of Identity and Proof of Address documents
To know the accepted documents required for Aadhaar Update click here.
Walk in to the nearest Aadhaar Enrolment Kendra with duly filled form and original documents
Once you reach the enrollment center, just submit your form with documents
You will be asked to have a seat, and the operator will enter your details for update
Make sure you check if the Operator is entering your details correctly, if he has done any mistake in entering your details ask him to correct it.
Once you data is entered for update, your biometric data will be captured like Fingerprints, Iris and Photograph
On successfully capturing your biometric details you will be handed over Aadhaar Update Receipt
You will have to keep Aadhaar Update Receipt carefully with you, as it will be required to track your update status.
Your Aadhaar will get updated in next 30 to 90 days upon verification, and your Aadhaar will get activated. You will also receive SMS on your registered mobile number regarding update of your Aadhaar Card.
That's it this is how you can deal with the situation "My Aadhaar is suspended and has been asked to Update".
Does Adhaar Card gets inactive due to non-use of it for three consecutive years?
No, Adhaar Card doesn't gets inactive or suspended due to non-usage or three consecutive years or any specific duration.