Aadhaar means "support" or "foundation" in other terms. Aadhaar Card is voluntary and any person can apply for Aadhaar. Aadhaar is a 12 digit unique number issued by UIDAI to the resident, but the resident can't have duplicate or multiple Aadhaar numbers. As the Aadhaar is linked with their biometrics data and hence if in future if the resident tries to create or enroll their self to create another Aadhaar Card it will get rejected because already Aadhaar Number has been issued to that individual and his or her biometric data is present already in the database linked to his or her Aadhaar Number.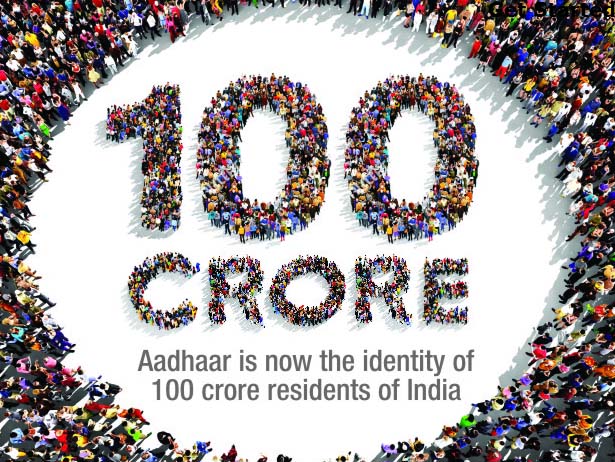 Aadhaar is a paperless online anytime-anywhere identity assigned to a resident to cover his/her entire lifetime. The verification of the Aadhaar Card Identity is done online with the help of authentication devices which connects to the UIDAI Central Identities Data Repository and in return only a yes or no response to this basic query comes which proves the identity of the person who he or she claims to be as per data available in the UIDAI database.
The Aadhaar Card Letter or the electronic copy of e-Aadhaar is provided to the residents to know their own Aadhaar Number, but the main aim of Aadhaar is to use it as an online id as we have explained earlier in above lines.
Any agency and services can contact the central unique identification database from anywhere around the country to confirm the identity of the beneficiary.
The information which you will have to provide to get enrolled for Aadhaar Card is demographic information and biometric information. The demographics information includes full name, date of birth, gender, address, parent/guardian details (mandatory for children's, as well as adults may also provide), contact details like phone, email is optional but it is better to provide it. Lastly, the biometric details include a photo, fingerprints, and iris. While registering for Aadhaar Card you will have to go with your proof of photo identity and proof of address documents self-attested photocopies with originals.
How to Register for Aadhaar Card?
To get registered for Aadhaar Card, the resident will have to visit the nearest enrolling agency in his or her area along with Proof of Identity and Proof of Address self-attested photocopies with originals. The resident can also book an appointment online and book their slot for Aadhaar Enrolment so that you won't have to wait long at the center.
Operating Hours of the Aadhaar Enrolment Center may depend upon your location. However, if you are trying to register for Aadhaar Card via Enrolment Center in Bank, then the working hours will depend upon banking hours. So you will have to walk into the nearest Aadhaar Center according to their working hours.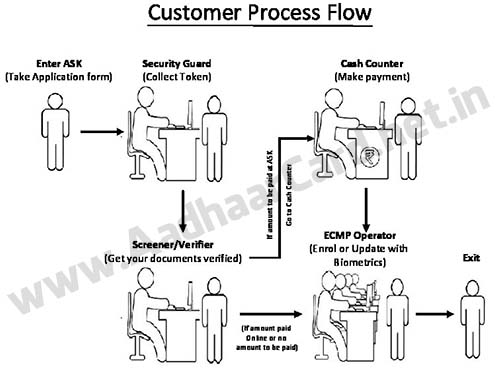 Ask for the Aadhaar Card Enrollment Application form at the Aadhaar Enrollment Center, fill up the Aadhaar Card Enrollment Application form and enclose the supported self-attested photocopies of the documents. If the resident doesn't have any documents to prove his identity and address he will need an introducer to get himself or herself enrolled for Aadhaar.
Once the authorized person at Aadhaar Enrollment Agency Center verifies the information with documents provided, he or she will enter your demographic details which you have filled in the form in the software, once entering all demographic details your biometric information will be captured like your photograph, both iris scan, and fingerprints. Once they capture your biometric information just ask the operator that you want to verify your details once, just verify the demographic information details entered by the operator in the software, check if they have made an error in typing your demographic details. If everything is correct you can ask the operator to proceed further, the operator will give you Aadhaar Card Acknowledgement Slip so that you can track the status of your Aadhaar card in the future.
Enrollment Agency than sends your data to CIDR, a de-duplication check comparing the Resident's biometric information to the records in the database is done If the individual data is not already in the database. (If the individual data is already present in the database, the application will get rejected and the person will also be intimated through SMS) Once the checking is passed you will be issued an Aadhaar Number and a copy of the Aadhaar letter will be sent to your residence. Aadhaar will also be sent to the Registrar for the use in their service database.
Aadhaar Letter Delivery
Once your application of Aadhaar gets verified and approved by UIDAI, you will be issued with 12 digits Aadhaar Number. The letter containing your 12 digit Aadhaar and demographic details will be printed and dispatched through India Post, which you will receive in one month.
Official Size of Aadhaar Card
The official size of the Aadhaar Card which is sent physically by India Post is as follows: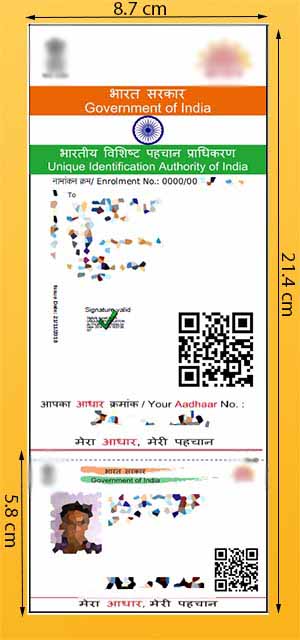 Aadhar size in cms
21.4 cm in width x 8.7 cm in length (Whole Aadhaar)
5.8 cm in width x 8.7 cm in length (Cut out Aadhaar ID Card Only Portion)
Aadhar size in inches
8.4″ in width x 3.4″ in length (Whole Aadhaar)
2.2″ in width x 3.4″ in length (Cut out Aadhaar ID Card Only Portion)
FAQ's on Aadhaar
When was the Aadhaar Card launched in India?
Aadhaar was launched on January 2009.
Can Aadhaar be Cancelled?
Once you obtain an Aadhaar Number, it cannot be cancelled nor deactivated in any terms.
Is an Aadhaar Card Proof of Citizenship?
Aadhaar Card was never considered as a Proof of Citizenship document, and UIDAI has cleared it numerous times in their Twitter, or social profiles, as well as news and notification published in newspapers and other sources. Aadhaar is accepted as proof of identity and address proof address document, but it is not a valid document that can treat the individual's citizenship or residence.
Does UIDAI allow to change Aadhaar Number?
Once Aadhaar Number is issued to the resident, it cannot be changed or modified in any way even if you update your details of Aadhaar. Even after updating your details in Aadhaar, the details will be updated against the same Aadhaar Number which you were been issued.

Instead, Aadhaar is a 12 digits unique random number that is linked with the resident's demographic and biometric data. So your 12 digit Aadhaar Number will be the same for lifelong.
Do you need to pay a fee to enroll for Aadhaar?
New enrollment for Aadhaar is free of cost service and you may not pay any fee for it. However, if you want to update your demographic or biometrics details then those services offered by UIDAI are chargeable.