Aadhaar is widely accepted document nationwide, as well as if you want to avail Government of India Welfare Schemes then Aadhaar is a must document. So today in this post I will be guiding you out on how to write a letter to apply for Aadhaar Card in India.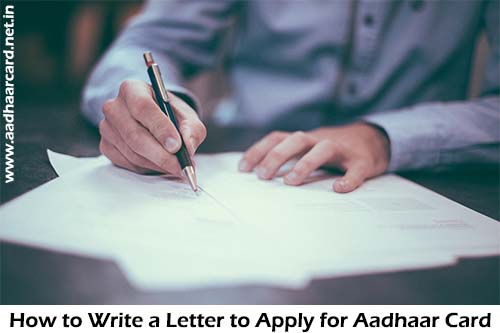 Getting Started with Writing a Letter to Apply for Aadhaar Card
To apply for Aadhaar, there is no requirement to write a letter. Just you need to obtain Aadhaar Application Form from the Aadhaar Center or Aadhaar enabled bank or post office. You will have to fill out the entire application form of Aadhaar with your correct details and submit it for the registration of your Aadhaar at nearest Kendra or Aadhaar Service Enabled Bank Branch or Post Office.
To get the Aadhaar Application Form you can visit nearest Aadhaar Service Enabled Bank Branch, Post Office or Kendra. And if you are unaware about the nearest Aadhaar Center then you can locate it by clicking here.
Visit the Center and Take Aadhaar Application Form from the Bank Branch/ Center or Post office, at same time make sure you also take appointment for yourself to apply for Aadhaar. They will give you an appointment date and time on which you will have to visit the Center to get yourself registered for Aadhaar.
Once you have the application form of Aadhaar with you, just fill up the form by entering your valid details. If you are having difficulty in filling up the application form of Aadhaar then you can follow the below steps to fill up Aadhaar Application Form.
How to Fill Up Aadhaar Application Form
While filling your Aadhaar Application Form make sure you refer your identity proof and address proof document for the details. The Entire form should be filled in Capital Letter.
Just Skip field 1 and field 2 which is Pre-Enrolment ID and NPR Receipt/ TN Number as you are doing new enrolment.
In Field 3 Enter your Full Name as per mentioned in the documents which you would be submitting while applying for Aadhaar.
From field 4, tick mark on appropriate gender which you belong to.
In Field 5, enter your age or date of birth (if you will be submitting DOB Document while application, then tick mark on verified field)
In Field 6, tick mark from C/O | DO | S/O | W/O | H/O whichever applicable and write the name.
Then enter other details like House Number/ Building Number/ Apt, Street/ Road/ Lane, Landmark, Area/ Locality/ Sector, Village/ Town/ City, Post Office, District, Sub-District, State, Email ID, Mobile Number, and Pin Code (make sure address mentioned should be as per your address proof document which you would be submitting, also don't skip to mention your mobile number and email id as it would be very important)
In field 7, you will have to fill your Father/ Mother/ Wife / Husband/ or Guardian name, fill up whichever is applicable to you and tick mark on applicable one from the list. (For Children's below 5 Years Father/ Mother/ Guardian's details are mandatory. Adults can opt to not specify this information, if they cannot/ do not want to disclose) If the applicant is minor then he or she will also have to fill up his or her Father/ Mother/ Guardian's EID or Aadhaar Number.
From verification type option Document Based/ Introducer Based/ Head of the Family, select whichever applicable.
In field 8 you will have to mention the document (POI, POA, DOB, POR) which you will be producing while applying for Aadhaar Registration.
If you are enrolling on basis on introducer or Head of the Family then field 9 will be applicable for you in which you will have to write introducer's Aadhaar Number or Head of the Family's EID or Aadhaar Number.
The introducer or Head of the Family should confirm the identity and address of as being true, correct and accurate by mentioning the full name and giving one signature below.
On bottom right side, the applicant that is the person who is getting registered for Aadhaar will have to sign or thumbprint below.
That's it now you are done, filling up the form.
Now next job is arrange the documents, take printout of it and enclose it to the application form.
Aadhaar Enrolment Process – How to Apply for Aadhaar by submitting Application Form
On the appointment day and time, you will have to be present with your application and document at the Aadhaar Enabled Bank/ Post office or Kendra wherever you had taken the appointment.
Submit the application form along with the document to the verifier of the center.
The verifier will verify your Aadhaar Application Form and the documents enclosed, for cross checking he or she may also ask for originals which you will have to produce. And take it back once verification is done.
Once your verification is done, you would be moved to the next process that is enrolment of Aadhaar which would be done by the operator of the center.
Submit the Application Form along with the photocopies of the document to the operator.
The Operator will enter your details and your biometrics will be captured such as your fingerprints, iris, and facial photograph.
Once successfully enrolling, you will be provided with Acknowledgement Receipt which you will have to maintain with you for future tracking purpose of your Aadhaar and until you get issued with Aadhaar Card.
You will get your Aadhaar Card dispatched through India Post on your postal address in 3 -4 weeks of time-span.
This is how one can write a letter to apply for Aadhaar by submitting the prefilled, formatted Aadhaar Application or Enrolment Form.