All Government schemes and subsidies are now routed through the Bank Account which is linked with Aadhaar Number.
So Linking Aadhaar Card Number with Bank Account has become very essential these days, and to help you out with Aadhaar Card Linking to ICICI Bank Account below we have mentioned every method and steps to Link Aadhaar Card with ICICI Bank Account.
Step by Step Process on How to Link Aadhaar Card with ICICI Bank Account
From your web browser visit ICICI Bank Internet Banking Portal by clicking here.
Just enter your User ID, Password and login into your bank account.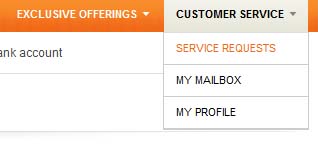 Once you are logged in into your Internet Banking Account, from home screen just go to Customer Service > Service requests.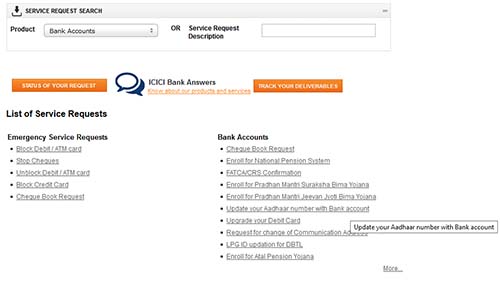 From the Service requests page just click on update your Aadhaar Number with Bank Account.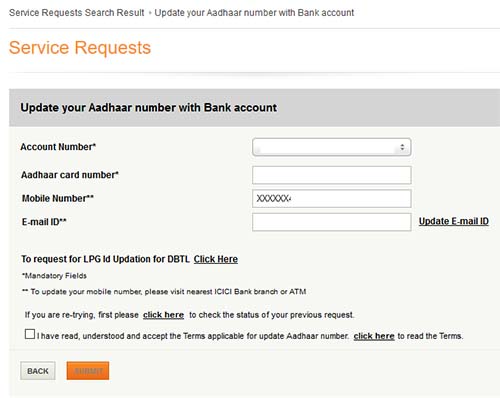 On the next page, your bank account will be mentioned below that you will have to enter your 12-digit Aadhaar Card Number, accept the terms and conditions and click on the submit button.
That's it you have successfully linked your Aadhaar Number with your ICICI Bank Account.
Alternatively, if you don't have ICICI Internet Banking Facility enabled than you can also link your Aadhaar Card with ICICI Bank Account Offline by visiting the branch.
Link Aadhaar Number with ICICI Bank Account from Branch
To link Aadhaar Card with ICICI Bank Account visit the nearest ICICI Bank branch with the original Aadhaar / UID card to update your Aadhaar / UID number