UIDAI has recently made changes to e-Aadhaar QR Code, which was replaced by Photo QR Code. So people have questions in their mind on how to get this updated e-Aadhaar Card which contains this new Photo QR Code, which is best for Offline Verification.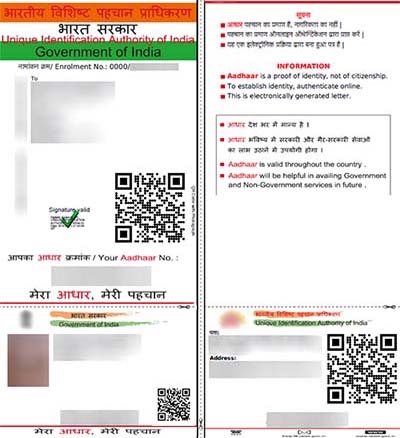 If you have previously downloaded your e-Aadhaar Card from UIDAI Portal you will not find the new updated QR Code. And to get that new updated Photo QR Code on your e-Aadhaar, you will have to download new copy of your e-Aadhaar Card from UIDAI Portal.
The fresh downloaded copy of e-Aadhaar will now contain Photo QR Code, so in this article we will demonstrate to you on how to get e-Aadhaar Card with Photo QR Code.
Process on How to Get e-Aadhaar Card with Photo QR Code
First of all to download your e-Aadhaar Card PDF with updated QR Code, just visit UIDAI Downloads Portal by clicking here.
You can download your e-Aadhaar Card either by entering your 12 digit Aadhaar Number or Enrolment Number, but now there is one more new option called VID which we have already explained to you in our earlier article. If you have generated your VID, than you can also download your e-Aadhaar by entering the VID.
Select from I Have Aadhaar or Enrolment or VID (which ever details you have available with you).
And in below Enrolment ID/Aadhaar Number/VID, enter the details which you have selected.
Enter full name, pin code as you have provided while enrolling for Aadhaar.
Solve the security code by entering the same text which you have seen in image.
Click on Request OTP Button, alternatively if you have installed and configured mAadhaar App on your smartphone than you can also generate TOTP and select Yes, I have TOTP. Do not send me OTP. Icon for Information.
Enter the OTP or TOTP in below field and click on download Aadhaar.
Your e-Aadhaar would start downloading.
Just open the downloaded e-Aadhaar PDF with any PDF Reader Software.
On opening it will ask you to enter the password to view it. To know the password you can refer our special article what is the password to open e-Aadhaar Card PDF.
Once you open your e-Aadhaar Card, you will be able to see updated Large Photo QR Code on back and front of e-Aadhaar Card. The new Photo QR Code will include your Photograph and Demographic details.
That's it this is how one can easily get e-Aadhaar Card with Photo QR Code.