All residents of India has a right to apply for Aadhaar Card, whether the resident may be homeless or without any documents. So in this post we will specially mention How Homeless or the People with No Documents Can Enroll for Aadhaar.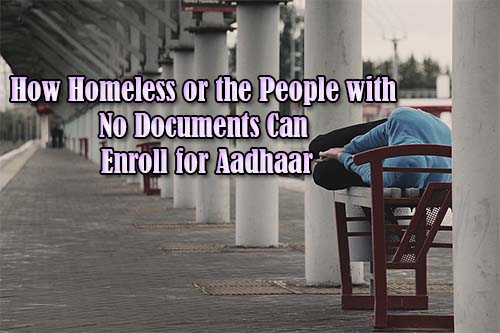 Usually to apply for Aadhaar Card, residents have to furnish their Proof of Identity, Proof of Address, and Proof of Birth documents. But incase if the resident is homeless and without any documents he or she still have a way with which he or she could get enrolled for Aadhaar Card without any of the requirements.
If the homeless resident doesn't have any documents to apply for Aadhaar Card, he or she can get enrolled through a pre-designated "Introducer" who is identified and notified by the Registrar or Regional Offices.
An Introducer is a person who is authorized by the Registrar to introduce a resident who does not possess any Proof of Address, Proof of Identity, or Proof of Birth documents. This introduction is not same as giving a character certificate to resident.
So now let's get started in deep to know How Homeless or the People with No Documents Can Enroll for Aadhaar.
Process on How Homeless or the People with No Documents Can Enroll for Aadhaar
To Enroll for Aadhaar Card you will need to visit nearest Aadhaar Seva Kendra, if you are unaware about nearest Aadhaar Seva Kendra in your location than you can find it out by clicking here.
Just walk in to the Aadhaar Seva Kendra and have a talk with the Introducer, tell him or her that you are homeless and don't possess any documents which are necessary to apply for Aadhaar.
Introducer will verify if the resident really does not possess any documentary proof of identity or address. Once it is done the introducer will fill up your Aadhaar Enrolment form, you have to provide him or her correct details.
Introducer will carefully check the Name and Address details of the Resident and provide their Approval/Rejection, if your application is approved than he or she will provide his/her signature/thumbprint on the Enrolment Form space provided.
Than you will be asked to have a seat to enroll for Aadhaar Card, the operator will enter all your details present in the form in the Aadhaar Software.
Your biometric details will be captured like one facial photograph, fingerprints and iris.
Once this is completed, the Introducer will provide his or her biometric on Aadhaar client to endorse a resident's enrollment.
You will be given Aadhaar Enrolment Receipt, which will be a proof that you have been enrolled for Aadhaar Card.
The Aadhaar Card will get delivered to your Address in next 2 to 3 months.
Note down that Introducer will not charge fees for introducing the resident.
That's it, this is How Homeless or the People with No Documents Can Enroll for Aadhaar.