Do you have your mobile number registered with Aadhaar? If yes then there is a trick to bypass the inconvenience of standing in queue for updating Address in Aadhaar.

Yes, the line stated above really meant it. You can actually get your Address updated in Aadhaar without Standing in Queue via UIDAI Self Service Portal. But only mandatory requirement to update Address in Aadhaar is you should have mobile number registered with it, and the mobile should be available with you.
Below is the complete process explained in detailed manner on, how to update Address in Aadhaar without Standing in Queue?
Process on How to Update Address in Aadhaar without Standing in Queue
At the comfort of your home or your office you can actually get your address updated in your Aadhaar Card, and your online submitted request for Address Update would be processed in few hours to 1 working day. All these benefits and perks makes residents to prefer for online update of Aadhaar through UIDAI SSUP Portal.
So let's try to understand the process in deep on how to update Address in Aadhaar without Standing in Queue.
Before we proceed with explaining on how to update Address in Aadhaar Online without Standing in Queue, make sure you keep your Address Proof Documents Scanned Copy on your PC or Laptop ready. To know the acceptable list of documents for Aadhaar Address Update click here.
First of all you will need to visit UIDAI Official Portal //uidai.gov.in/
From Aadhaar Online Services > Aadhaar Update Section click on Address Update Request (Online).
On next page two options will be displayed Update Address and Request for Address Validation Letter, so just click on Update Address.
Enter your 12 digit Aadhaar Number or VID Number in Enter your Aadhaar number/VID field, solve the text verification and click on send otp to receive otp on your registered mobile number or else if you have mAadhaar Installed and configured then you can use TOTP Option.
Enter the OTP Received or TOTP displayed in the mAadhaar App and click on login button.
Again on next screen two options would be visible that is have address proof and have address validation letter, so just select have address proof and click on submit button.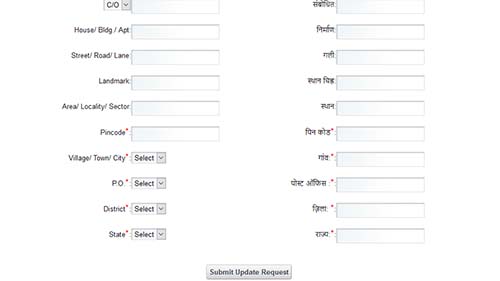 On next screen you will be asked to enter your complete address which you want to update.
Make sure you enter all the address details as per it appears on your Address proof document and click on submit update request button.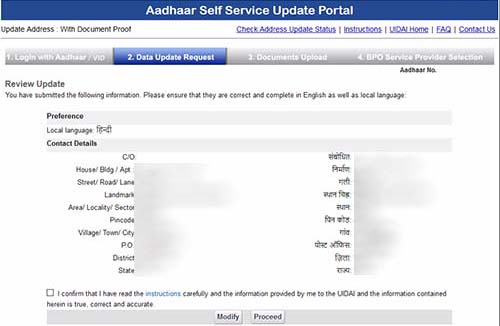 Again on next screen you will be given one chance to review the submitted details, if any mistakes appears you can change it by clicking on modify button before proceeding and if all details are appearing correct the click on proceed button.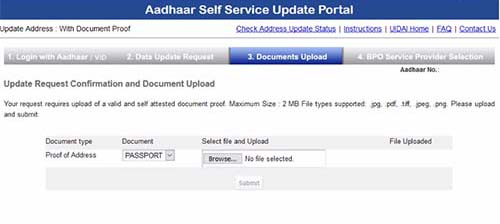 On next screen you will have to upload the documents, select the suitable document from the list and upload the address proof document.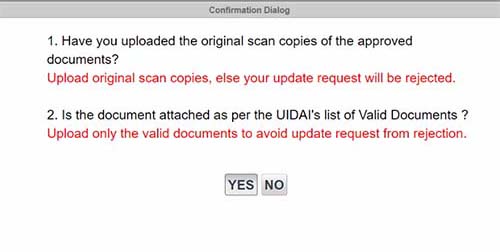 Once the document is uploaded just click on submit button and it would ask you whether if you "Have you uploaded the original scan copies of the approved documents? Upload original scan copies, else your update request will be rejected. Is the document attached as per the UIDAI's list of valid document? Upload only the valid documents to avoid update request rejection." Just click on yes button and proceed.
On next screen select the BPO listed and hit on submit button.

That's it you are done submitting your Address Update Request of your Aadhaar, it would display Update Request Number on screen which you will have to note down to track the status of your Aadhaar Address Update.
You can keep on checking the status of your Update from time to time, usually the update would be processed upon verification of document in few working hours to one working day.
And once it gets updated, you can download your eAadhaar to start using instantly.
That's it this is how one can easily bypass waiting in queue for Aadhaar Update and get it updated online in few minutes from Aadhaar SSUP Portal.