Have you been recently shifted to new place? And don't have any address proof documents of new address?
If yes then here we can really help you out on how to get your new address updated in your Aadhaar Card without any requirement of Address proof document.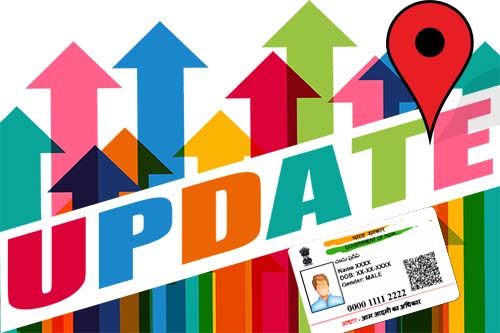 Yes your existing address in your Aadhaar Card can be updated with new address without any additional document, but to get the new address updated in your Aadhaar there is a procedure. The procedure of updating address in Aadhaar without any address proof document has to be followed very carefully. So below is the complete method explained on how to update Address in Aadhaar Online without any Address Proof with the help of Introducer.
UIDAI has come up with an option for all those residents who doesn't have valid address proof document, to get their address updated in their Aadhaar. This Online option by UIDAI allows resident to get their Address Updated in their Aadhaar Card by requesting Address Validation Letter.
But before we proceed explaining this process in brief let me tell you, that to update your address in your Aadhaar you should verify if your mobile number is registered with your Aadhaar as registered mobile number is essential to login with your Aadhaar on Aadhaar Self Service Update Portal.
Procedure on How to Update Address in Aadhaar Online without any Address proof with the help of Address Validation Letter
A Resident can get his / her address updated with the aadhaar address of his/her family member / relative / friend / landlord ( Introducer) where he / she is presently residing after the consent and authentication of introducer. Introducer can be your family member / relative / friend / landlord with whom you are presently residing. Introducer address in Aadhaar will be used to update your address in Aadhaar. Introducer must have Aadhaar and his mobile registered/ updated in his Aadhaar & willing to give his consent allowing you to use his address to be updated in your Aadhaar.
The address will be validated by sending address validation letter containing a secret code, on the address of introducer. Resident and introducer both are required to have their mobile registered / updated in Aadhaar.
Visit UIDAI Official Portal and from homepage just click on Address Update Request (Online).
Address Update Request (Online) will navigate you to new page, which will show options update address and Request for Address Validation Letter.
Just click on Request Address Validation Letter button, and you would be navigated to new page.
On next page you will have to enter your 12 digit Aadhaar Number, solve the captcha and click on send otp or else you can even use TOTP if you have mAadhaar App Installed on your phone.
Enter the OTP received in your phone or TOTP and click on login button.
Next you will be asked to enter verifiers or introducers Aadhaar Number, enter the Aadhaar of your verifier or introducer and get SRN.
Your Address verifier or introducer will receive OTP on his or her registered mobile number and Link for consent in his/her mobile. In case the Address Verifier misses giving consent within stipulated time the request will be invalid. The Resident will be required to initiate the process again.
The Address verifier should click on the link and give the consent.
You will receive confirmation of verifiers consent on mobile.
Next you will have to login with the SRN, review the address and if required you can edit the local language and submit the application.
The Address Validation letter for the Resident will be sent to the Address Verifier's Address. After the resident receives the Address Validation Letter (via Post) the resident will be required to Login again and provide the Secret Code received by clicking on 'Proceed to Update Address'.
Once submitting the Address Update Request, you will receive Update Request Number and your Aadhaar would get updated upon verification by UIDAI team in next 1 -3 working days.
Once your Aadhaar gets updated you can download your e-Aadhaar from UIDAI Portal which will contain the new address.
Note: Only Address of the Aadhaar holder can be corrected/updated online. Resident will have to visit an Enrolment/Update Center to update their Biometric or other Demographic data i.e. Name, Date of Birth, Gender, Relation, Mobile and Email.