Have you lost your Aadhaar and don't even have the Aadhaar Enrolment Details?

Did not received your Aadhaar and have lost Aadhaar Enrolment Slip?
Usually in such cases people try to enroll again for Aadhaar but that is not a correct solution as there is no need to enroll again if you lose your Aadhaar or enrolment Slip.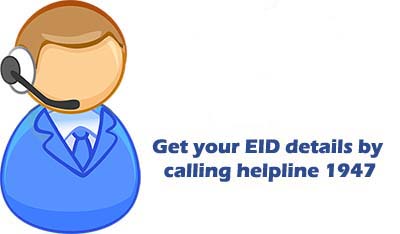 In such cases we still have a way to get out of this problem by just dialing IVRS Number 1947. By dialing 1947 you can actually retrieve your lost Aadhaar details without visiting any office. So how this has to be done, we will be going to explain you entire process in this below tutorial how to recover lost Aadhaar Enrolment ID via IVRS.
Process on How to Recover Lost Aadhaar Enrolment ID via IVRS
From your Aadhaar Registered Mobile Number dial IVRS Aadhaar Sampark Kendra Number 1947.
Select the language with which you are comfortable.
Press 1 as you are already enrolled for Aadhaar.
Listen all options and Press 9 to talk to next available representative.
You call will get connected to Aadhaar Customer Care Representative.
Explain the concerned representative your problem, and on asking several verification questions you would be provided with your Aadhaar Enrolment ID.
Once you have your Aadhaar Enrolment ID, you would be able to download online or via Aadhaar Centre.
You can download your Aadhaar Online only if you have registered mobile number with you or else you can get your Aadhaar Copy from nearest Aadhaar Centre via biometric authentication.
Below we have mentioned both the process on how to download electronic copy of your Aadhaar Card.
Download your e-Aadhaar Card Online
To download your Aadhaar Card Online just visit //eaadhaar.uidai.gov.in/
Make sure you have Aadhaar registered mobile number with you, as to download Aadhaar Online Mobile Number is mandatory as you will receive otp on that number.
From the available options I have Aadhaar or VID or Enrolment ID, select which ever details which you have available with you currently and enter those details in below field.
Enter full name, pin code, solve the security code, and click on request otp button.
You will shortly receive one time password on your registered mobile number.
Enter that otp in enter otp field and click on Download Aadhaar.
Your e-Aadhaar Card will start downloading, once it gets downloaded open it with any PDF Reader Software.
On opening it will ask you to enter the password, to know the password you can refer our post what is the password to open e-Aadhaar Card.
Now you can take printout of your eAadhaar Card and use it for any purpose.
Get Aadhaar Card Copy from Aadhaar Centre
Visit any nearest Aadhaar Center in your location with your Aadhaar Details.
Provide your Aadhaar Number or Enrolment Number to the operator.
For authentication the operator will ask you your thumb print.
Once authentication is successful you will get your e-Aadhaar Card Copy.
Now you can use this copy wherever it is asked to produced.
You will have to pay nominal charge to the center for printing your Aadhaar.
That's it this is how one can easily recover lost Aadhaar Enrolment ID via IVRS.