E-Aadhaar is a digital copy that you can download online from UIDAI Portal when you are in need or when you don't receive your Aadhaar Card Physically through the post, or when you update details in your Aadhar Card.
To open the downloaded e-Aadhar Card Copy it requires you to enter a password, so without entering a password, there is no way to view or print your e-Aadhaar Card. You can download Aadhar Card without password, but once downloading the file it cannot be viewed without entering the password.
Aadhar Password has been set by the Unique Identification Authority of India for Aadhaar Card PDF to put an additional layer of security so that no anonymous or unauthorized person can have access to your Aadhaar details. The password to open your downloaded Aadhar Card PDF File is nothing but a combination of the first four letters of your name in capital letters and year of birth.
The password to open e-Aadhaar would be known by the Aadhaar Holder and if anyway your e-Aadhaar PDF File gets stolen from your PC/ Laptop or mobile, the user or anyone who gets hold of your Aadhaar cannot have access to it as it requires the password.
So today in this post we will discuss how to open Aadhar PDF File without Password.
Process to Open Aadhar Card PDF File without Aadhar Password
Downloaded e-Aadhaar Card PDF cannot be viewed or printed without entering the Aadhar password. The password is a must if you want to view or print it, so opening Aadhar Card PDF file without a password is impossible. And if you are still searching for the solution on how to open Aadhar pdf file without a password, then you should try below possible alternate ways to unlock your password-protected e-Aadhaar Card instead of searching how to open Aadhar card pdf file without password.
Below are the steps which you can follow to find out the correct password to open your e-Aadhaar Card PDF File.
If in-case even after entering the correct Aadhar password that is a combination of the first four letters of your name in capital letters and year of birth doesn't work then you have to make sure you are entering the correct details as you have provided while enrolling for Aadhaar Card.
To find out the correct details please refer to your Aadhaar Enrolment id Acknowledgement Receipt, check out your name and year of birth in the receipt and try entering the password accordingly.
Make sure you are entering your first four letters of your name in a block letter and then followed by your year of birth.
If you follow these above points you will be easily able to open Aadhar PDF in a few seconds.
What is Password to open Aadhaar pdf?
Suppose if you are still unable to access your downloaded Aadhaar even after entering the correct password then you should try entering your postal code. Mostly postal code won't work as a password to open newly-downloaded Aadhaar from UIDAI, but if you have the older version of eAadhaar with you then to open that file you will need to enter postal code.
New Aadhar Card Password

First four letters of name in capital letter, followed by the year of birth
Old Aadhar Card Password

Postal Pin Code
Still unable to open your Aadhaar PDF File then the last resort available for you to open Aadhar Card PDF file without Aadhar Password is ordering a reprint of your Aadhaar Online or get a reprint of Aadhar from the nearest Seva Kendra.
Both these ways to get Aadhaar doesn't require you to enter any password. So let's know the complete step by step process to get Aadhaar Card without any password.
Order Aadhaar Reprint from UIDAI
This is a newly launched service which is available recently on UIDAI Website, which allows Aadhaar holders with registered mobile number or without non-registered mobile number to order their Aadhaar Reprint Copy.
To order this Aadhaar reprint copy the Aadhaar holder may not enter any password, as the Aadhaar holder will be getting a physical copy of Aadhaar and not a PDF file format. So let's begin with the process to order Aadhaar reprint from UIDAI.
To order Aadhaar online visit UIDAI official website uidai.gov.in/
On the homepage from several menus displayed, just click on the Order Aadhaar reprint
A new page will be opened where you will need to enter your Aadhaar or VID or Enrolment ID
Enter these details and solve the captcha security code
If you don't have a mobile number linked with your Aadhaar then tick mark on the box "My mobile number is not registered" and enter your new non-registered mobile number and click on the Send OTP button
If you have a mobile number registered with your Aadhaar then you just click on Send OTP button or enter TOTP button if you are having mAadhaar App Installed on your smartphone device
One-Time-Password will be sent on your registered mobile number
Enter the received OTP in the enter OTP field, accept the terms and conditions by tick marking on the box and click on the submit button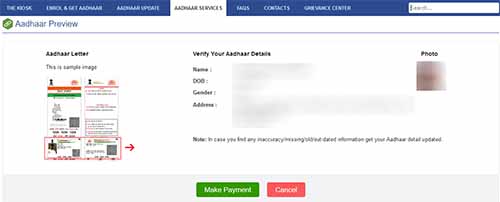 On the next page make payment button will appear, so you have to click on the make payment button and make the payment using UPI, Net banking, Debit card or Credit Card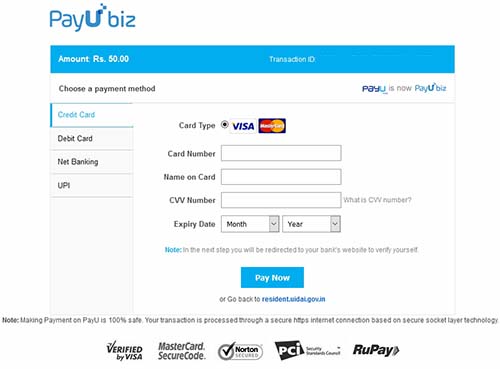 On successful payment, your order acknowledgment receipt will be generated which you will need to store it for reference
Your Aadhaar will be printed and posted by UIDAI within 2 working days and once it dispatches you will receive SMS on your registered mobile number containing the tracking code of speed post
This is the one method for which you won't need to worry about Aadhar Password, and easily have access to your Aadhaar in the form of a physical copy.
Get Aadhaar from Seva Kendra without Aadhar Password
Whether you have a mobile number linked with Aadhaar or not, doesn't matter while getting Aadhaar from Seva Kendra. Even if you don't have your Aadhaar details like Aadhaar Number, VID or Enrollment Number you can get your Aadhaar from Seva Kendra.
Visit Aadhaar Seva Kendra and request for Aadhaar Print
The Operator will ask you for Aadhaar Details, if you have your Aadhaar details then you can provide your Aadhaar or VID or EID
If you don't have Aadhaar then your details like, name, dob, would be asked
Once you provide these details, you will be asked to place your fingerprint over the fingerprint scanner device
Your fingerprint will be authenticated in the server and your printout of your Aadhaar will be provided to you
You will need to pay a nominal charge at the Seva Kendra for the print
This is how you can get a physical copy of your Aadhaar Card and be free worrying about Aadhar Password.