Once enrolling for Aadhar if you identify any mistakes made in your Aadhar Enrolment in the Aadhaar Enrolment Acknowledgement Slip or Resident Copy than you can get it corrected straightaway.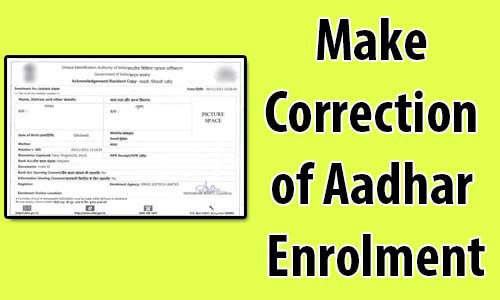 These mistakes can't be corrected online as your Aadhaar Number is not yet generated and to generate Aadhaar Number once enrolling yourself it takes about 2 to 3 months. So if you don't want to receive your Aadhaar Card Copy with mistakes then you will have to get your Aadhaar Enrollment details corrected and for that, you will have to again visit Aadhaar Card Enrolment Center. So in this guide, we have provided step by step procedure on how to make correction of Aadhaar Enrolment.
Procedure on How to Make Correction of Aadhar Enrolment
Before we proceed with how to make correction of Aadhar Enrolment, let me tell you that the correction within 96 hours of enrolment is free. So now let's start with the process on How to Make Correction of Aadhar Enrolment.
To get your Aadhar Enrolment Corrected you will have to download the Aadhaar Enrolment Correction Form by clicking here.
By the way, you can also get this correction form from the Aadhaar Enrolment Center. But if you want to save your time, it is better you download the form from the above link, take a printout and fill it at home (don't forget to mention your EID number in the Aadhaar Correction Form).
Once you fill-up the Aadhaar Correction Form, enclose supported documents. You will need to carry your original documents for verification and it would be returned back to you.
Once you have the documents and form ready, walk into the nearest Aadhaar Seva Kendra.
Hand over your form with documents to the Aadhaar Enrolment Verifier, the verifier will verify your details filled in the form and cross-check on the documents which you have provided.
Once verification is done by the verifier, you will be returned back the documents.
You will be requested to move to the operator's desk
The enrolment operator will start feeding up the details in the software
Just check carefully if the enrolment operator is entering the details correctly if there are some mistakes ask them to correct it.
Once your details are entered, for confirmation your fingerprints will be captured and you will be handed over with Aadhaar Enrolment Correction Receipt.
That's it you will receive your Aadhaar Card in 2 to 3 months on your postal address.
This is how you can make correction of Aadhar Enrolment.