It is been made clear by Supreme Court of India that Aadhaar is not at all mandatory to get new SIM Card or get SIM Replacement. But if you want to go through hassle free activation of your new or replacement SIM then Aadhaar could be proved very useful document. Instead I could call this process of getting new SIM or SIM replacement by Aadhaar as Tatkal Activation Process.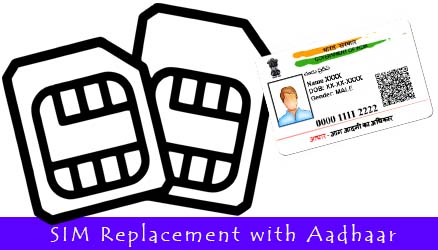 By furnishing your Aadhaar Number while getting new SIM Connection or SIM Replacement, your connection would get activated in few hours which may maximum take upto 4 Hours, and that too paperless. If you provide your Aadhaar Number there is no need to furnish your photograph or additional id or address proof documents. Without furnishing your Aadhaar if you try to get new SIM Connection or SIM Replacement by providing Photograph, ID Proof and Address Proof Documents then the activation could take upto 4 days as it needs manual verification.
So let's start with complete step by step process on how to get SIM replacement and get it activated in few hours by using Aadhaar.
Steps on How to Get SIM Replacement and Get it activated in Few Hours by using Aadhaar
Recently my very old TATA DOCOMO SIM got damaged and it was not detecting when I used to insert it into mobile SIM Slot, it used to show message NO SIM. So by this I got confirmed that the SIM might have got damaged, so to get new replacement of this SIM I walked in to TATA DOCOMO Store.
I told them my problem, they told they would issue me new replacement of this SIM but for that they asked me Aadhaar Card.
I asked what if I don't have Aadhaar, can I still get SIM Replacement? Their reply was "YES", you could get replacement by providing your ID Proof, Address Proof Document and one passport size photograph. But by that way my SIM Activation could take longer like 4 days as it needs manual verification done by them.
And if I provide them Aadhaar Card and proceed with eKYC then Activation of SIM will take maximum 4 hours.
So I agreed to give them my Aadhaar Number for SIM Replacement.
I just provided them my DOCOMO Mobile Number which I need replacement, then they asked me my 12 digit Aadhaar.
Then I was asked to keep my thumb on fingerprint scanner device for authentication of my Aadhaar.
Once the authentication gets successful, the eKYC gets completed and for verification I was once again asked to provide thumb impression.
I instantly received SMS on by alternative mobile number which they had taken while taking my replacement request saying "Hi, We have received SIM change request for mobile number XXXXXXXXXX, ref no IMSIXXXXXXXXXX on DD-MM-YYYY. We'll update the status by DD-MM-YYYYY. Thank You"
They provided me new SIM and I was told that it would get activated in next 4 hours.
And to my surprise it got activated before their estimated time which they have promised, as it was got activated in just 15 minutes and the SMS received was as follows:
Hi! SIM Change request for mobile XXXXXXXXXX is successfully processed. Thank You!
This process is of getting SIM replacement and getting it activated in few hours by using Aadhaar is same across all telecom operators like Airtel, Idea, Vodafone, BSNL, MTNL, Reliance Jio, MTS, TATA DOCOMO, etc.