Aadhaar Home Delivery is next new thing in the town. The all new Aadhaar Home Delivery Service launched by UIDAI allows Aadhaar holders to reorder Aadhaar Card Copy and get it delivered to the doorstep of their home.
Aadhaar Home Delivery Service comes very handy during unforeseen circumstances like misplace or losing of Aadhaar Card Letter. So during such circumstances you can easily access UIDAI Website and place the order for Aadhaar Card to get it delivered to your home.
If you are unaware about the feature Aadhaar Home Delivery Service, then below we have explained the complete process on how to get Aadhaar Home Delivery.
Process on How to Get Aadhaar Home Delivery
This Service of Aadhaar Home Delivery has benefited all the masses in India to get back their Aadhaar through Home Delivery Medium of Transport. Any resident who needs copy of their Aadhaar can easily order Aadhaar Card from UIDAI Portal using Aadhaar Home Delivery Service AKA Order Aadhaar Service, irrespective of having mobile number registered with Aadhaar or not.
So anyone who has sound knowledge of using Internet, Computer and Mobile can easily order their Aadhaar Copy from www.uidai.gov.in website and get Aadhaar or UIDAI Card Delivered to their doorstep by paying a nominal charge.
Below we have explained the complete procedure on how Aadhaar Holder Can get Aadhaar Home Delivery using Order Aadhaar Reprint Service which is Live on UIDAI Portal.
To Order your Aadhaar make sure you have your 12 digit Aadhaar or VID Number handy with you and also if mobile number is linked with Aadhaar make sure mobile number is accessible. In case if you don't have mobile number linked with Aadhaar then you can use any other mobile number to complete OTP Authentication.
First step towards getting Aadhaar Home Delivery would be, you will have to visit UIDAI Website by visiting the URL https://uidai.gov.in/
From UIDAI Home Page, under Get Aadhaar section > click on Order Aadhaar Reprint Option.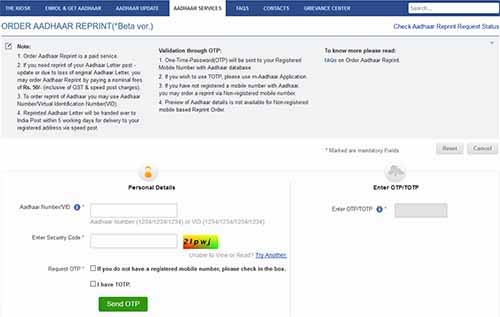 A new page will open of Order Aadhaar Reprint, where you will have to enter your 12 digit Aadhaar Number or VID, followed by solving the security code displayed in the image.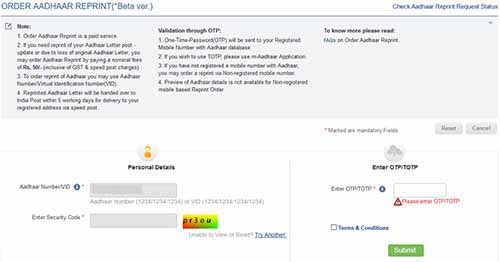 Once you have entered these mandatory information, just click on Send OTP button (only if you have mobile number linked with your Aadhaar), if not then just check mark on Request OTP option and in below text field enter the non-registered mobile number and click on send otp button. Alternatively there is also an option of TOTP (you can select this option if you have mAadhaar App Installed on your phone and can generate the TOTP).
Enter the received OTP or generated TOTP in the Enter OTP/TOTP field and click on check box for accepting the terms and conditions which would give permissions or undertake to below points:
I hereby give my consent for reprinting of my Aadhaar
I understand that my Printed Aadhaar Letter will be delivered at my address, registered with Aadhaar which is complete and correct with Pincode.
I hereby agree to pay Rs.50/- (Incl GST) for this Paid Aadhaar Letter Service of UIDAI.
I understand that the Aadhaar Letter will be delivered using SPEED POST Service of Department of Post (DoP) in line with DoP delivery norms and delivery status may be tracked using DoP Status Track Services.
Once accepting to terms and conditions, just click on submit button.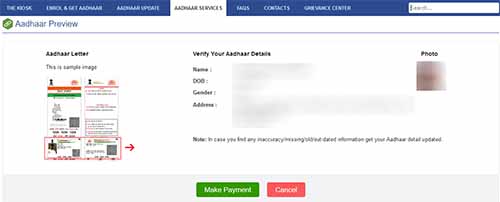 If you have completed OTP authentication via registered mobile number then on next screen you would be able to see your Aadhaar Details like name, DOB, Gender, Address etc. so that you can verify your details of Aadhaar before placing printing request.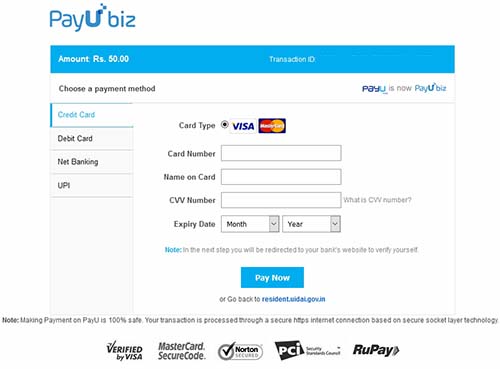 So to place the order for reprint of your Aadhaar, just click on make payment button and you would get navigated to payment gateway page where you will have to make payment of Rs.50/- as nominal fee for reprinting via Credit Card, Debit Card, Net Banking or UPI.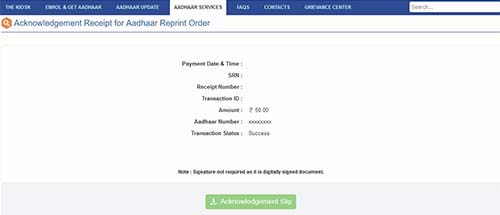 Once successfully making the payment, your Acknowledgement Receipt for Aadhaar Reprint Order would be displayed showing details like Payment Date and Time, SRN, Receipt Number, Transaction ID, Amount, last 4 digits of Aadhaar, Transaction Status etc.
Further you can track the status of your placed order using SRN and Aadhaar Number by using heck status option.
Your Aadhaar Letter would be printed and dispatched to your address via India Speed Post and will get delivered to you in 5 – 10 working days.
That's it this is how one can get Aadhaar Home Delivery.