Earlier UIDAI had strictly announced that Aadhaar in PVC or Smart Card format won't be valid. As most of the Aadhaar holders used to get their Aadhaar printed in the form of PVC or Smart Card from open market offline printing stores as well as there were many unofficial websites which used to take orders online for printing Aadhaar PVC Cards.
So printing of Aadhaar in PVC form from unauthorized sources used to cause a lot of privacy leak and data theft opportunity, and to stop this UIDAI had clearly passed a statement stating Aadhaar in PVC won't be valid, instead, they can use their Aadhaar in digital form, or even they can use Aadhaar printed on normal black and white A4 sized paper.
But seeing people's demand and to make Aadhaar convenient to carry in a wallet, UIDAI has launched a new service called Print Aadhaar on PVC. Using this service now any Aadhaar holder can order their Aadhaar in the Aadhaar PVC Card form which is also known as Aadhaar Smart Card.
Printing Aadhaar on PVC is a paid service by UIDAI, if Aadhaar holder wishes to hold their Aadhaar in Smart Card format then they can pay for this service and get the delivery of their card without compromising on privacy.
With the launch of the Aadhaar PVC Card, it doesn't mean those who have applied for Aadhaar or updated their Aadhaar will get their Aadhaar delivered in PVC form, instead, they will still receive their Aadhaar copy in the normal form which used to be delivered usually.
The Aadhaar PVC card comes with all security features which you won't get if you get your Aadhaar printed on PVC from the local open market printing press.
Aadhaar Smart Card Features
Aadhaar PVC Card comes with security features i.e.
Digitally signed Secure QR code
Hologram
Micro text
Ghost image
Issue Date & Print Date
Guilloche pattern etc.
Embossed Aadhaar Logo
Other then above security features, the PVC Card is
Good Printing Quality and Lamination
Easy to carry as it fits in your pocket
Durable
Instant Offline Verification by QR Code
Aadhaar PVC Card Price
The cost of getting your Aadhaar converted into a PVC Card is very affordable which is ₹50 (it includes delivery and GST).
How to Order Aadhaar PVC Card
The ordering process of the Aadhaar PVC Card is just a few clicks away, and below is the process of how it works.
To order your Aadhaar Card in PVC Card form, you need to visit the official UIDAI Website https://uidai.gov.in/
Once you reach on the homepage of UIDAI, just search for Order Aadhaar PVC Card and click on it
A new page will open with a form, in the first field you need to enter your Aadhaar Number or VID or EID by selecting the appropriate option which you are entering
Solve the CAPTCHA security code and from the below option if your mobile number is not registered with your Aadhaar then just tick mark on "My Mobile number is not registered" and enter the mobile number below (make sure you have the entered mobile number available with you to complete the OTP validation)
If you have mobile number registered with your Aadhaar then you don't need to tick mark on that option
Next just click on send OTP button
You will receive the one-time-password on your registered mobile number or entered mobile number
Enter the received otp and tick on the terms and conditions and click on the submit button
On the next page, your Aadhaar data will be displayed showing your picture, name, address, etc. if you have completed OTP authentication via your registered mobile number and in case if you had entered a new mobile number due to the non-presence of a mobile number with your Aadhaar then you won't be able to see your Aadhaar preview on this page
In case you find any inaccuracy/ missing/ old/ outdated information then get your Aadhaar detail updated.
If all details appears correctly, then just click on the make payment button
The page will get redirected to the payment gateway page, where you will be able to complete the payment using Cred/ Debit Card, UPI, Netbanking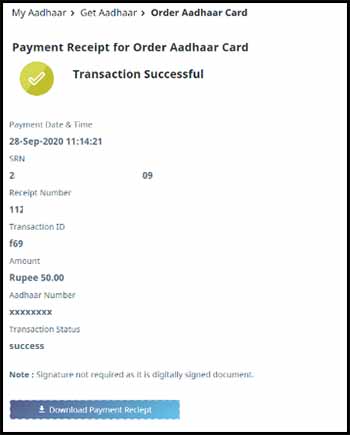 Once payment is made, the page will redirect to transaction successful page where it will display your payment details, SRN, etc.
From this page you can download the payment receipt for future reference
Using the SRN and Aadhaar Number you will be able to check the status of your printing request, by clicking on the check status option below or just move to the UIDAI homepage and click on the option Check Aadhaar PVC Card Status
Your plastic Aadhaar Card will be delivered to you at your registered Aadhaar address in 7 working days via Speed Post. SMS containing the AWB number will also be sent once dispatched from the DoP. The resident can further track the delivery status by visiting the DoP website.
Check Aadhaar PVC Card Status
To check your Aadhaar PVC Reprint Status visit the official UIDAI website https://uidai.gov.in/
From the homepage of UIDAI, just search for Check Aadhaar PVC Card Status and click on it
It will open a Check Aadhaar Reprint Status page, where you will need to enter your SRN (Service Request Number) which was generated after submitting the request of your Aadhaar Plastic Card
In the next field, enter your 12 digits Aadhaar number, solve the captcha code and click on the check status button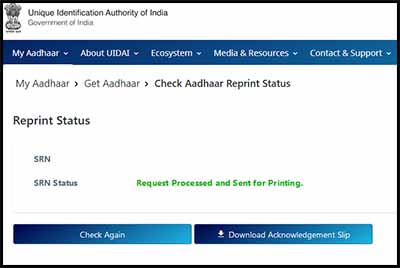 On the next screen, the status of your request will be displayed.
If the status is showing as Payment Successful then you may have just made the successful payment and your order is pending for processing
If the status is showing as Request Processed and Sent for Printing then it means your order is under process and is sent for printing
Below are the various status through which your PVC application will go through. We have explained the meaning of the each status.
| Status | Meaning |
| --- | --- |
| Payment Successful | This is the first status, which you will come across on checking the status once placing a successful request for PVC Card. This status means your payment has been successfully received by the UIDAI. |
| Request Processed and Sent for Printing | On checking your PVC Card Status, you will get to see this in 1 – 2 working days on placing the order. This status means your request has been processed by the UIDAI and have been forwarded for Printing. |
How Aadhaar PVC Card is different from Aadhaar Letter?
Aadhaar letter is a laminated paper-based document issued to the residents after enrolment and update. Smart Aadhaar Card is a durable and easy to carry PVC card with security features. All forms of Aadhaar (eAadhaar, mAadhaar, Aadhaar letter, Aadhaar card) are equally valid. The resident has the choice to use any of these forms of Aadhaar issued by UIDAI. The ''Order Aadhaar PVC Card" service is available online on-demand for the residents similar to the online "Order Aadhaar Reprint" Service.
How many days will it take to receive "Aadhaar PVC Card" after creating successful request?
After placing a successful request for PVC Card, UIDAI will handover printed Aadhaar Card to DoP within 5 working days (excluding the date of request). Aadhaar Card will be delivered using SPEED POST Service of Department of Post (DoP) in line with DoP delivery norms and Delivery Status may be tracked using DoP Status Track Services.
What if residents want to get the Aadhaar Card printed with the details that they want?
If residents want some changes in the details of printed Aadhaar letter or Card, then they first have to update their Aadhaar by visiting Permanent Enrollment Center or SSUP portal (depending on update) and then raise the request because this facility can be used to get the hard copy of Aadhaar Card/Letter.
Can I order PVC Aadhar Card on Cash on delivery (COD)?
No, you need to make prepaid payment in order to place request for PVC Aadhar Card.
Can I order a PVC Card at a different address other than registered with my Aadhaar Card?
No, you cannot order your PVC Card other than the address registered with your Aadhaar. Incase if your address is updated then you need to first change your address in your Aadhaar and once your request gets processed you can order your PVC Card at the new address.
Can I cancel my Aadhaar PVC Order?
No, once you make the payment, you cannot cancel the placed order of PVC Card.
Can I get Aadhaar PVC Card urgently?
No, your Aadhaar PVC Card will be delivered to you as per the timelines set by the UIDAI.
Are there any limits on the number of orders?
No, there are no limits on placing number of orders for PVC Card.
Can I order Aadhaar PVC Card for whole family in one go?
Yes, you can order Aadhaar PVC Card for all your family members, but in one go it is not possible. You can use any mobile number to receive OTP for authentication, regardless of the registered mobile number in your Aadhaar. So, one person can order Aadhaar PVC card online for the whole family.
Which all details should I have to order Aadhaar PVC Card?
To order your Aadhaar PVC card online, all you need is your Aadhaar number. Even if you don't have that, you can use your 28 digit Enrolment ID (EID) or 16 digit Virtual ID (VID) to order it.
Can I order PVC Aadhaar, if I don't have mobile number registered with Aadhaar?
If you don't have your mobile number registered to your Aadhaar? Don't worry, you can use any mobile number to receive OTP for authentication of your Aadhaar PVC order.
I forgot to download my Acknowledgement Slip once placing an order, how can I download it later?
If you closed the final page of the Payment receipt for Order Aadhaar page then you can download your PVC Acknowledgement Slip by going through the check status page. Just check the status by entering your SRN and Aadhaar, and on the next page with your current status, you will also get an option to download Acknowledgement Slip.