The Unique Identification Authority of India (UIDAI), Aadhaar issuing authority are slowly getting rid of private Aadhaar Enrolment Agencies by deploying Aadhaar Centers in Banks and Post Offices.
Earlier due to private Aadhaar Enrolment Agencies there was lots of complaints regarding lack of quality, corruption, and use of unparliamentary language. Now Aadhaar Enrolment and Update will be carried out in safe and secure environment, which will be banks and post offices.
So to help you out in locating nearest Aadhaar Update and Enrolment Center, below we have written a guide which will explain to you on How to Find Aadhaar Enrolment and Update Centres in Banks and Post Offices.
Process on How to Find Aadhaar Enrolment and Update Centres in Banks and Post Offices
To Find Enrolment & Update Centres in Banks & Post offices Online just visit //appointments.uidai.gov.in/easearch.aspx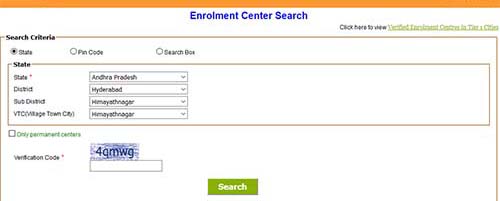 From the form Banks/Post Offices Enrolment Center Search, select your state or enter your area Pincode or enter your location name manually by selecting search box option and solve the captcha.
Next just hit on search button.
It will display all Aadhaar Enrolment and Updates Centres of Banks and Post Offices in your location with complete address of the centre.
From the listed centres you can visit any one and get yourself enrolled for Aadhaar or Update your Aadhaar.
You can even visit these bank and post office Aadhaar Centres to update your email, mobile number, address, name, gender, Pincode, or search Aadhaar, Find Lost Aadhaar Number, Find Lost Aadhaar Enrolment Number, Print Aadhaar, etc.