On 26th September 2018, The Supreme Court of India gave verdict stating private organizations cannot demand Aadhaar to be linked to various accounts. This historic judgment has straightaway made it out clear that Aadhaar is no more mandatory to submit while opening new bank account, or while getting new SIM's, however all banks and mobile operators were also forcing existing subscribers or account holders to get their accounts linked with Aadhaar.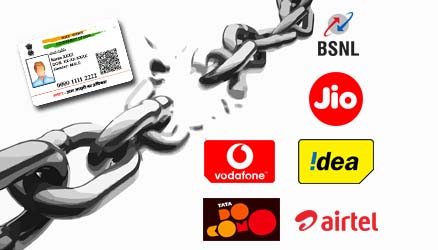 So this judgment has put end to the mandatory requirement of Aadhaar in private firms. Aadhaar holder has a right of their data and it cannot be stored without the permission or consent of the Aadhaar holder. The verdict by The Supreme Court of India has given relief to all the population throughout the Country, as organizations like telecom operators, banks, courier agencies, and mobile wallets were requesting Aadhaar as legal document for KYC.
Subscribers those who have not provided Aadhaar to telecom operators has got relief, but what about those subscribers who have already provided their Aadhaar to telecom operators? Can those subscribers get their Aadhaar delinked from their mobile numbers?
Yes, you have option to delink your Aadhaar details if you don't wish to share your Aadhaar Details with telecom operators anymore.
Instead Government of India has also officially announced that Aadhaar holder can request to delink his or her biometric details if it has been shared with any agency or service provider. You can refer the Compendium of Regulations, Circulars and Guidelines for authentication of Aadhaar-based e-KYC from official UIDAI Portal.
So if you have provided your Aadhaar Number while buying new SIM or if you have linked your Aadhaar with Mobile Number, then there is a way out through which you can get your Aadhaar delinked from it.
Before we proceed to explain on how to delink Aadhaar from your mobile number, we would like to clear with you out that if you had bought your SIM via Aadhaar eKYC alone then to delink Aadhaar you will have to again go through re-KYC by providing other documents which are acceptable by the telecom operator. Now let's proceed with the process on delinking Aadhaar from Mobile Number.
Process on How to Delink Aadhaar from Airtel, Idea, Vodafone, Jio, BSNL, MTNL and Docomo
The process of delinking Aadhaar from all telecom operators present in India is same, and we would be going to explain it in one single post on how to delink Aadhaar from Airtel, Idea, Vodafone, Jio, BSNL, MTNL, MTS, Uninor, Aircel, Reliance, T24, etc.
As of now, any telecom operators in India doesn't allow to delink Aadhaar from mobile number via IVRS, SMS, or Online Method. To delink Aadhaar from your mobile number you will have to visit the respective telecom store in your area with supported documents like Identity Proof and Address Proof.
Walk in to the Telecom Store with your mobile number which you wish to delink from your Aadhaar with PoI and PoA documents.
Request the store executive that you want to delink your Aadhaar Number and biometrics from your mobile number.
The executive will request you to share PoI and PoA documents, and will take Aadhaar delinking request.
Re-KYC form will be filled by the executive of the telecom store and they will enclose the documents to it which you have provided.
Your Aadhaar details would be delinked and all other biometrics and demographic information would be removed you're the telecom database.
That's it you are now done with delinking your Aadhaar from Airtel, Idea, Vodafone, Jio, BSNL, MTNL, MTS, Uninor, Aircel, Reliance, T24, etc.