Are your abroad right now? Than you might be admiring how you can apply for Aadhar Card from Abroad, to sort out your query we have specially written this post How to Apply for Aadhar Card for people staying overseas.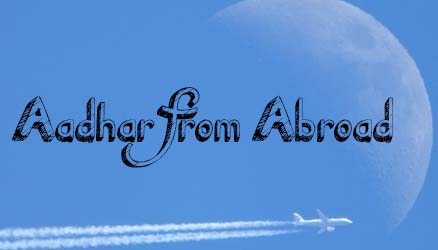 There are numerous uses of Aadhar and in some field it is mandatory for furnish Aadhar, so living without Aadhar is impossible for people staying in India as well as for people from India who are staying abroad. Indian Resident or any resident who has resided in India for the period of 182 or more in 1 Year can apply for Aadhar Card.
But if you are thinking that you will apply for Aadhar from abroad or overseas, than that is not possible as you will not find any Aadhar Enrolment Centers Abroad. Also you can't apply for Aadhar Card Online via Internet, you have to be physically present at the Aadhar Enrolment Center.
To enroll or apply for Aadhar Card you will have to visit India with necessary valid proof of id, proof of address and proof of DoB. So below is the complete steps which you will have to follow to apply for Aadhar Card.
Steps on how to Apply for Aadhar Card from Abroad
To Apply for Aadhar Card you will have to keep necessary documents ready with you, to know the valid list of documents required to furnish in the application of Aadhar click here.
Download the Aadhar Application Form by clicking here.
Fill in the form correctly by entering valid details as per proof of identity, proof of address and proof of birth.
Sign of the form, and also do self-attest all photocopies of the documents.
Find out the nearest Aadhar Enrolment Center by clicking here.
Submit the Aadhar Application form with document photocopies at the Aadhar Center.
You will be asked to have a seat, the Aadhar Operator will feed all your details into the software.
You will have to carefully check if the Operator is entering all your details correctly.
Your biometric data will be captured like both iris, both hand four fingers, both hand thumbs and once photograph.
The operator will give you Aadhar Acknowledgement Receipt which you will have to keep with you safely.
You will receive your Aadhar Card Letter via India Post on your residence Address in two to three months.
However once your Aadhar Number gets generated and as soon as you receive SMS regarding Aadhar Number Generation, you can download e-Aadhar Card Letter PDF Online.
That's it this is how people from abroad can apply for Aadhar Card.