Having Aadhaar Hard Copy that too the original ones which is sent via post by UIDAI proves very handy, when it is asked for various purposes. It is been said by UIDAI that Downloaded e-Aadhaar and printout is equally valid and acceptable as Aadhaar Letter which is sent via Post, but still at certain places or organization who are unaware about this announcement by UIDAI still asks for the original ones.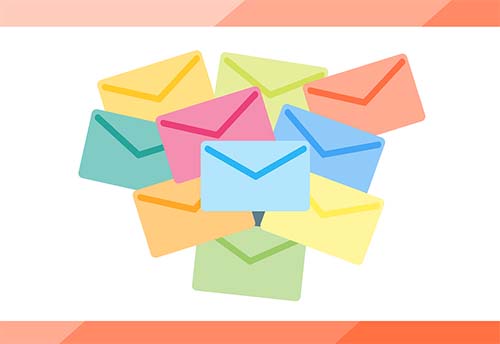 At certain times it becomes difficult for Aadhar Holders who doesn't has Aadhaar Original Hard Copy which was been sent via post. So below are some reasons why some of the Aadhaar Holder's might not have the original Aadhaar Card Sent via Post:
Misplaced or Lost Original Aadhaar Card Letter
Non Delivery of Aadhaar Letter via Post
Aadhaar Card Letter Destroyed
And there may be numerous reasons which we may still not come across to.
If an Aadhar Holder does major corrections in their Aadhaar, then he or she receives her or his updated Aadhar Hard Copy via Post. But what incase if you need your Aadhaar Card again without updating details in this scenario?
Yes, UIDAI has come up with an option which allows Aadhaar Holder's to get their Aadhar Card Hard Copy once again via post. This service by UIDAI is called as Order Aadhaar reprint service, by using this service you can actually order your Aadhaar Card Hard Copy by paying a fee of Rs.50/-, and your Aadhaar Hard Copy would be getting delivered to you on priority basis via Speed Post within 7 working Days.
That's how this new service called Order Aadhaar reprint Service would be helping those who are actually being troubled by the above mentioned reasons.
If you want to know the method on how can I get the hard copy of Aadhar Card again without updating any details, then below we have mentioned the complete steps through which you could obtain your Aadhaar Card Hard Copy again.
Process on How Can I Get the Hard Copy of Aadhar Card again without updating any details
Before we proceed with the process, let me introduce you to the things which you will require while placing Order Aadhaar Reprint Request:
You should have your 12 digit Aadhaar Number or VID also will do
If your mobile number is registered with your aadhaar then you should have that number with you to complete the otp authentication.
If you don't have mobile number linked with your Aadhaar or your registered mobile number is lost or not available then you should have any new alternative mobile number on which you can complete the otp authentication step.
If you have these above things ready then you are set to order your Aadhaar Hard Copy from UIDAI.
Visit UIDAI Official Website by going to URL https://uidai.gov.in/
From Get Aadhaar Section just search for Order Aadhaar Reprint option and just click on it.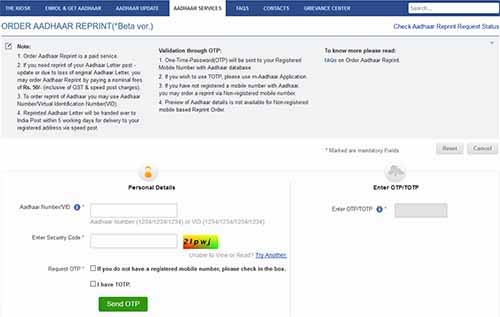 It will open a new page called Order Aadhaar reprint, there you will have to enter your 12 digit Aadhaar Number or VID, solve the security code, if you have registered mobile number with you then just hit on send otp button or else if you don't have linked mobile number then just tick mark on If you do not have a registered mobile number.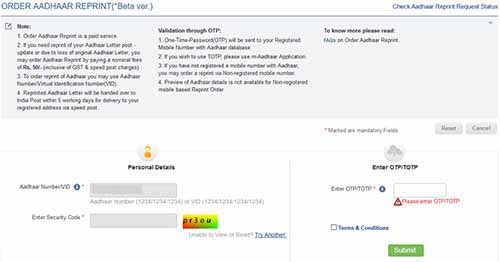 Enter your new mobile number in the below field and click on send otp button.
Let me know you that, you can also complete authentication via TOTP by using mAadhaar App.
You will receive one time password on your mobile number, so enter the received otp in enter otp field and accept the terms and conditions and click on submit button.
If you have completed your otp authentication via registered mobile number then on next page your Aadhaar Details would be previewed if not then it would not displayed.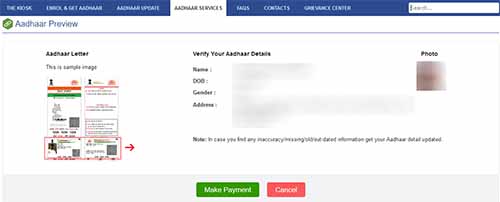 So to proceed further placing order, just click on make payment button.
And you would get navigated to payment gateway page, where you will have to make online payment via Debit Card, Credit Card, Internet Banking or UPI.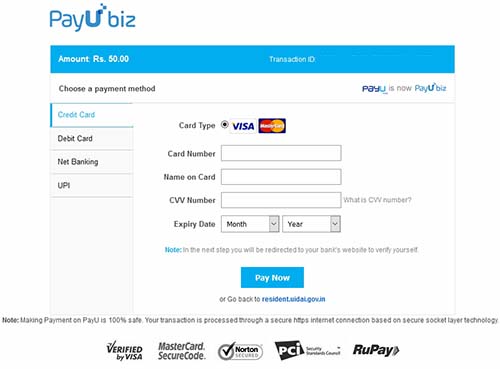 Once successfully making the payment, you will get your order details that is acknowledgement of receipt of your order.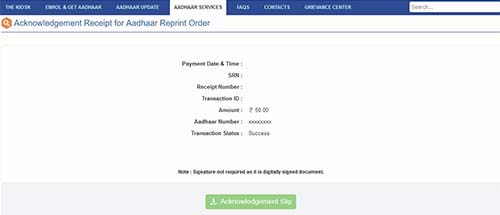 Just maintain this acknowledgment with you until you receive your Aadhaar Hard Copy via Post.
You will be notified with the real time status of your Aadhaar Order via SMS, and also you can check the status of your Order Aadhaar Request Status from UIDAI Official Website.
You will receive your Aadhaar Card Letter via Speed Post in 7 working days on your registered address.
This is how you can get your Hard Copy of Aadhar again without updating any details.