DigiLocker is a free cloud storage national Digital Locker System service provided by the Ministry of Electronics and IT & Government of India under the initiative digital India. DigiLocker helps the user to access their documents anytime and anywhere by logging into their respective accounts.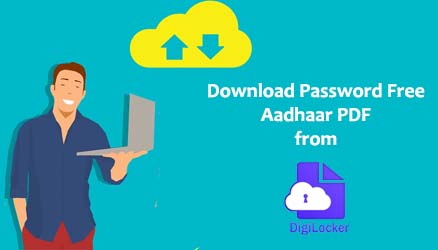 With DigiLocker, registered users can get documents from issuers, and share documents to requesters. The best thing about DigiLocker is that it comes in build with your digital Aadhaar copy if your Aadhar number is linked with your DigiLocker account.
Benefits of DigiLocker
Passengers can show Digital Aadhaar and Driving License from DigiLocker as valid proof of identity while undertaking a journey through Indian Railways
No requirement to carry documents in physical state
So today in this post I will be guiding you out on this new method to download your e-Aadhaar PDF File from DigiLocker, that too password-free or password less.
Password Free Aadhaar PDF from DigiLocker
Your DigiLocker account now comes ready with your Aadhaar digital copy that is Aadhaar PDF File. This Aadhaar PDF File present in DigiLocker account doesn't contain any security lock to view it, so it is a password-free document. You can just download the Aadhaar file and double click on it to view it directly without entering any password or PIN. But the only limitation of Aadhaar present in DigiLocker is that it is masked Aadhaar Card. This means the Aadhaar downloaded from Digilocker doesn't show enrolment number and out of 12 digit UID Number, only the last four digits are visible. However rest all details like name, address, age, etc. will be present on it.
So DigiLocker Aadhaar Card PDF is not a regular Aadhaar File which you usually download from UIDAI Portal selecting regular Aadhaar option.
So below are the complete steps which will help you to download Aadhar without Password from DigiLocker.
Process to Download Password Free Aadhaar PDF from DigiLocker
To download password-free Aadhaar PDF File from DigiLocker, just visit DigiLocker website by accessing URL https://digilocker.gov.in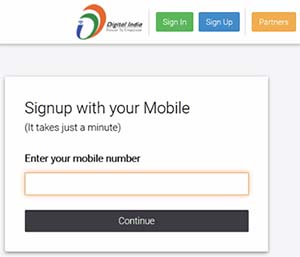 Register an account using your mobile number. If you already have an account on digilocker then you can log in with existing registered details.
While registering with the mobile number, OTP will be sent on your mobile.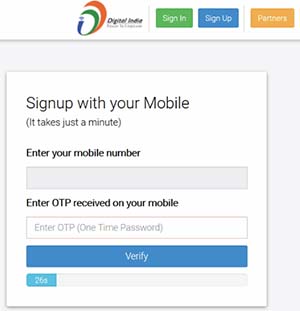 Enter the received OTP and click on the verify button.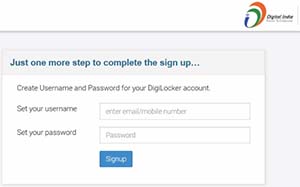 On the next screen, you will be asked to create a username and password for your account.
Set your username by entering a mobile number or email id and set a password which is in between 8-30 characters which must at least contain one letter, one number, and one special character.
Once done setting up a username and password, just click on the signup button.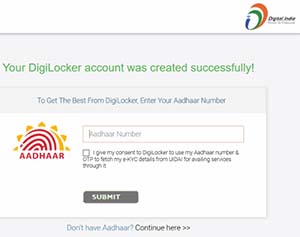 On the next screen, a message will be displayed saying your Digi locker account was been created successfully.
Below you will be asked to enter your 12 digit Aadhaar Number, just enter your 12 digits Aadhaar Number and give consent to DigiLocker to use your Aadhaar number and OTP to fetch your e-KYC details from UIDAI for availing services through it.
Once done just click on the submit button.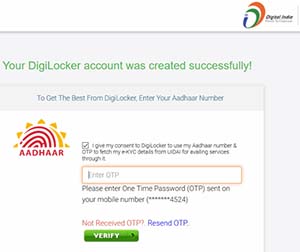 One time password will be sent on your registered mobile number, enter the received OTP in the next screen and click on the verify button.
DigiLocker will welcome you with a message.
To download your Aadhaar, from DigiLocker dashboard just access the Issued Documents section.

You will find your Aadhaar PDF file in the issued document folder.
To download the Aadhaar PDF, just click on the PDF button and your Aadhaar PDF will successfully download on your device.
Once PDF gets downloaded, you can just double click on it and your Aadhaar PDF will open without prompting for any password.
That's it, this is how you can download Aadhar without password from DigiLocker.
Updated your Aadhaar but new details don't get reflected in DigiLocker?
If you have recently updated your Aadhaar details, and after getting update request successful. You are unable able to see the latest details of Aadhaar in your DigiLocker then you will need to follow the below steps:
First confirm whether your Aadhaar Update request is successfully approved or not, which can be done by checking the status of your Aadhaar or by downloading e-Aadhaar PDF.
If details are updated in your Aadhaar and it is not reflecting in DigiLocker then you will need to login to your DigiLocker Account.
Go to DigiLocker Profile > under DigiLocker profile you will be able to see 3 options:
My profile
Update Mobile
Link with Aadhaar
Just click on the link with the Aadhaar tab.
You will see a message "If your DigiLocker Profile does not match your latest Aadhaar data, you can update it to the latest."
So just click on Update DigiLocker Profile to latest Aadhaar data.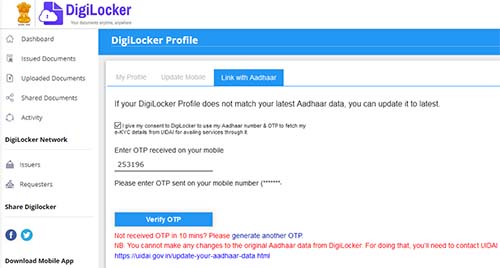 You will need to complete OTP authentication, where OTP will be sent on your registered Aadhaar mobile number.
Enter the received OTP Code in the Enter OTP field, just tick mark on I give my consent to DigiLocker to use my Aadhaar number & OTP to fetch my e-KYC details from UIDAI for availing services through it and click on the Verify OTP button.
A message will be displayed stating "Your Aadhaar data was updated successfully."
So this means your latest details of your Aadhaar have been updated in DigiLocker Profile and the latest Aadhaar PDF Copy will also be available under Issued Documents.
What is DigiLocker Aadhaar password?
There won't be any password set for the Aadhaar stored in your DigiLocker account.