If there is some error or mistake in your Aadhar Card details you can get it corrected or rectified. The process to rectify the mistakes of Aadhar details is very easy and simple, you can either update Aadhar Card Online or Update Aadhar Card Offline by visiting Aadhaar Seva Kendra.
Both of these ways works to get your Aadhar Card details corrected, once you place a request to correct your Aadhar Card Details it takes 30 to 90 days to process your request.
So now the main query arises here is whether you will receive your Hard Copy of Aadhar Card after Update? Or How to get Hard Copy of Aadhar Card after Update.
Get Hard Copy of Aadhar Card after Update
Yes, you will get a hard copy of your Aadhar Card via post only if you have requested to update your name, date of birth, gender, and address. And in case if you have not requested to update any of these above details, then you will not receive your Aadhar hard copy via post.
Once your update request gets processed you will receive SMS on your registered mobile number saying "your update request has been processed successfully", you can download the Updated e-Aadhaar Card Copy Online and take a printout whether it may be black and white or color. e-Aadhar Card Copy downloaded Online will be valid and accepted across the nation without any questions, similarly as the Physical Aadhar Card Hard Copy is accepted which is sent via post.
Those who had requested to update name, date of birth, gender, and address, they will get their Updated Physical Aadhar Card hardcopy after 1 to 3 months by post.
Below is the process which shows how to download updated e-Aadhar Card Copy Online.
Download Updated e-Aadhar PDF Copy Online
To download your updated e-Aadhar Card Copy from your web browser visit //eaadhaar.uidai.gov.in/
Just select I have Enrolment ID or Aadhar Number, if you are entering Enrolment ID then you will have to enter the enrolment id mentioned in the Aadhar Acknowledgement copy which was provided to you after the correction request. Enter the enrolment number or Aadhar Number or VID, solve the captcha, and hit on the get one-time-password button or enter the TOTP button if you have the mAadhaar App on your phone.
You will instantly receive a one-time-password on your registered mobile number, just enter the one time password in below enter OTP field and click on the validate and download button.
Your Aadhar Card PDF File will start downloading.
Just open the e-Aadhar Card PDF File by entering your first four letters of your name in block + year of birth in the password and take a print out of it on normal paper whether it may be color and black and white will be valid same as Aadhar Card Hardcopy.
If you don't receive a hardcopy of your Aadhaar or need your Aadhaar Copy urgently once getting your details updated then you can opt for UIDAI's Order Aadhaar reprint service. UIDAI's Aadhaar reprint service is a chargeable service where the Aadhaar holder can order their Aadhaar Reprint anytime by paying a charge of ₹50. Once payment is made the Aadhaar holder gets their Aadhaar on the registered address within 7 working days, so if you want to order one then you can follow the below process.
How to Order an Aadhaar Hard Copy after Update
To order Aadhaar hard copy you don't need to have a mobile number registered with your Aadhaar. With the registered mobile number and even without a registered mobile number you can order an Aadhaar hard copy after the update, unlike download Aadhaar feature which needs only registered mobile number.
To place an order for Aadhaar hardcopy, just visit UIDAI official portal https://uidai.gov.in/
Click on order Aadhaar reprint option which listed is under section get Aadhaar
To place a place for Aadhaar reprint you will need to login to UIDAI Portal by entering your Aadhaar Number, VID or EID. So select any of these details by selecting the correct option, solve the security code by entering the text displayed in the image and click on send OTP if you have a mobile number registered with your Aadhaar or if your mobile is not registered with your Aadhaar then just tick mark on My Mobile number is not registered and enter the non-registered mobile number in the field below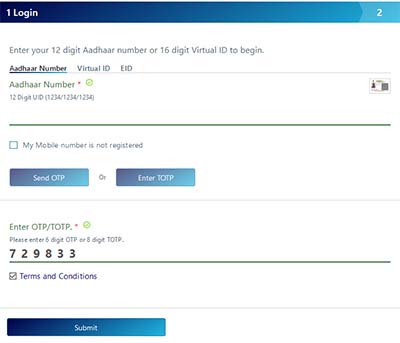 You will receive one-time-password on your mobile number
Enter the received OTP, accept the terms and conditions by clicking on it and click on the submit button
If you had used a registered mobile number then on the next screen your Aadhaar preview will be displayed showing your photograph, name, date of birth, gender, and address.
If you have used a non-registered mobile number then it won't show any preview and below only make payment and cancel button will appear.
To proceed with placing an order for your Aadhaar reprint, just click on the make payment button
The page will be redirected to payment gateway page, you can make payment via Credit/ Debit Cards, UPI and Net Banking
Make the payment and on the next screen, your order details will be displayed which would include payment date and time, receipt number, transaction id, the amount paid, etc.
You can take a screenshot of these details for your future reference. However, you will also receive your receipt number or SRN (Service Request Number)details on your mobile number via SMS.
With receipt number or service request number, you will be able to track the status of your reprint request.
Your Aadhaar Reprint will be getting delivered on your registered address in 7 working days. You will get realtime updates on your reprint request on your phone
Once your Aadhaar gets dispatched via India Speed Post, you will also receive the consignment number or Airway Bill Number (AWB).
This is How to get a hard copy of Aadhar Card after Update.