UIDAI is trying to expand its services by implementing latest technologies to provide essential options on its portal. And now finally UIDAI has come up with new feature on its portal called AaBHA, AaBHA is nothing but an online chat support service which would solve query of uidai.gov.in portal visitor.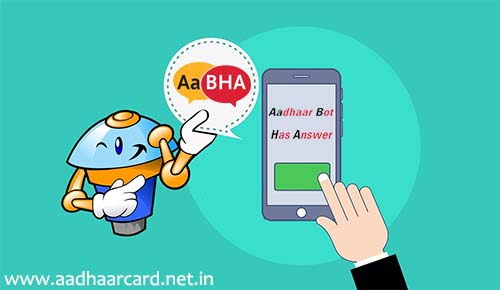 What is AaBHA Online Chat Support?
AaBHA denotes Aadhaar bot has answers and it is a name given by UIDAI for Online Chat Support Service available on uidai.gov.in portal. AaBHA Service available on UIDAI Portal answers the questions asked by website visitors, but on opposite side of chat that is AaBHA there is no real human who answers your query, instead it's a computer program which is designed to simulate conversation with humans query over the chat.
So whatever query you type in the AaBHA Chat, Aadhaar online assistant would search around its database and will produce result that is probable answer. This is how AaBHA the Aadhaar Online Assistant is working, and this is how it would help UIDAI Website visitors if then have any queries or questions in their mind.
How to use or ask question to AaBHA Aadhaar Online Assistant?
To chat with AaBHA that is Aadhaar Online Assistant you will need to visit UIDAI Official website by accessing URL www.uidai.gov.in
Once the website loads up completely, on bottom right corner you will find logo Ask AaBHA
Just click on Ask AaBHA button and a popup chat will open in same page
On opening the chat it will greet you with "Greetings Resident!! Type your query in the text field below and click on 'Send'"
So whatever query or question you have and which you need to ask to AaBHA, just type in the text box and click on send button
It would load several results stating did you mean?
So just click on suitable result to get your query resolved, and it answer will get displayed
Remember that this is a bot and not a real human who is answering your query, this bot will load up results whichever are present in its database which is very limited
So this is how you can use or ask question to AaBHA Aadhaar Online Assistant.