Previously there was no option to get your Original Aadhaar Card Reprinted from UIDAI in case if you have lost your Aadhaar. But now even if you lose your Aadhaar Card, there is no need to get worried as now you can opt for Aadhaar Reprint Service.
UIDAI has launched a new service called "Order Aadhaar Reprint" on Pilot Basis, which allows Aadhaar Holders to Order their Aadhaar Card Letter Reprint's if they need one, by paying a small nominal charge. And the Ordered Aadhaar Re-Print would be delivered to Aadhaar Holder safely on their registered Address through India Speed Post.
This Service has proved very useful for those people who has lost or misplaced their Aadhaar and are currently using e-Aadhaar. So the Aadhaar Holder who has lost their Aadhaar used to download electronic version of eAadhaar from UIDAI, and produce it as identity proof wherever asked and it used to be acceptable.
But now the Aadhaar Holder Can Request for Reprint of his or her Aadhaar and get it delivered at the doorstep within a week. The process of placing order for Aadhaar Re-Print Request is very simple, but you should have your Aadhaar Number, or Aadhaar Virtual ID and Debit Card or Net banking to the pay the fees.
So in case you are planning to get your Aadhaar Reprinted then you can follow the below procedure to order your Aadhaar Reprints.
Lost Your Aadhaar? Here is the Complete Steps on How to Get Aadhaar Letter Re-Printed
Visit Official UIDAI Website by going to https://uidai.gov.in/
From UIDAI Home Page > Aadhaar Service Section just click on Order Aadhaar Reprint
A new page will open named "ORDER AADHAAR REPRINT"
Enter your 12 digit Aadhaar Number or Virtual ID
Enter the Security Code by entering the same in enter security code which you can see in the image
If you don't have your mobile number linked with your Aadhaar then just tick mark on "If you do not have a registered mobile number, please check in the box." And input the mobile number on which you would be able to receive OTP. (If you are using this feature then you would not able to review your details before making the payment)
If you have mobile number registered with Aadhaar then click on send otp button.
And you would receive OTP Code on your Mobile Number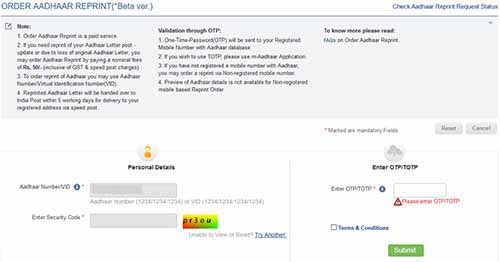 Enter the Received OTP in Enter OTP Field by agreeing to 'Terms and Conditions' and click on submit button
If you have mAadhaar App Installed on your phone then you can also use TOTP Option and complete this Temporary Password verification step
On next page your Aadhaar Details would be displayed, which you will have to review if any details are incorrectly appearing. (In case if there are any details wrongly mentioned then you will have to get to correct by visiting Aadhaar Center)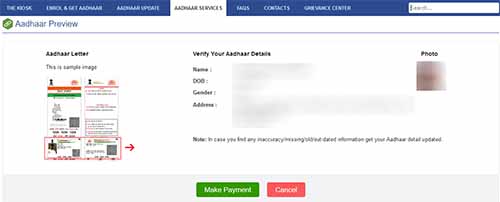 If everything is correct then just click on make payment button and you would be redirected to Payment Gateway
Just Make the Payment using Debit Card, Credit Card, Net Banking or UPI
Once the payment is successful you will get acknowledgment displayed on next screen which would contain SRN, Receipt Number, Transaction ID, Payment Date and Time etc.
You can download that acknowledgment receipt and keep it for your future reference purpose or tracking purpose
Additionally you will also receive SMS on your registered number containing the Service request Number
Your Aadhaar Reprint would be delivered to your registered Address by India Speed Post in next one week, but you can always keep track of your order by following the below process on how to track status of your Aadhaar Reprint.
Process on How to Check Aadhaar Reprint Status
To check status of your Aadhaar Reprint Order just visit https://resident.uidai.gov.in/check-aadhaar-reprint
Enter the 28 digit SRN that is Service Request Number which would be printed on acknowledgement receipt, enter your 12 digit Aadhaar Number (UID), solve the captcha code by entering the same in below enter security code and click on submit button.
On next screen the status of your Aadhaar Reprint Order would be displayed, and once it is dispatched it would also show your Consignment ID or Tracking ID of India Speed Post.
Which you can further track on India Post Website to check where you're Aadhaar Reprint has reached.
So this is how one can easily get their Aadhaar Letter reprinted in case it is lost.