There may be several cases where users while enrolling for Aadhaar might have not provided their mobile number, or the provided number may be deactivated, or the wrong number may be linked to their Aadhaar or some people might be finding out a way on how to get Aadhar card if lost without mobile number, etc. The cases may be different, but you all may be looking for a single method that is how to download Aadhaar Card without a registered mobile number or how to download Aadhaar Card without OTP.
Downloading Aadhaar without registered mobile number was to be possible in earlier days, but from the day UIDAI revoked the feature which used to allow users to download Aadhaar by entering a different mobile number other than registered mobile to complete the verification, it has become impossible to download Aadhaar without OTP or registered mobile number.
The only solution for this case is that you can get your mobile number updated by visiting nearby Aadhaar Center, but this process takes some time like a few days to a month to update your mobile number. Once getting your mobile number updated with your Aadhaar, then only you would be able to download your Aadhaar Online by using the registered mobile number.
The above process may sound lengthy to you seeing your preference or urgent need. In case of urgency, you have one more method through which you can get your Aadhaar Hardcopy delivered to your registered address without a registered mobile number. But again this method will take almost 7 working days to get your Aadhaar Copy delivered to your address, but comparing all methods available this method of ordering Aadhaar Card Copy is one of the fastest ways to get your Aadhaar Card Copy.
So below we have mentioned all the steps which you will come across while ordering your Aadhaar Card Reprint Online without a registered mobile number.
Process to Order Aadhaar Reprint without registered mobile number
For every Aadhaar Related Service, you will need to visit UIDAI Official Portal, which is one and only https://uidai.gov.in/
From the UIDAI official website homepage, just search for the Order Aadhaar re-print option and click on it.
A new page will open called Paid Re-print service, yes this is a paid reprint service which allows users to re-order their Aadhaar by paying a nominal fee of ₹50
Make sure you have your 12 digits Aadhaar Number or 16 digits VID with you and enter it in the Aadhaar Number or VID column.
Solve the captcha code displayed below and tick mark on my mobile number is not registered.
Mention your non-registered 10 digits mobile number in the below column and hit on send OTP button.
One time password will be sent on your mobile number which you have entered.
Enter the received OTP in enter OTP column, accept the terms and conditions by tick marking on it and click on the submit button.
Accepting the terms and conditions will be like accepting to below 4 conditions mentioned:
I hereby give my consent for reprinting of my Aadhaar.
I understand that my Printed Aadhaar Letter will be delivered at my address, registered with Aadhaar which is complete and correct with Pincode.
I hereby agree to pay ₹50/- (Incl GST) for this Paid Aadhaar Letter Service of UIDAI.
I understand that the Aadhaar Letter will be delivered using SPEED POST Service of Department of Post (DoP) in line with DoP delivery norms and Delivery Status may be tracked using DoP Status Track Services.
One next page make payment button will appear, if you have ordered Aadhaar using your registered mobile number then on this page your Aadhaar Preview would have been displayed, as you are using a non-registered mobile number so your preview of Aadhaar won't be displayed as a security concern.
So now to proceed with the order, just hit on make payment button and make the payment using any payment modes available like a credit card, debit card, net banking or UPI.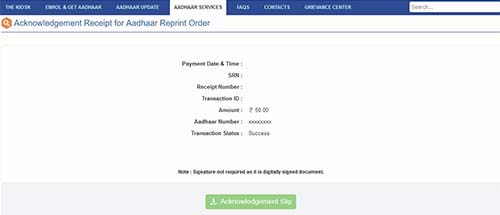 Once payment is successful your order receipt will be generated, you can print this receipt or store it on your pc or laptop for future tracking purposes.
Your Aadhaar reprint will be delivered to your registered Aadhaar address in 7 working days via Speed Post. You will also receive a tracking code once your order has been dispatched by the UIDAI team. Then if you need you can track the consignment by accessing India Post Website to know the current status of your article.
Make sure whenever you get time, you get your mobile number updated in your Aadhaar by visiting Aadhaar Kendra so that next time you won't have to experience inconvenience. To update the mobile number with Aadhaar, there is no need for any documents to be produced, just walk into the nearest Aadhaar Seva Kendra or Aadhaar service enabled bank branch with your Aadhaar copy.