Locking your Aadhaar Biometric helps to secure your data from un-authorized authentications. We have already explained how to Lock/Unlock Aadhaar Biometric Data Online through Website, but today here we will discuss How to lock/ Unlock Aadhaar Biometric using mAadhaar App.
mAadhaar App will now allow you to quickly lock/ unlock your Aadhaar Biometrics just in few clicks on your smartphone where ever and whenever you want. So now let's get to know How to Lock Unlock Aadhaar Biometric using mAadhaar App.
Procedure on How to Lock Unlock Aadhaar Biometric using mAadhaar App
We have already discussed how to download and install mAadhaar App on Smartphone, you can refer to that post by clicking here.
Once you are ready with mAadhaar App installed on your smartphone, just tap on it to open the app.
Just setup password before importing your Aadhaar Profile on your device.
Once setting up password on next screen enter your 12 digit Aadhaar Number or you can even scan your Aadhaar Number by scanning the qr code on your Aadhaar Letter.
Once feeding your Aadhaar Number just tap on next button.
You will receive one time password on your registered mobile number, make sure your registered mobile number is on same device in which you have installed this mAadhaar App.
It will automatically detect the OTP from SMS which you received and proceed further.
Once successful verification of OTP, you will be moved to your Aadhaar Profile.
You will have to enter profile password which you have set to view your profile.
So now to lock Aadhaar Biometric just tap on settings, the three dots which you can see on top right corner.
Under settings it will list many options, just tap on biometric settings.
On next page to lock Aadhaar Biometric just check by tapping on enable biometric lock, and tap on OK button.
Once enabling Aadhaar Biometric lock you may still be able to perform bio auth for next 6 hours, so just tap on OK button.
You will receive OTP on your mobile number and it will detect it automatically and get verified.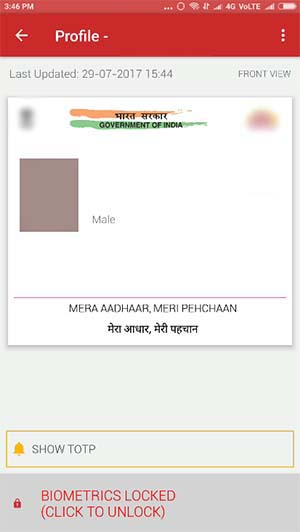 You have successfully locked your biometrics, now if you want to unlock it you will have to follow same procedure and in enable biometric lock just uncheck it.
That's it this is how easily you can easily lock unlock Aadhaar Biometric using mAadhaar App on your smartphone.