UIDAI (Unique Identity Authentication of India) has set up Aadhaar Enrolment and Update Centers across all banks in India. This step was taken by UIDAI and the Government of India to carry Aadhaar Enrolment and Update in Safe and Secure Environment. When agencies used to do Aadhaar Update or Enrolment, UIDAI used to get loads of complaints regarding misbehavior, money demand, etc. So to eliminate such complaints, UIDAI had taken this step to set up Aadhaar Enrolment and Update centers across all banks.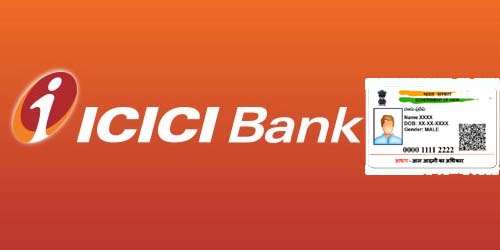 ICICI Bank which is one of the leading Private banks in India has set up Aadhaar Enrolment/ Updation activity throughout its designated branches across India. Any resident who wishes to apply for Aadhaar or wants to update their Aadhaar can visit designated ICICI Bank branches.
ICICI Bank Aadhaar Enrollment / Update Center
To locate the Nearest ICICI Bank Branches which has Aadhaar Enrolment or Update Center, just visit the ICICI Official list of Aadhaar Enrolment or Update Enabled Branches.
In the list, you can look out for your state and area and walk into the branch to get your Aadhaar Updated or for new enrolment of Aadhaar.
ICICI Bank has not designed a separate page on its official website to book an online appointment for Aadhaar Update and Enrolment. However, without ICICI bank Aadhar slot booking online the applicant can directly walk-in to ICICI Aadhaar Seva enabled branches for enrolment or book an appointment slot offline.
For your reference below we have mentioned the complete steps and process through which you will have to undergo to enroll or update Aadhaar in ICICI Bank.
Process to Enroll or Update Aadhaar in ICICI Bank Branch
For Aadhaar Enrolment or Update you will need to carry documents along with you, so to know the list of documents that are acceptable for Enrolment or Update of Aadhaar just click here.
The resident will have to carry the original document along with them while visiting the ICICI Bank branch for Aadhaar Enrolment or Update.
You can get prepared beforehand so that you don't make any mistakes while filling the application form at the branch, by downloading Aadhaar Update Form or Enrolment.
You can skip that downloading form process if you want, as Aadhaar Enrolment Form or Update Form would be available free of cost at the ICICI Branch.
Visit the ICICI Bank Branch which you have located from Official List of ICICI Bank Branches Aadhaar Center.
Take Aadhaar Update or Enrolment Form from the ICICI Branch Aadhaar Center.
Fill up each and every detail clearly in the form, make sure you enter your mobile and email id.
Enclose the documents along with the form and submit it to the verifier at the ICICI Bank Branch.
The verifier will verify your documents by cross-checking your original ones and will return back your originals by scanning it
You would be requested to move on to the Aadhaar Operator with document and form.
Just submit the Form and Photocopy document to the Operator.
The Operator at ICICI Branch would start up the enrolment or update process by filling up details in the Aadhaar Software.
Your biometrics would be captured along with one facial photograph.
Once the process is completed as an acknowledgment, you will be handed over with Aadhaar Update Receipt or Aadhaar Enrolment Receipt.
You will have to maintain this receipt with you until you receive your Aadhaar Card delivered at your doorstep or until you receive SMS on your mobile number that Aadhaar has been generated or updated.
That's it, this is how simple the process is to enroll or update Aadhaar in ICICI Bank.
Aadhaar Enrolment is Free of Cost Service, but if you have visited the branch for updating your Aadhaar Card then you would be charged ₹29, below is the list of complete charges charged for various Aadhaar Services across ICICI Bank Branches.
Aadhaar Service Charges across ICICI Bank
| | |
| --- | --- |
| Service Type | Charge/ Fee |
| Aadhaar Enrolment | Free of Cost (No Charges) |
| Biometric update | ₹50 |
| Demographic update (Any type/ any channel) | ₹50 |
| Aadhaar search using eKYC/ Find Aadhaar/ any other tool and B/W print out on A4 sheet | ₹30 |
All the above charges are *Inclusive of GST charges at 18%.