This situation might be faced by many people like they might know their Aadhar Number but they can't download their Aadhaar because they might have not registered mobile number with their Aadhar. So during such situations, you might search for this query "How to Download E-Aadhar Card with Aadhaar Number and without Mobile Number" or "how to download aadhar card without password".
To download E-Aadhaar Card Letter PDF Online by using Aadhar Number you should have the linked mobile number available with you, as once you enter details like Aadhar number, name, etc. it sends One-Time-Password to your registered mobile number. Then after entering the received OTP, you can successfully download your e-Aadhaar Copy. So Downloading Aadhar card without password that is OTP sent on the registered mobile number is impossible.
So today in this post I will guide you on How to Download E-Aadhar Card with Aadhaar Number and without Mobile Number or how to download Aadhar card without password, below are the step by step process which will help you to Download E-Aadhar Card with Aadhaar Number and without Mobile Number.
Process to Download E-Aadhar Card with Aadhaar Number and without Mobile Number
Without having a valid mobile number linked with Aadhaar, it was not possible to download e-Aadhaar Online. But now UIDAI has come up with a new feature that allows the Aadhaar holder to download their Aadhaar even when their mobile number is not linked with their Aadhaar or if the linked mobile number is no more valid or if in an inactive state.
This new feature on UIDAI Website allows the Aadhaar holder to download their e-Aadhaar Card Copy Online with the help of a face recognition feature that doesn't need any mobile number or OTP to be entered.
So let's know more about how to download Aadhaar Online with Face Auth without OTP or mobile number.
Download eAadhaar with Aadhaar Number without Mobile Number
To download your eAadhaar Copy Online with face recognition you will need your 12 digits Aadhaar Number, Enrollment Number or Virtual ID and the Aadhaar holder should be present in the front of the screen while downloading as this process works solely on face recognition.
To proceed with the process to download aadhar card online without mobile number just visit download Aadhaar by face page by visiting https://eaadhaar.uidai.gov.in/faadhaar/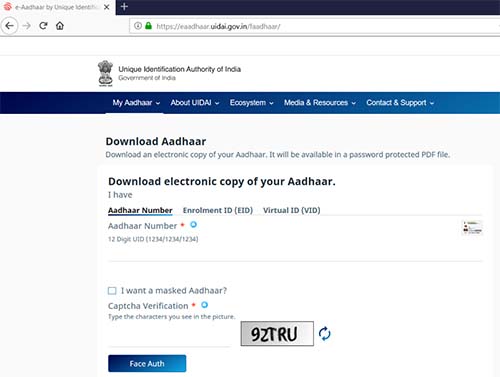 Download Aadhaar page will appear, from the form, you will need to select from Aadhaar Number or Enrollment Id or Virtual ID as per the details which you have along with you and enter the number in the below field
Once entering the details, just solve the captcha security code and click on the Face Auth button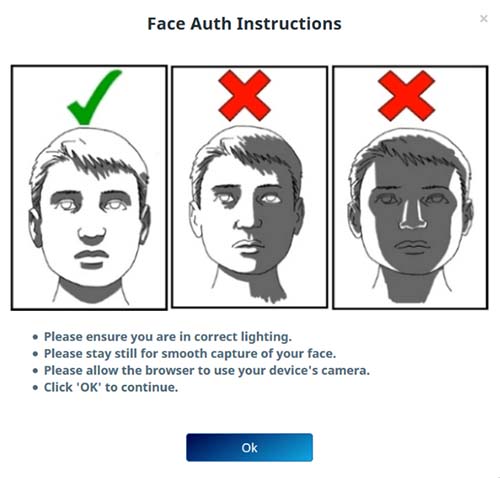 A pop-up notification will appear with the face auth instructions which you will need to follow while the face recognition such as:
Please ensure you are in the correct lighting
Please stay still for smooth capture of your face
Please allow the browser to use your device's camera
Click "Ok" to continue
To proceed, just click on the OK button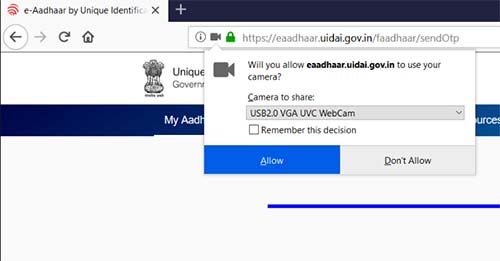 The Page will navigate to a new screen, where it will ask to allow the permissions to access your camera by eaadhaar.uidai.gov.in
Allow the permissions and the screen will start with face recognition, during the process you will have to stay still and follow on-screen instructions which are being displayed to complete the face authentication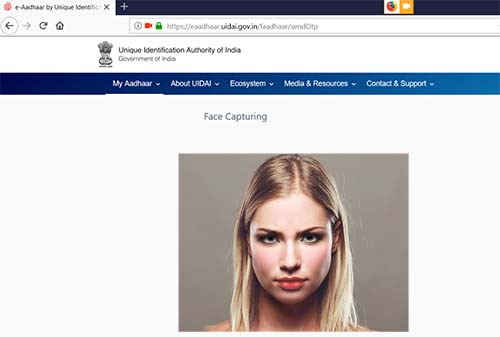 Once the interface successfully captures your face and recognizes with the data present in the database, the page will get redirected to download eAadhaar link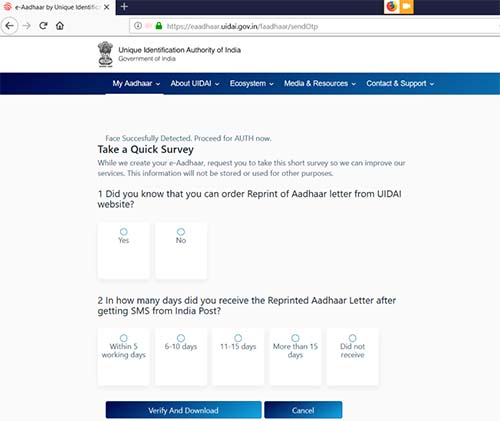 You just need to answer the survey and click on the verify and download button to download your Aadhaar
Once your eAadhaar file gets downloaded, just open the file with PDF Reader Software to view it
But on opening the file it will prompt to enter the password as it is a password-protected file
The password to open your eAadhaar will be your first four letters of the first name in capital letter followed by the year of birth
If you are unable to download your e-Aadhaar Card with a face recognition feature, then you will need to follow the below alternative process.
To be able to download your e-Aadhar Card Letter PDF File first you will have to update your mobile number as you are not having the old number registered with Aadhar Card available with you. So the first process will be you have to get your Aadhaar Card Mobile Number updated by following the first process.
Process 1: Update your mobile number with Aadhar Card
To get your mobile number updated to current ones that you own, you will have to visit Aaddhaar Seva Kendra along with your Aadhaar
If you directly walk into the Aadhaar Seva Kendra you may need to wait in the long queue, but you can bypass the queue by booking an online appointment for your update request
Visit the Aadhaar Seva Kendra on the appointment date if you have booked an appointment online or else visit the Seva Kendra directly
To submit an update request of a mobile number, you won't need to submit any document.
Just request for Aadhaar Update Form at the Seva Kendra, fill it up quoting your existing Aadhaar Number and mention all details asked in the form with the mobile number which needs to be changed
Once you have filled up the form, just submit the form to the verifier of the Aadhaar Seva Kendra
The Verifier will go through your form and verify the details and will request you to move to the Operator desk of the Seva Kendra
The Operator will feed in the information in the Aadhaar software, you will be able to view the details which operator is entering by watching the screen which is faced towards you
You can cross-check if your details and mobile number is entered correctly by the operator
If you notice any mistakes then you can request the operator straightaway to correct the error
Once the operator is done with entering the details, for confirmation of your update request you will be asked to place your fingerprint over the fingerprint scanner device
Your fingerprint will be scanned and authenticated with the existing data present in the database
Your Aadhaar Update Receipt will be printed on which your update request number will be printed and the same number you can use to track the update of your Aadhaar
The operator will hand over the Aadhaar Update receipt
And you will be done submitting the update request of the mobile number from your side
Your mobile number will be updated in your Aadhaar Card upon verification and approval by UIDAI Verification Team
The verification and approval can take up to 1 day to 3 weeks of time
Once your request is verified and approved you will get a notification on your mobile number
And once you get the notification you can download the updated Aadhaar from UIDAI Website which will contain your new mobile number
This is how you can update your new mobile number in Aadhaar Card, and once your Phone Number gets updated you can carry on with process 2 to download your E-Aadhar Card PDF Copy.
Process 2: Download E-Aadhar Card with Aadhaar Number
Now you have updated your mobile number so there will be no problem in downloading your E-Aadhaar Card PDF Copy with Aadhar Number, so below is the quick process that will help you in downloading your Aadhaar Card PDF with Aadhar Number.
To download your E-Aadhaar Card PDF File Copy visit e-Aadhaar Download Portal by going to //eaadhaar.uidai.gov.in/
Once you are on the portal, from option select I have Aadhaar Number and enter the 12 digit Aadhaar Number in below Aadhaar Number field.
Next, you will have to Solve Captcha and click on get one-time-password.
You will receive a one-time-password on your newly registered mobile number, just enter the OTP in Enter OTP field and click on Validate & Download.
That's it your Aadhaar Card PDF will start downloading.
This is how easily you can Download E-Aadhar Card with Aadhaar Number and without Mobile Number. In this way, we have also solved your query on How to Download E-Aadhar Card with Aadhaar Number and without Mobile Number, I hope this tutorial helped you.