This feature to download e-Aadhaar PDF Other than registered mobile number might come very handy during various uncertain situations like when your registered mobile number with Aadhaar is inactive, barred, lost, or if your mobile battery is down, or you have forgotten to bring your mobile with you, etc.
So during such unforeseen circumstances, you can download e-Aadhaar PDF other than a registered mobile number.
Without having the registered mobile number you can only download your Aadhaar with the help of face authentication feature. To use this feature of ace authentication to download your Aadhaar PDF, just follow the below process.
Download e-Aadhaar PDF with Face authentication without registered mobile number
To download the Aadhaar with the help of a face authentication feature you should confirm that your smartphone or laptop or computer is having a front camera.
Having a front camera is mandatory to download your Aadhaar using face authentication feature.
To download your Aadhaar without registered mobile number visit the download Aadhaar with face official URL https://eaadhaar.uidai.gov.in/faadhaar/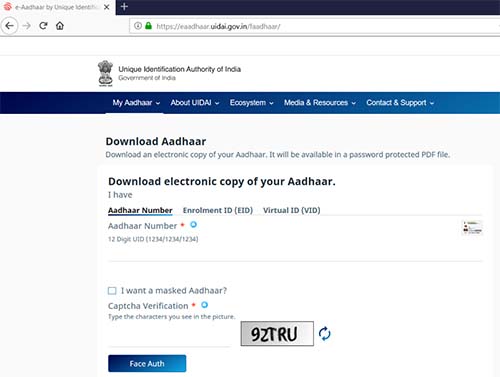 A form will appear where it will ask you to enter your Aadhaar or Enrollment or VID Number
Enter the number which you have with you by making the proper selection and solve the security code which is being displayed
Click on the face auth button to proceed
A popup will appear with quick instructions which you need to follow while face authentication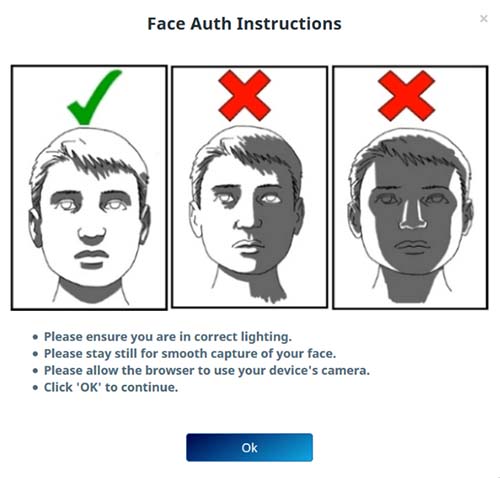 So while the face authentication, make sure you follow below three golden rules:
Please ensure you are in the correct lighting
Please stay still for smooth capture of your face
Please allow the browser to use your device's camera
Just click on the OK button which is being appeared on the popup
The browser will ask to allow the permissions to access the web camera or front camera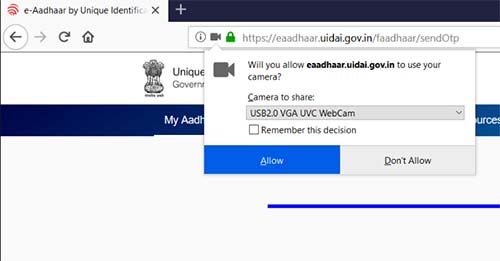 Just allow the permissions to start capturing the face
On the next screen, an interface will appear which will capture your face for authentication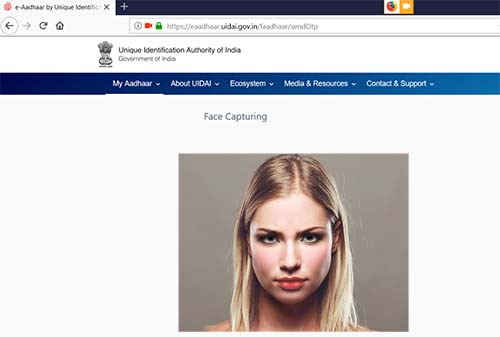 Once your face has been successfully captured it will display a message "face successfully detected" and you will be navigated to the download page of eAadhaar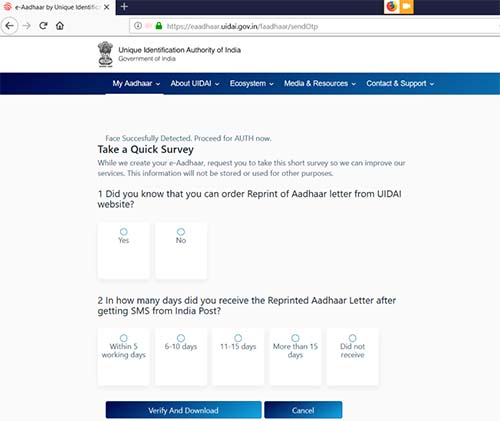 You will need to take a quick survey by answering the simple questions which will help the UIDAI team to improve their services and click on the verify and download button to proceed to download
Your eAadhaar PDF file will start to get downloading and once it successfully downloads you can open the file with PDF Reader Software
On opening, it will ask for the password which will be your first four letters of the name in capital letters followed by your year of birth.
So this is one of the methods with which an Aadhaar holder can Download e-Aadhaar PDF Other than Registered Mobile Number.
How to Get Aadhaar Print Other than Registered Mobile Number
Here is an another service offered by the UIDAI with which one can get their Aadhaar Copy delivered to their home by just paying ₹50. For this process, you won't require any registered mobile number. But you will get Original Aadhaar Card delivered to your address within 7 working days on your registered address.
To order your Aadhaar Card visit the official website of Aadhaar https://uidai.gov.in/
From the homepage find for option Order Aadhaar Reprint and click on it
On the next screen, you will need to enter your 12 digits Aadhaar Number or VID
Enter whichever details which you have available with you by selecting the proper option and solve the captcha security code
Tick mark on the field my mobile number is not registered and enter the new mobile number which you have available with you (this won't add the mobile number to your Aadhaar, it is just to complete the OTP authentication)
Click on the Send OTP button and you will receive one-time-password security code on your mobile number
Enter the OTP in the enter OTP space, tick mark on the terms on conditions and click on the submit button
On the next page, make payment button will appear
Just click on the make payment button and complete the payment using UPI, Net Banking, Credit Card or Debit Card
Once payment is made your order details will be displayed on the final screen with the SRN
You can use this SRN to track the status of your reprint request
Your reprint will be posted to you via Speed Post and it will get delivered to you within 7 working days
Download e-Aadhaar PDF Other than Registered Mobile Number from Aadhaar Seva Kendra
In the absence of the mobile number, eAadhaar PDF can also be downloaded from the nearest Aadhaar Seva Kendra Office. To get a copy of your eAadhaar Instantly from Aadhaar Kendra without a mobile number, the Aadhaar hold will have to visit nearby ASK Center.
Request for Aadhaar Reprint or you can also ask for e-Aadhaar, but you will need to carry your thumb drive to copy your eAadhaar
If you have your Aadhaar Number with you then you can provide your Aadhaar Number to the operator or if you don't have your Aadhaar details then you will need to provide your personal details like name, date of birth, etc which you have given while applying for Aadhaar
You will be asked to place your fingerprint over the fingerprint scanner device
Your Aadhaar will be downloaded successfully on the Aadhaar Seva Kendra Laptop and you will be handed over with a print of your Aadhaar. I f you have carried a thumb drive then you can request the operator to copy your eAadhaar into the thumb drive.
This is how you can also get Aadhaar Card from Aadhaar Seva Kendra without a registered mobile number.
Unfortunately, the service of downloading e-Aadhaar PDF other than registered mobile number does not exist anymore, as the UIDAI has recently revoked this feature. So for your reference below is the complete process on how to download eAadhaar PDF without registered mobile number which used to work in the past.
To download your e-Aadhaar PDF online you will need your Aadhaar Enrollment Number and an active mobile number. So now let's begin with the process on How to download e-Aadhaar PDF Other than Registered Mobile Number.
Procedure on How to Download e-Aadhaar PDF Other than Registered Mobile Number
To download your Aadhar Card from your mobile/ computer or laptop visit the Aadhaar official website and click on the download link.
Once you are on main home page of download electronic version of Aadhar, from the first option displayed "select I have enrolment id or Aadhaar", just select I have enrolment id.
In the below field enter your 14 digits enrolment number with a date time stamp as printed on the acknowledgment slip.
Once you enter enrolment id, fill the below fields like your full name, pin code, solve the captcha image and enter the new active mobile number on which you can receive OTP.
Just click on get one-time-password, and you will receive a one-time-password on your mobile number which you had entered.
Enter the received OTP in the enter OTP field and click on Validate and download button.
Your e-Aadhaar Card PDF will start downloading, once your PDF Aadhaar gets successfully downloaded you can open the downloaded file with Adobe Reader.
To open the electronic version of Aadhaar it will prompt you to enter the password, enter your postal Pincode in the password field and click on the OK button.
Your e-Aadhaar Card PDF File will open, and you will be able to view it.
This is how you can Download e-Aadhaar PDF Other than Registered Mobile Number.