Quoting your mobile number at the time of Aadhaar registration allows you to access online Aadhaar Services like the online update, Aadhaar download, etc. And if you have forgotten or skipped to provide your mobile number while your registration then you won't be able to carry online tasks like Aadhaar Download, Update, etc. until you get your mobile number updated with your Aadhaar.
Even having a mobile number linked with your Aadhaar, you may have come across several situations like while you are trying to download your e-Aadhar Card Online via Aadhar Portal there might be a delay in getting OTP or your current registered mobile number might not receive any OTP, etc.
So without receiving the OTP on your mobile number, you won't be able to download your Aadhar as once you enter the OTP (One Time Password) you will be moved to the next step to download your e-Aadhar PDF.
There might be several reasons behind non-receipt of OTP on your mobile number like you might out of network coverage area, your mobile number might be barred, your mobile battery might be drained out and switched off, your mobile number might temporarily suspend/ blocked, etc.
So during such situations, you can download Aadhar Card without OTP received on your registered mobile number. This article will guide you on how to download Aadhar Card without OTP and below is the complete process.
Unfortunately, the feature with which Aadhaar holders used to download their Aadhaar Card without OTP is no longer available on Aadhaar Self Service Portal. To download your Aadhaar you will have to first update your mobile number with Aadhaar or else you can even get a printout of your Aadhaar from Aadhaar Enrolment Center or order it online.
Below are some methods which you can use when you don't have your mobile number linked with your Aadhaar or when you can facing difficulty in receiving OTP to get your Aadhaar Copy.
Order Aadhaar Card Copy without OTP
UIDAI has offered an online Aadhaar Order Service with which Aadhaar Holders with registered mobile number or non-registered mobile number can order Aadhaar Copy by paying a fee of ₹50
To order your Aadhaar Copy Online without OTP, just head on to UIDAI official website https://uidai.gov.in/
Find for the option Order Aadhaar reprint and just click on it to proceed to place the order for your Aadhaar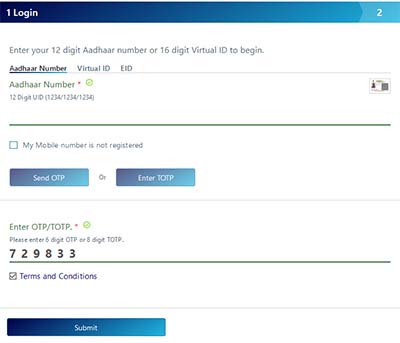 Order Aadhaar Reprint page will open where you will need to enter your Aadhaar Number or Virtual ID or EID by selecting the option, solve the captcha security code and tick mark on My Mobile number is not registered option
Enter the new mobile number on which you can receive OTP and click on the send OTP button
You will receive one-time-password on the mobile number which you entered
Just enter the received OTP, accept the terms and conditions by tick marking on it and click on the submit button
On next page make payment button will appear, so to proceed successfully pacing the order for your Aadhaar Copy just click on make payment button
The page will navigate to payment gateway page where you will need to select payment mode from UPI, Debit Card, Credit Card or Internet Banking and make the payment
Once making the payment, your order receipt will be generated on which complete details will be displayed about your order with transaction id, receipt number, etc.
Your Aadhaar Copy will be delivered to you in the next 7 working days and the package will be delivered via India Speed Post.
Get Aadhaar Copy from Aadhaar Seva Kendra without OTP
Without OTP or One-Time-Password, you can get your Aadhaar Copy from nearest Aadhaar Seva Kendra
To get your copy of Aadhaar Copy Print, you will need to visit Aadhaar Seva Kendra with your Aadhaar Number, Enrolment Number or VID Number
Provide your Aadhaar or Enrolment ID or VID to the operator
And the operator will feed in the number and your fingerprint will be captured for verification
Once your fingerprint verification is successful, your Aadhaar Copy will be printed and handed over to you on the spot.
Below is the old process mentioned just for your reference showing how Aadhaar Holder could download their Aadhaar Online without OTP when they didn't have a mobile number linked with their Aadhaar or was facing difficulty while receiving OTP on their registered mobile number.
Step by Step Process on How to Download Aadhar Card without OTP
To download your Aadhaar Card Online without OTP received on your registered mobile number you will need your Full Aadhar Enrolment ID.
To download your Aadhar PDF File Online from your web browser visit e-Aadhaar by Unique Identification Authority of India by going //eaadhaar.uidai.gov.in/
From the e-Aadhaar form to download Aadhar Card PDF, from the first option I have Enrolment ID or Aadhaar select Enrolment ID.
In the below field you will have to enter Aadhar Enrolment ID which will be 14 digit enrolment number with a date time stamp as printed on the acknowledgment slip.
Once entering the 14 digit enrolment number with date-time stamp, from below field you will have to fill Full Name, Pin Code, solve the captcha by entering the image shown in above image in below image text field, enter new mobile number on which you wish to receive OTP other than registered mobile number as on old registered mobile number you are not receiving OTP, and then click on Get One Time Password.
You will instantly receive One Time Password on the new mobile number which you had entered in the form, just enter the OTP received on your mobile number in below enter OTP field and click on Validate & Download.
Your e-Aadhaar Card PDF File will start downloading, and once it gets downloaded. You can open the E-Aadhaar PDF File with Adobe PDF Reader by entering your PIN Code in the password field.
This is how easily you could download your Aadhar Card without OTP in the past.