Have you recently changed your religion and your name? Than you can make the necessary correction in your existing Aadhaar Card.
The process to change name in Aadhaar Card after changing religion is almost very simple, but to apply for the Aadhaar Correction you will need supported documents accepted by UIDAI. Below are the list of supported documents accepted for Aadhaar Name Correction.
Supported Proof of Identity (PoI) documents Containing Name and Photo for Name Change after Changing Religion:

Passport, PAN Card, Ration / PDS Photo Card, Voter ID, Driving License, Government Photo ID Cards/ Service Photo Identity Card issued by PSU, NREGS Job Card, Photo ID Issues by Recognized Educational Institution, Arms License, Photo Bank ATM Card, Photo Credit Card, Pensioner Photo Card, Freedom Fighter Photo Card, Kissan Photo Passbook, CGHS/ ECHS Photo Card, Address Card having Name and Photo issued by Department of Posts, Certificate of Identity having photo issued by Gazetted Officer or Tehsildar on letterhead, Disability ID Card/handicapped medical certificate issued by the respective State/UT, Affidavit executed on non-judicial stamp paper to be submitted by a woman applicant for name change after marriage (Join affidavit to be submitted along with her husband with joint photo), Marriage Certificate, Proof of Marriage document issued by the registrar, gazette notification, legal name change certificate.
Once you have any of the above Supported documents available with you than you can apply to change your name in Aadhar Card after changing religion. Below are the various methods and complete process which will explain How to Change Name in Aadhar Card after Changing Religion.
How to Change Name in Aadhar Card after Changing Religion Online
To change name in Aadhar Card from your internet explorer visit Aadhaar Self Service Update Portal.
Login into portal by entering your 12 digit Aadhaar Number, solve the captcha code, click on send OTP, you will receive One Time Password on your registered mobile number. Enter the received code on your mobile number via SMS in Text Verification Space and click on login button.
From next screen data update request select the field name as you want to change your name and click on submit button.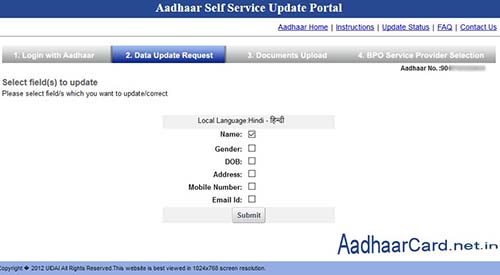 On next page you will need to enter the new name which you want to update, also make sure your new name also get translated correctly in regional language and just click on submit update request button.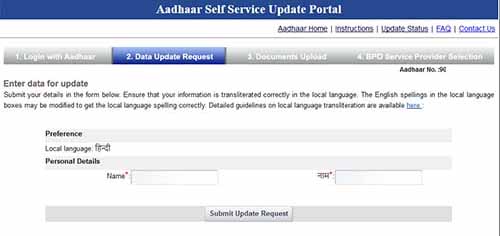 You will get to see the entered data on next page, just review if all details entered are correct, and accept the conditions and click on proceed button.
On next page you will have to upload valid supported self-attested copies of document in .jpg, .pdf, .tiff, .jpeg, or .png, formats but maximum size of the document should not exceed 2 MB and submit it.
From next page select the BPO Provider which is very effective and click on submit button.

On next page message will be displayed saying your update request has been successfully submitted and you will also get Update Request Number (URN). You can print your Acknowledgement of Aadhaar Update request or even save it on your computer for later reference.
Once your name change request gets successfully processed you will be intimated via SMS.
How to Change Name in Aadhar Card after Changing Religion Offline
Make sure you have arranged the necessary supported documents to change name in Aadhar Card as we had mentioned above.
Download Aadhar Update Application Form by clicking here.
Print the Aadhaar Correction Application Form and fill up the form with your correct details as per your documents.
Enclose photocopies of documents, don't forget to self-attest on those photocopies.
Visit nearest Aadhar Center near your area with your Aadhaar Update Application Form, Photocopy of documents and photocopy of your existing Aadhaar Card.
Hand over the Aadhar Card Correction Application Form with photocopies of documents and Aadhar Card to the Aadhar Center Head.
You will be asked to have a seat, and the operator will feed all the details in the software. Make sure the operator is entering the details correctly in the software.
Your fingerprints will be captured for verification and you will be given Aadhaar Update Request Receipt. You will have to keep this Aadhaar Update Request Receipt safely with you until your name change request gets successfully processed.
Once your name change request gets successfully processed you will be intimated via SMS.
Alternatively if for some reason you can't visit Aadhar Enrollment Center you can also send Aadhar Update Request via Post, just place the Aadhar Update Form with self-attested photocopies of documents, and Aadhar Card into an envelope and post it to below address.
Address 1:

UIDAI

Post Box No. 10, Chhindwara,

Madhya Pradesh – 480001, India

OR

Address 2:

UIDAI

Post Box No. 99, Banjara Hills,

Hyderabad – 500034, India
Once your form reached the above address it will take almost 2 to 3 weeks to process your name change request and you will be also notified via SMS.
This is how easily you can Change Name in Aadhar Card after Changing Religion.