You might have received SMS from UIDAI stating your Aadhaar has been issued, but after waiting for weeks you might still have not received your Aadhaar Card hard copy via Post. So in this case, if you are in a hurry to furnish your Aadhaar Card for any purpose than there is a way with which you can download your Aadhaar Card Online.
Online Downloaded Aadhaar Card can be used in a similar way you use Aadhaar Card hard copy which you receive by post. Just you need to take a print out of that downloaded Aadhaar Card Copy and you are set to use it for any purpose. So below is the complete guide which will help you on how to get Aadhar Card after getting Aadhar Number.
Get Aadhar Card Soft Copy after getting Aadhar Number
Keep your 12 digit Aadhar Number or Enrolment ID and registered mobile number ready with you.
Visit the official UIDAI website https://uidai.gov.in/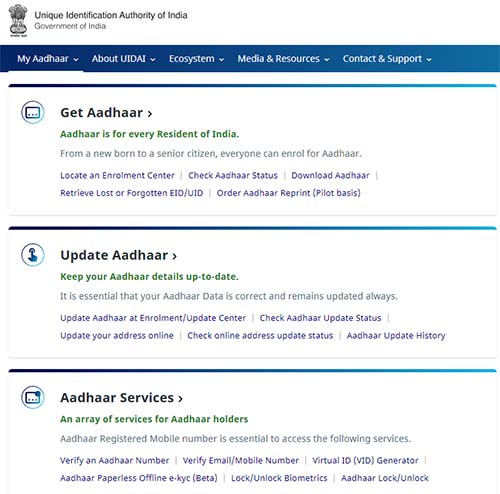 From the official UIDAI website, just click on the download Aadhaar
On clicking download Aadhaar link, the page will navigate to eAadhaar download page
Once you reach on the page of e-Aadhaar by Unique Identification Authority of India, just select I have Aadhar or enrolment id (ID)
And enter your 12 digits Aadhar Number or 14 digits ENO and 14 digit Date-Time stamp
Solve the Captcha Verification by entering the same text
Just click on Send OTP
You will receive OTP on your registered mobile number
Enter the received code in enter the OTP field, answer the quick survey and click on the verify and download button
Your e-Aadhar Card soft copy will start downloading, once it gets downloaded on your device just open the file with Adobe PDF Software or any other PDF reader software
On opening the file, you will be prompted to enter the password
The password to open the Aadhaar PDF will be your name first four letters in capital letters with the year of birth
And there you have successfully unlocked your e-Aadhaar Card Copy
Now you can take a print out of your e-Aadhar Card Copy and use it where ever you want to use.
The above method on how to get Aadhar Card online only helps you when you have your mobile number registered with your Aadhaar. And in case if you don't have a mobile number linked to your UID Aadhaar Card then UIDAI also offers other options to get Aadhar.
If your mobile number is not registered with Aadhaar then you can follow the rest two modes to get Aadhaar Card from Aadhaar Seva Kendra or Order Aadhaar Reprint Online from UIDAI Website where a mobile number is optional.
Get Aadhar Hardcopy Online
UIDAI offers a premium service called Order Aadhaar, by using this service Aadhaar holder can order a hardcopy of their Aadhaar using registered or non-registered mobile number. Here there is no mandatory requirement of Aadhaar registered mobile number, even those who don't have any mobile number linked with their Aadhaar can get Aadhaar hardcopy delivered at their registered address.
The ordered hardcopy of the Aadhaar will be the same as you receive by default via post. So let's get started with the process to get Aadhaar hardcopy online.
To get Aadhar hardcopy online visit official UIDAI website https://uidai.gov.in/
Once you land on the official website of UIDAI, just click on the order Aadhaar reprint link
On clicking Order Aadhar Reprint, a new page will open
On the login page, you will need to log in using your Aadhaar Number or Virtual ID or EID
So select the applicable field which you want to use to login and enter the number below depending on the filed which you have selected
Solve the captcha security code and click on the Sent OTP button
Clicking on the Send OTP button will send one-time-password on your Aadhaar registered mobile number
If you don't have mobile number linked with your Aadhaar or mobile number linked with your Aadhar is not with you anymore then you need to just tick mark on my mobile number is not registered and enter the mobile number on which you can receive the OTP
Once entering the mobile number just click on the Send OTP button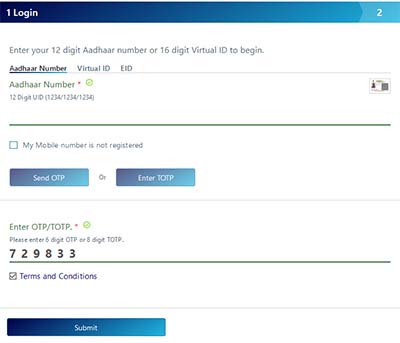 Enter the received OTP in the text box and accept to the terms and conditions by tick marking on it and click on the submit button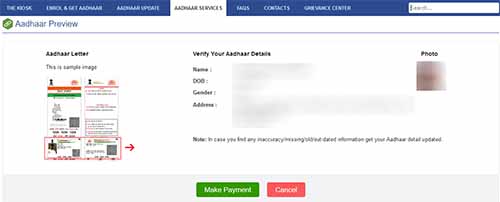 If you have authentication via registered mobile number then on the next page your Aadhaar preview will be displayed and in case if you have authenticated via non-registered mobile number then the preview won't be displayed
To proceed just click on the make payment button and the page will get redirected to the payment gateway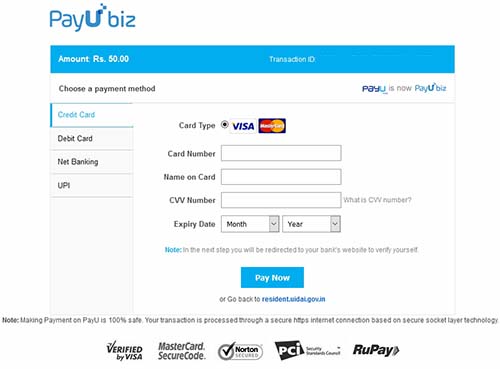 You need to make payment of ₹50 via Credit Card, Debit Card, Online Banking or UPI
Once you make the payment, your order details will be displayed with the SRN
You can use this SRN to track the status of your request
Your Aadhaar will be delivered on your Aadhaar registered address within 7 working days.
How to get Aadhar Card from ASK
Aadhaar holders with registered mobile numbers as well as with no mobile number linked with Aadhaar can avail this service of getting Aadhaar from Aadhaar Seva Kendra.
To get Aadhaar Card print visit Aadhaar Seva Kendra with your Aadhaar Number or Enrolment Number or VID. In case if you don't have any details then also you can get Aadhaar Card print.
Once you visit the Aadhaar Seva Kendra, request the operator that you need a printout of your Aadhaar.
The operator will ask for your Aadhaar Number or Enrolment Number or VID, if you have these details then you can provide and if you don't have these details then the operator will ask your details like name, date of birth, etc. which you have provided in your Aadhaar
Your biometrics will be captured for verification
And your Aadhaar copy will be printed
You will have to pay a nominal fee at the Aadhaar Seva Kendra for availing this service
This is how easily you can get Aadhar Card after getting Aadhar Number.